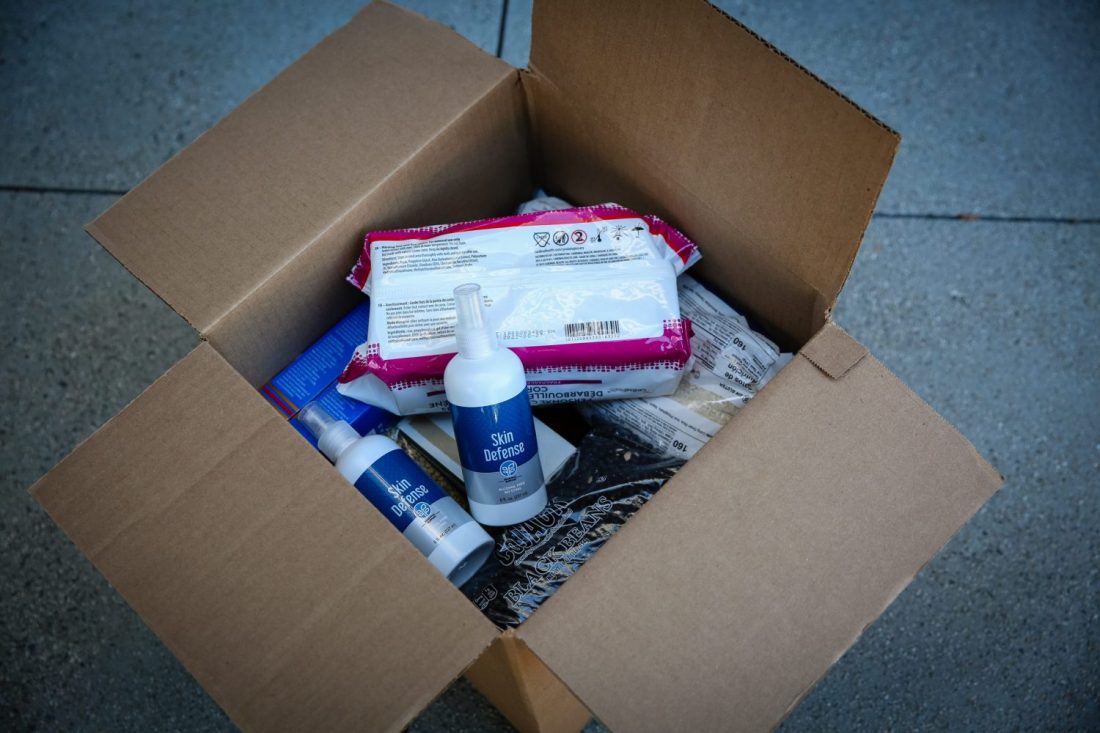 Salvation Army supports tribal communities amid coronavirus outbreak
It all started with one family. When there was a need for support in the remote parts of the Navajo Nation reservation in Arizona, Whitney Tatum made a call to The Salvation Army for help.
Amid the devastating local outbreak of the coronavirus in which more than 6,600 cases have been confirmed and more than 300 people have died, the need quickly grew.
"It started as a small grassroots thing," said Tatum, who is a longtime advocate for indigenous communities. She and volunteers at her nonprofit, Thundermaker Cultural Recovery, have been working with The Salvation Army Southwest Division to bring much-needed supplies to some of the area's most vulnerable since April.
Because about a third of the residents on the reservation don't have access to running water, the need for hand sanitizer was a high priority to help mitigate the spread of the disease. To date, 900 4-ounce bottles of hand sanitizer have been provided along with four pallets of water, two pallets of hygiene kits, and a pallet of disinfecting wipes. In addition, since grocery stores are hard to come by and the community has been on weekend-long lockdowns for several months, two-and-a-half pallets of toys and a half-pallet of assorted potato chips were provided for children and families.
The Navajo Nation is the largest reservation of its kind in both size and population, with more than 173,000 people living within its borders spread across the deserts and canyons of Utah, Arizona and New Mexico.
That can make receiving resources difficult, Tatum said, because transportation is often an issue.
"Many people on the reservation don't have cars," she said. "So we'll drive up to six hours on Sunday every two weeks to deliver these items directly to them."
With the Army's support, she hopes to be able to do so for another month or two, and she's working to secure additional grants to extend their reach as well. While most of the resources from other support organizations have been directed toward major city hubs like Tuba City, it's the smaller towns that are struggling most. Working with the local governing chapter houses, Tatum and her team have been able to ensure that cultural traditions are respected while they make their visits. They're also careful to wear masks, gloves and be mindful of social distancing.
She said the multigenerational nature of the living arrangements has created an additional challenge in allowing for proper quarantines for those who are ill, but she's hopeful that additional facilities will help in the future. As of May, about 11 percent of the residents had been tested, and leaders note that this means numbers will continue to rise as new cases are identified.
"We are testing our people here on the Navajo Nation almost five times greater than the rest of the country," Navajo Nation President Jonathan Nez said in a statement in May. "So let's not panic or be overly-alarmed by the daily numbers, but let's be diligent and recognize that we cannot let up now…We are beating COVID-19 together." 
But the Navajo Nation hasn't been the only tribal community impacted by the coronavirus. The Salvation Army Southwest Division has also stepped in to help Arizona's Salt River Pima-Maricopa Indian Community (SRPMIC). After receiving a request for food, water, and hygiene products in March, the EDS team has sent 40 pallets of gift-in-kind food products ( including milk, cheese, sour cream, yogurt, protein drinks, lettuce, broccoli and bread) and 400 food boxes.
The division has also supported the SRPMIC the last two years through its Christmas Angel program. For the past two holiday seasons, 250 of the reservation's youngest residents received bikes and toys. 
It's all part of meeting the need whether it's during times of crisis or not.
"Jeannette Aird and Nicole Kanne of our EDS team have done an incredible job leading the effort, and I am grateful for their hard work and dedication in serving these vulnerable populations," said Major George Rocheleau, Southwest Division Secretary for Business. "Tribal communities in the Army's Southwest Division have been hurting tremendously during the pandemic, so we are doing what we can to help with the resources at our disposal and hope that is having an impact."
HOW TO HELP:
If you'd like to make a monetary donation, please click here to make a gift.
Text 'GIVE' to 52000 to make a $10 donation to The Salvation Army. This will automatically add a one-time donation to your next mobile phone bill.
For information about volunteering, please visit volunteer.usawest.org.
To learn more about how to support The Salvation Army's relief efforts, please click here.