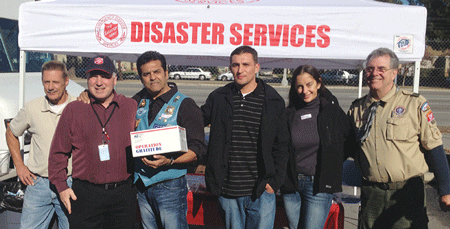 Salvation Army supports Operation Gratitude volunteers
Canoga Park ARC and Glendale Corps EDS team partner to serve.
The Glendale Corps Emergency Disaster Services (EDS) canteen supported volunteers at the Operation Gratitude Holiday 2012 Packing Day on the grounds of the California Army National Guard Armory in Van Nuys, Calif., serving hot beverages along with Be More Prepared supporters to over 2,000 volunteers.
Operation Gratitude has sent over 900,000 care packages to U.S. soldiers; over 100,000 packages sent per year.
Glen Kovacs, community relations manager for the Canoga Park Adult Rehabilitation Center (ARC) volunteered, helping The Salvation Army distribute hundreds of door hangers with empty clothing bags for donations and discount coupons for the ARC family stores, all displaying 1-800-SA-TRUCK. The Glendale Corps received donations from a Red Kettle at the event.
Other groups, including Boy Scout Troop 139, Eagle Scout parents, Rotary International District 5280 Zone 26, Disney, Bank of America, Northrop Grumman, Cinnabon, Rotary, Kiwanis and VFW lent a helping hand. Erik Estrada, Councilmember Dennis P. Zine and military service members, also participated.