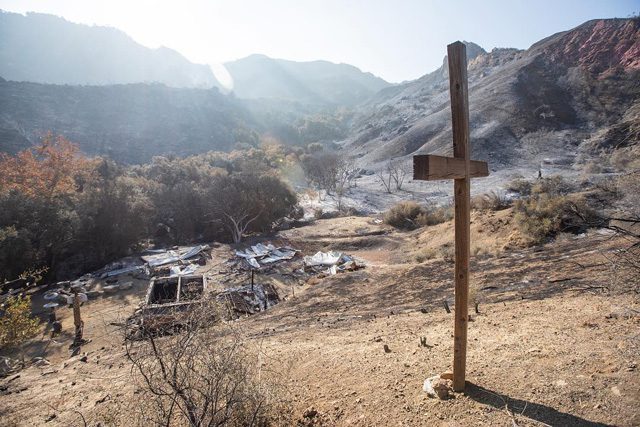 Salvation Army summer camp damaged in fire 'looks ahead'
Restoration and mudslide-prevention efforts are underway at Mt. Crags, Camp Gilmore and Camp Wilderness
By Hillary Jackson –
When the Woolsey fire swept through The Salvation Army Camp Lawrence Daley at Mt. Crags, Camp Gilmore and Camp Wilderness property in November, close to 70 percent of the camp's 531 acres were burned, Camp Director Marty Brown estimates.
While most of the facility's more than 80 buildings were saved, the camp lost six structures, including the entire Wilderness camp, a four-building facility that housed 25 teens each week in the summer. Brown said efforts have turned to restoring the damaged property and preventing mudslides.
"We have worked closely with [Divisional Headquarters'] property and risk management department to begin the restoration efforts," Brown said. "We have already brought in a restoration team that is helping us get back on our feet.  Even though we only lost six structures, the smoke has engulfed all buildings at camp. We have needed to clean every room at camp with scrubbers and filters."
The camp is working with a soil engineer to help navigate potential mudslides and what can be done to limit them. Wildfires leave behind burn scars, areas charred by flames devoid of vegetation, that are more susceptible to flooding after a heavy rainstorm.
"We hope to do all we can to ensure the right protectants are in place to keep this sacred camp safe," Brown said.
While the camp's summer season is still months out, Brown said the camp team is aiming for the space to be operational, sans the structures that were lost, by Christmastime, when hundreds of band members from around the world will lodge there while they're in town to march in the Rose Parade.  
Applications for 2019 summer staff opened Nov. 29 with a link and the sentiment: "With all the fire and mudslide realities, we are ready to look ahead."
"It's important that we'll rebuild the Wilderness camp, and that we'll be there for those kids next summer," Robert Brennan, director of communications for the California South Division of the Salvation Army told LAist.
During the fire, camp staff was evacuated for 17 days, and fire was on site for four days. Firefighters were posted at camp to protect it.
"We opened up all lodging, the kitchens, and even the snack shop for them to use as needed," Brown said. "I was able to share with these firefighters about this amazing place, the kids it serves and The Salvation Army Christian camp ministry."