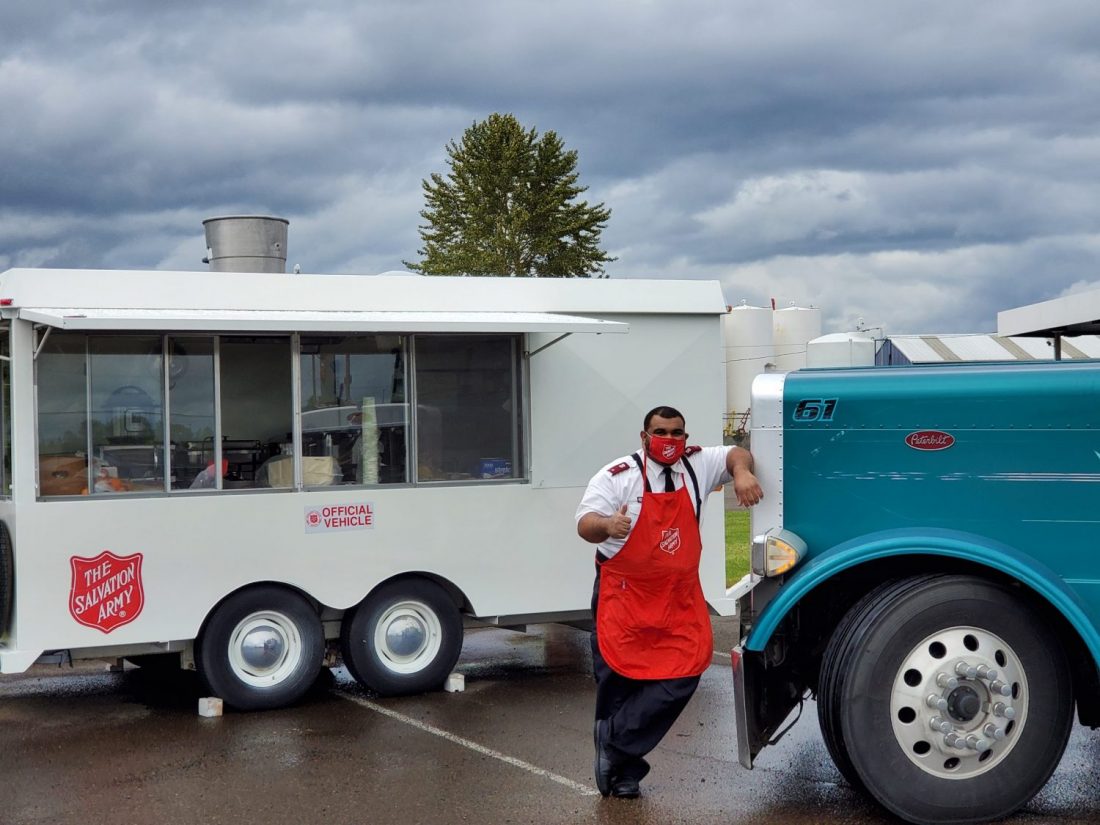 Salvation Army serves up meals for truckers in Oregon
Truckers' Table keeps supply chain going.
By Melissa Landon–
Kraig Cochran, who works for TC-2 Trucking, encountered an unusual phenomenon one day when he stopped at his usual fueling station off of I-5 Exit 233 in Albany, Oregon. 
"I saw a trailer sitting there, and on the back wall there was a sign that said, 'Free Food for Truckers,'" Cochran said. "I thought, 'Well, that's weird.'" Cochran went to investigate and found Lieutenant Charles DeJesus, who greeted him and offered a hot meal with chicken, rice and beans.
The Salvation Army Albany Corps set up Truckers' Table at Exit 233 in Albany beginning May 10 to provide free meals for truckers as many of these essential workers had trouble finding somewhere to park and get a hot meal amid the COVID-19 pandemic.
In the first 10 days, Truckers' Table provided 200 meals to truckers. Free meals were distributed Monday-Saturday from 2-7 p.m. through June 10.
DeJesus said the idea for Trucker's Table came from a conversation with his wife.
"My wife, who is from out East, was talking to her friend who is a trucker, and she discovered that many truckers are experiencing food insecurity," he said. "They can't pull through a drive-through window, and when they were finding food supplies, they were overpriced or weren't good quality."
After obtaining a temporary permit to set up Truckers' Table, DeJesus recruited volunteers from local Christian churches to staff the project. Volunteers are preparing and serving meals such as barbecue chicken, meatloaf with mashed potatoes, spaghetti and hamburgers with bacon.
Cochran said that in early April, he took a work trip from Portland to Indianapolis and noticed a lot of restaurants and truck stops were closed, and the few stops that were open only had limited menus. 
"The spaghetti from Truckers' Table was a good change of pace," he said.
One driver named Dennis gave Truckers' Table a shoutout and even interviewed DeJesus in a video on his Facebook page called Truckers TV. 
"Getting ready to enjoy lunch at the Truckers' Table here off the I-5 exit 233 in Albany, Oregon," Dennis wrote. "Today's menu: chili and rice! I cannot thank you enough for all the hard work and dedication that you provide us truckers with hot meals. I am so thankful to receive this meal on the road."
DeJesus said he enjoyed getting to know the truckers and hearing their stories.
"It's been about more than just the food," he said. "It's been less a ministry of feeding and more a ministry of presence. I'm just blown away by the character and work ethic of these truckers. They have a good sense of pride in what they're doing."
DeJesus said that even when the volunteers told the truckers the meals were free, many of them wanted to give back in some way. 
"After 10 days, we opened the counter kettle and found $125 in there. These guys were so generous," DeJesus said. "One woman, teary-eyed, approached the counter with a $10 bill. 'Where can I donate?' she asked. We told her, 'Oh, we are doing this for free!' The woman replied, 'Oh no, you don't understand. My husband is a trucker, and I love what you're doing.'"
Deb Powell, executive director of Love INC of Linn County, served as a volunteer preparing and serving meals for Truckers' Table. 
"I think the most fun part of serving was having the opportunity to have conversations with people I wouldn't normally get to talk to," she said. "The truckers shared their stories."
She said the length of the conversations indicated the truckers were looking not only for a good meal but also for people to chat with during their journeys. Cochran has been back four times for a meal since he discovered Truckers' Table. 
"It's nice to be appreciated," he said. "Being a trucker is a tough job, with long stretches of boredom with doses of sheer terror and anxiety. What Charles is doing through Truckers' Table is really nice."
HOW TO HELP:
If you'd like to make a monetary donation, please click here to make a gift.
Text 'GIVE' to 52000 to make a $10 donation to The Salvation Army. This will automatically add a one-time donation to your next mobile phone bill.
For information about volunteering, please visit volunteer.usawest.org.
To learn more about how to support The Salvation Army's relief efforts, please click here.