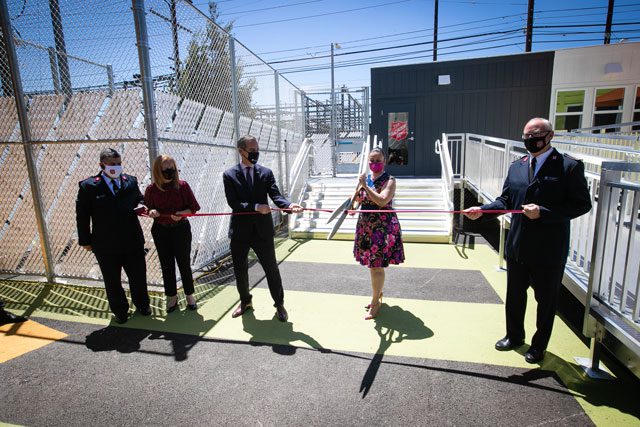 Salvation Army opens shelter in Van Nuys
The Salvation Army California South Division cut the ribbon on a new 70-bed shelter in Van Nuys, California, Aug. 10 after it was approached by the City of Los Angeles, Los Angeles County and the City Council Districts to be operators of the government-owned shelter. 
The shelter is part of the city's Bridge Home program, in which temporary, modular dome-like structures fulfill housing needs for three years until the city's permanent housing structures are completed. Last year, the California South Division opened a similar location in Watts.
"Housing ends homelessness. We know that," said Los Angeles Mayor Eric Garcetti at the ribbon cutting event. "And the shelters like this one are our first—and critical—step on our long term road to permanent housing for people who today are living in tents or in cars."
With the new Van Nuys shelter, 46 men and 24 women living on the streets in the San Fernando Valley will have a safe place to sleep while receiving food, showers, workforce development services, case management and addictive and mental health services. The goal is to make time at the Bridge Home shelter a temporary stop on an individual's way to permanent housing.
"This shelter is an expansion of our San Fernando Valley Salvation Army that currently operates a food pantry, rapid rehousing services, and veteran employment services to people in Van Nuys," said California South Divisional Commander Lt. Col. John Chamness. "We are very proud today to be part of the solution here in Van Nuys, in the San Fernando Valley, to end homelessness."