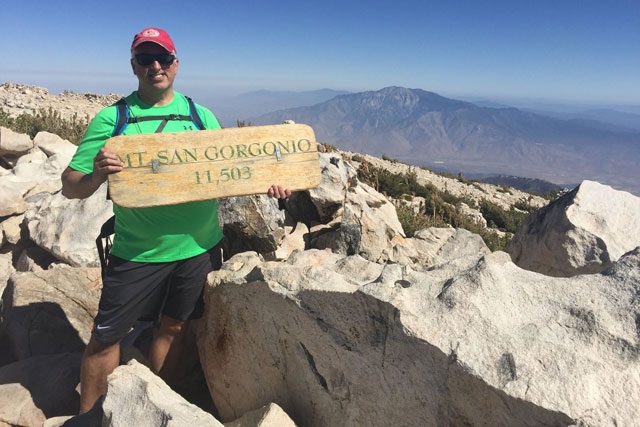 Salvation Army officer hikes 25 nights for the homeless
Southern California's Divisional Secretary for Business set a fundraising goal of $6,750.
By Laurie Bullock –
Major Daniel Freeman decided to extend The Salvation Army's "One Night of Homelessness" a few nights longer —24 more to be exact. Last month, Freeman embarked on a 25-day hike through the Sierra Mountains in an effort to raise awareness about Southern California's homelessness crisis.
"I've always done outdoor stuff since I was young, but the length and difficulty of [the hike] is very new to me," Freeman said. "It's a trip I've been thinking about for a couple of years but about seven months ago I started thinking about how can I use this trip to help people become aware of homelessness in Southern California."
The endeavor is no easy feat. Freeman, Southern California Divisional Secretary for Business, is hiking 270 miles, including Mount Whitney—the tallest mountain in the 48 contiguous states. To prepare, Freeman walked seven miles up and down the hills of Palos Verdes every day after work with a weighted backpack and trail shoes. On the weekends, Freeman tackled some of Southern California's notable mountains such as Mt. Baldy (Mt. San Antonio),  Mt. San Bernardino, Mt. Wilson and Mt. San Gorgonio.
"Part of [the reason for doing the hike] was to create a way for people to contribute to helping the problem," Freeman said.
The state of homelessness in Southern California is dire. Los Angeles County's homeless population surged 23 percent over the past year, while Orange County is experiencing a record-high in homeless deaths.
Freeman acknowledged that his goal of $6,750 in donations won't put much of a dent in the overall crisis, but finds both courage and motivation in the words of Salvation Army General Albert Orsborn (1886–1967) in his song "The Savior of Men Came to Seek and Save."
"By God dwelling within us we can naturally respond with compassion to the needs that are out there and see beyond ourselves and the things that we do," Freeman said. "I don't think there's one solution of taking care of the needs [of those who are homeless]. But if we don't do our part by responding with compassion and understanding that this crisis actually exists then we've accomplished nothing."
Freeman joins the thousands of people who have participated in the international One Night campaign. The campaign aims to bring to light both the chronically homeless and those who "couch surf," live in a car, or in a small apartment with multiple people. Individuals or groups of people can register to host an event to raise funds and educate people about the homeless individuals in their community.
"I think it's creating a bigger sense of awareness of what's happening," Freeman said. "I wanted to do something for The Salvation Army volunteers and supporters of The Salvation Army to become more involved and cognizant of that."
Freeman concludes his journey Aug. 12. He is wearing a satellite tracker during his journey that will update his location every hour on his Facebook and personal campaign website. All funds raised will go directly to Salvation Army homeless outreach.