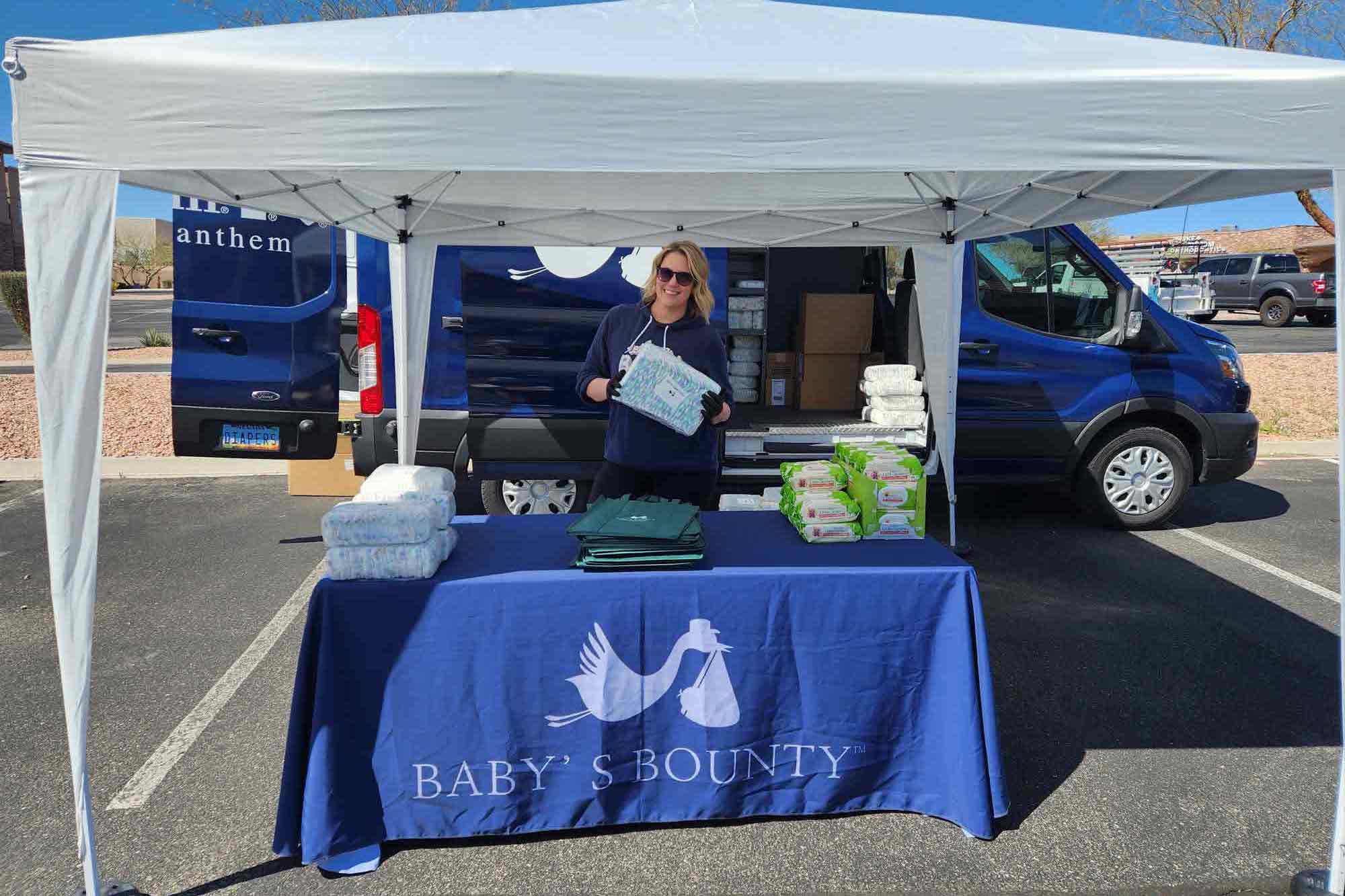 Mobile diaper banks at The Salvation Army bring hope to rural Nevada communities
A new partnership means families with young children are getting the help they need
At the end of April, a mother and her four children—including a brand-new baby boy—stopped into The Salvation Army Family Service Center in Mesquite, Nevada. While the woman's husband had just started a new job, he hadn't gotten paid yet and the family needed help paying their electric bill.
Along with covering that critical bill and providing food from the food pantry, the family was able to take home diapers and wipes for the newborn thanks to a new partnership with Baby's Bounty, said Bill Ennis, Director of Social Services at The Salvation Army Mesquite.
"They walked away Friday very humble and appreciative," said Ennis.
Mesquite is one of two rural Nevada Salvation Army locations partnering with Baby's Bounty to help families with babies and toddlers meet an essential need: diapers.
Baby's Bounty, a Nevada nonprofit, has been providing necessities like clothing, car seats and cribs to families in need since its inception in 2008. In 2020, the organization saw a tremendous need to add to its services and provide a mobile diaper bank. Since then, they have distributed 2.6 million diapers and 5.8 million wipes to more than 35,000 families in Nevada.
Diaper bank attendees report that without the support, some of them would have to make the heartbreaking choice between buying diapers and feeding their families.
The Salvation Army in Mesquite began partnering with Baby's Bounty in early spring, as did the Salvation Army Pahrump Service Center, located just over 60 miles west of Las Vegas.
At the Pahrump event, which takes place on the second Friday of each month, more than 80 families are helped on average.
"Rural communities are often forgotten," said Brenda Pinon, Pahrump Service Center Coordinator. "A lot of the great services that Las Vegas offers are not offered to us; we lack services our community desperately needs. We are so blessed to have [Baby's Bounty] assist us with their wonderful program."
In Mesquite, an average of 150 people visit the mobile diaper bank when it visits the last Friday of the month. The need is "very high," according to Ennis.
"We process over 800 clients per month at our location here in Mesquite, Nevada," he said.
The town, which is located 80 miles northeast of Vegas, has a population of 22,000 residents.
"The cost of living is very high here, about the same as Las Vegas is, however, our wage scale here is about 18 percent lower than in Las Vegas or our neighbors in Utah," said Ennis. "We have multi-generational families living under one roof, due to the economy they are not able to afford anything else."
Ennis said feedback to the program has been extremely positive.
"We are the only organization that offers this service here in Mesquite through this partnership," he said. "Most clients would love to have them here more often."
Baby's Bounty loves working with The Salvation Army any time the opportunity arises, said Christy Devine Shulman, the director of Baby's Bounty Northern Nevada.
"Their outreach programs are already well established in these areas, so they made it so easy for us to partner with them to add our diaper distribution to the wonderful programs that they offer," she said.
She agrees with Ennis and Pinon that the need is great, pointing out that transportation is a barrier for many clients.
"This is even more pronounced in rural areas where there aren't as many options either in retail availability or in community outreach programs," she said.
At each Salvation Army Mobile Diaper Bank event, Baby's Bounty distributes approximately 5,000 diapers and 8,000 wipes, said Shulman.
The organization is funded through a variety of avenues, including private donors, state and federal grants, and corporate partnerships. They are grateful for the donors that make the program possible.
And that same spirit of gratefulness surrounds the new partnership and the families who are being helped.
"Bringing in resources like Baby's Bounty gives our community hope," said Pinon.
---
Do Good: