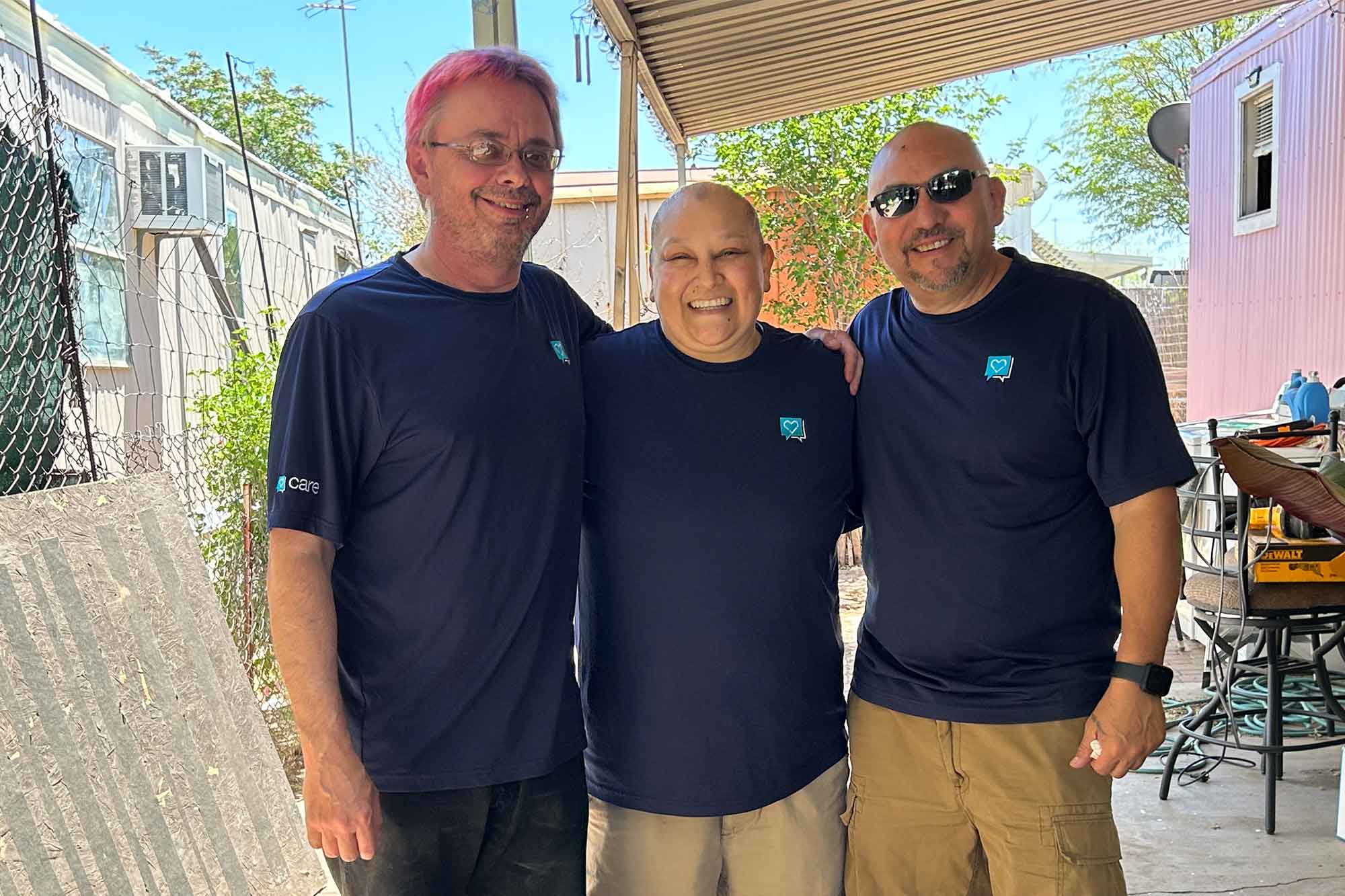 How one volunteer went above and beyond to help a single mother in need
"When we met Marcela, it was like this match made in heaven," said Salvation Army Tucson Amphi (Arizona) Corps Officer Captain Yohani Ortiz. "I instantly saw that she had a desire to make a difference and to be part of something bigger."
As a teenager, Marcela Cabrera participated in Salvation Army after-school programming and now she's paying it forward with the help of her employer.
It started two years ago when Cabrera, along with the CARE Team at Kuehne+Nagel, one of the world's leading logistics companies, organized the donation of 30 backpacks for students in need.
"It's rewarding to see the outcome in the community and physically see the impact," said Cabrera. "It helps drive everybody to want to help," she added. "We always have people willing to participate, people willing to donate and people willing to get involved."
Ortiz added, "Anytime that I need something specifically for kids, her team is one of the first ones to step up and volunteer…What started with backpacks has evolved into something bigger every time."
Cabrera now serves on the corps' advisory council, helping to organize the annual Harvest Festival as well as working with her team to provide assistance during Thanksgiving, Christmas and Easter.
Still, Cabrera said she felt there was more she and her team could do to help those struggling in the community. "We wanted to establish a connection where every month we're able to help families in need," she said.
In January, Cabrera and her team made it their goal, each month leading up to Christmas, to raise $400 for a different family to help offset the rising cost of food.The most recent recipient of this donation was a single mother named Liz.
"My children have always been in The Salvation Army after-school program and that's how I learned about how they help people who are going through different difficulties," said Liz.
Ortiz said when Liz realized she was chosen as the donation recipient, she started to tear up, sharing how it came at the perfect time since her food stamps were being discontinued. In addition to providing the grocery gift cards, Cabrera and Ortiz told Liz how they were willing to help her with projects at her home, a recently purchased trailer in need of repairs.
With a single income and children to care for, Ortiz said Liz couldn't afford to make the needed repairs on her own. After speaking with leaders at Kuehne+Nagel, Cabrera said they were willing to fund the entire project.
"It was a double surprise and a double blessing for her. Not only was she going to be blessed with food, but also she was blessed with that confirmation that we were going to be able to help with her trailer," said Ortiz. "Her reaction was priceless."
"She was so excited, her face lit up and her eyes got watery…she couldn't believe it," said Cabrera. "Her and her son looked at each other and gave each other a big hug and it was super rewarding to see that."
On April 15, Cabrera, along with Ortiz and two CARE Team members, were able to make several repairs to increase the comfort and safety of Liz's home.
"The projects were very doable," said Cabrera, mentioning how they were able to fix the damaged entrance ramp, replace two broken pieces of glass in the windows as well as install an exhaust fan in the bathroom, which had begun to grow mold from the humidity.
"We made a big impact and it wasn't a whole lot of work. We were able to do almost everything that she had," Cabrera added. "We could definitely see the impact in her reaction. She was very happy."
Liz agreed. "I am very grateful and blessed to have such a great help to me and my family," she said.
Cabrera said she could see the friendship and partnership continuing for years to come.
"Marcela and her team are the perfect definition of bringing hope to the community and being amazing partners to be able to make a difference in someone's life," said Ortiz. "It's one family at a time and I'm just so blessed that we get to be part of that."
---
Do Good: