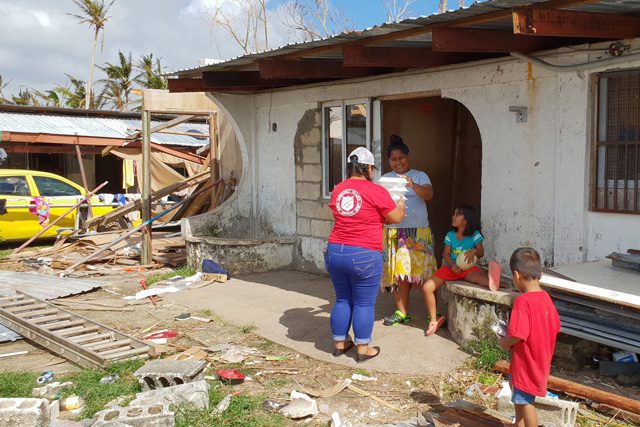 Salvation Army meets needs in Saipan
Since Super Typhoon Yutu, The Salvation Army has served more than 93,000 meals in Saipan.
By Karen Gleason –
The Salvation Army partnered with the Commonwealth of the Northern Mariana Islands (CNMI) Public School System to distribute thousands of meals to students in Saipan as they returned to school post-Super Typhoon Yutu, which devastated the Pacific's Northern Mariana Islands Oct. 24. Students had been out of school since the storm struck.
The 9,660 students received the meals and new backpacks on Dec. 11 (Saipan time), in a distribution that "went very well and very smooth," according to Victor Leonardi, Director of Emergency Services and Safety for The Salvation Army Hawaiian and Pacific Islands Division. Each student received a Salvation Army bag, one meal (packaged to serve six) and a flyer about the partners who made the event possible. The bags served both to hold the food and to replace the many backpacks lost in the typhoon.
Representatives from the CNMI Governor's office attended the distribution, posting about it on social media, and local news station KSPN2 featured it twice on their Facebook page. Also on Dec. 11, the Joeten Daidai Foundation presented a $10,000 check to The Salvation Army to support the relief/recovery efforts.
To date, The Salvation Army's post-Yutu service includes 93,448 meals (including the school distribution), 19,902 beverages, 1,427 fresh fruits (whole melons, pineapples), 292 food boxes (dry food), with 782 volunteers providing 4,533 hours of their time.
"I'm so pleased to see how The Salvation Army in Saipan and the community have come together with many volunteers and neighbors helping neighbors to provide help and hope to all who were affected by Typhoon Yutu," said Hawaiian and Pacific Islands Divisional Commander Major Jeff Martin.
The Salvation Army in Silicon Valley, California, under the leadership of Majors Roy and Paula Wild, worked to prepare the 80,000 meals, partnering with The Outreach Program and the Vietnamese National Association of Real Estate Professionals, the group that funded the meals and provided 500 volunteers. UPS Foundation donated the shipping for the meals.
Salvation Army Emergency Disaster Services (EDS) in the Western Territory provided continuous relief after Super Typhoon Yutu, which was the strongest tropical cyclone to ever impact the Mariana Islands and the second-strongest to strike the U.S. or its territories.
Majors Thomas and Kimberly Stambaugh, Guam Corps Officers and Micronesia Islands Coordinators, traveled to Saipan to help with the distribution.
During the Saipan Corps' worship service Dec. 9, adults and youth received certificates of appreciation and Salvation Army backpacks for their service—they helped provide over 24,000 meals to local residents following the typhoon.
"We are grateful for having such a dedicated 'corps' group of soldiers who serve the Lord and Saipan," Tom Stambaugh said.