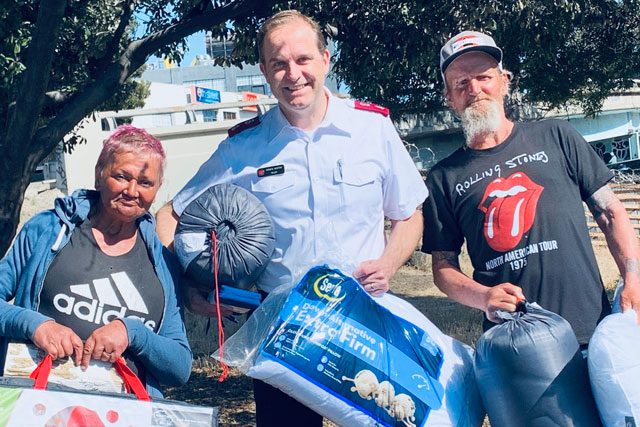 Salvation Army MealsInPlaceSF team responds to fire in homeless encampment
Golden State Divisional Commander and volunteers replace tent for a couple who lost everything in the fire.
By Vivian Lopez – 
It was another week of MealsInPlaceSF outreach for The Salvation Army in San Francisco. Golden State Divisional Commander Major Darren Norton and a team of volunteers embarked on their designated food distribution route for the day to the homeless encampments in the South of Market (SoMa) neighborhood. However, on one of their stops, he noticed something off —smoke coming from one of the tents.
He pulled up next to the tent and saw flames and immediately called 911.
"These flames quickly started to erupt; it completely engulfed," Norton said.
In the row of about seven tents, two were destroyed—the one where the fire originated and the tent right next to it. Once the fire was extinguished, Norton and Salvation Army volunteers continued delivering meals. But when they returned to the area of the fire, they noticed two massive piles of debris and a couple—Patrick and Stephanie—staring in shock.
The Salvation Army outreach team gave them meals and asked them if they were OK. It was then they found out that Patrick and Stephanie's tent was the neighboring tent that had burned down.
"They were distraught. They lost whatever little that they had to begin with in the tent," said Matthew Mandich, a Salvation Army volunteer in Norton's team. "They had nowhere to sleep."
"Here's this couple who had lost everything in the world to them. So, we gave them a second lunch, but we just knew we could not drive off," Norton added. We felt so sorry for them."
So, Norton decided to get them a new tent, sleeping bags, and pillows. He and Mandich drove to Target to purchase the items. When they returned to the fire site, however, the couple wasn't there. So Norton decided to return later in the day on his way home.
"They were both standing there at that point. I opened the back of the van and pulled out everything and gave it to them. They were speechless," he said. "They were so grateful. They had no idea we were going to do that for them. It just became one of those moments that God ordained for us to be there at the time when the tents went up in flames to be able to go back and meet their needs."
He spoke and prayed with them before leaving. The next day, Mandich returned to that stop along his food distribution route and followed up with Patrick and Stephanie. Their new tent was up, and he was able to talk to Stephanie and see how they were doing.
"I was very happy that they had a place to stay again," Mandich said. "I'm glad we were able to give them some solace, some safety, and a feeling of hope at such a tough time."
Both Mandich and Norton said they plan to continue checking in with them when they conduct outreach in the area. 
"These are people just like us who have fallen on hard times and needed help at that moment, and we were there to give it," Norton said. "It was just a beautiful thing to connect with them on a face-to-face level. It's been great to be able to give out food boxes, but this just took it to another level."
The Salvation Army in San Francisco distributed 1,500 meals a day at homeless encampments throughout the city as part of the MealsInPlaceSF program during the height of the pandemic. To date, they have passed out over 70,000 meals.
"This is The Salvation Army going out into the streets and ministering to people and meeting people's needs where they are, on their turf," Norton said. "That's what Jesus did. He went to where people were and he met needs in place."
While the last day of food distribution of this magnitude was June 30, Norton said they still plan on keeping the program going in a more viable capacity—meaning keeping limited routes in the most-needed areas.
"We're going to trim it down a little bit, find out where the critical needs are, and work to continue to provide it in a slightly scaled-down way…so this can be an ongoing program as part of our homeless outreach services in the city," Norton said. "We are going to be doing this for the long haul."