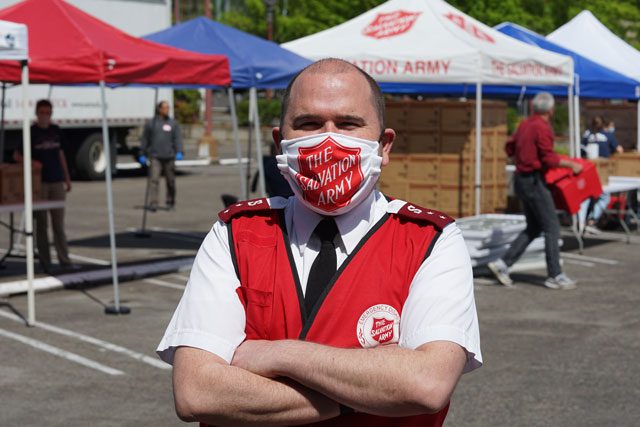 Salvation Army in Portland partners for Operation Share Hope
The Salvation Army in the Portland Metro launched Operation Share Hope, a coordinated effort of three corps to reach more people in need for food distribution, May 4 at the Lloyd Center shopping mall. 
Operation Share Hope, combined with The Salvation Army Hillsboro Corps' partnership with the City of Hillsboro, ensures the entire Portland Metro area is covered for food service needs during COVID-19.
During the four-hour distribution window May 4, The Salvation Army served 261 cars, amounting to 808 people. The program will continue three days a week, at three different locations, until further notice. 
"People are really struggling right now, they are really nervous and there are a lot of furloughed workers,"  said Major Bob Lloyd, The Salvation Army Portland Metro Coordinator to KOIN 6. "We're just encouraging people to take a deep breath, come down, talk to us and we'll give you a box of food…a lot of folks have never had to ask for help before."
The public can receive food at the following locations from 9 a.m.-1p.m.: Mondays at the Lloyd Center in Portland; Wednesdays at East Hill Church in Gresham; Fridays at Clackamas Town Center in Happy Valley. 
The Salvation Army is prepared to serve 1,500 food boxes per week through Operation Share Hope, thanks to a number of partnerships, including the Lloyd Center, East Hill Church, Clackamas Town Center, Clackamas County Sheriff's Office, Franz Family Bakery, Oregon Food Bank, Oregon State Police, Sysco, Alliance Packaging, Gresham Police Department, International Paper, Victory Outreach, Exceed Enterprises, and Bob's Cold Storage, Chinese Friendship Association, and United Chinese Americans.
"We're thankful for our local partners who have come alongside us to make this possible," Lloyd said. 
One of the partners, Foodservice provider Sysco, is supporting Operation Share Hope through providing food and a safe place to store it.  
"As the global leader in foodservice, Sysco believes we have a responsibility to help address hunger and food insecurity in the communities we serve during these challenging, unprecedented times," said Liz Aspray, president of Sysco Portland. "We are very happy to support The Salvation Army through both food donations and temporary food storage capacity."
The donated food goes into boxes from International Paper for easy transport to those in need.
"International Paper recognizes that our corrugated boxes are essential for community organizations to deliver food to those most in need," said Mike Reed, Portland Container site manager. "We're honored to support our local Salvation Army by mobilizing our products to meet critical needs during the pandemic."
Operation Share Hope caught the attention of local media. On the first day, reporters from KGW, KOIN, FOX 12, KOIN, The Oregonian and AP were on site as Salvation Army officers, staff and volunteers loaded boxes into the trunks of vehicles. During a morning newscast, the Army was featured as the second item in one station's "3 Things You Should Know" at the top of the hour for Operation Share Hope.
"The Salvation Army's rapid response and leadership in this crisis has allowed them to convene community partners, volunteers, and local businesses in an unparalleled manner," said Allie Stewart, Lloyd Center's General Manager, who was present for the food distribution service. "Lloyd Center is proud to be amongst this group and to provide crucial food relief for Rose City." 








HOW TO HELP:
If you'd like to make a monetary donation, please

click here to make a gift.

Text 'GIVE' to 52000 to make a $10 donation to The Salvation Army. This will automatically add a one-time donation to your next mobile phone bill.

For information about volunteering, please visit

volunteer.usawest.org

.

To learn more about how to support The Salvation Army's relief efforts,

please click here

.