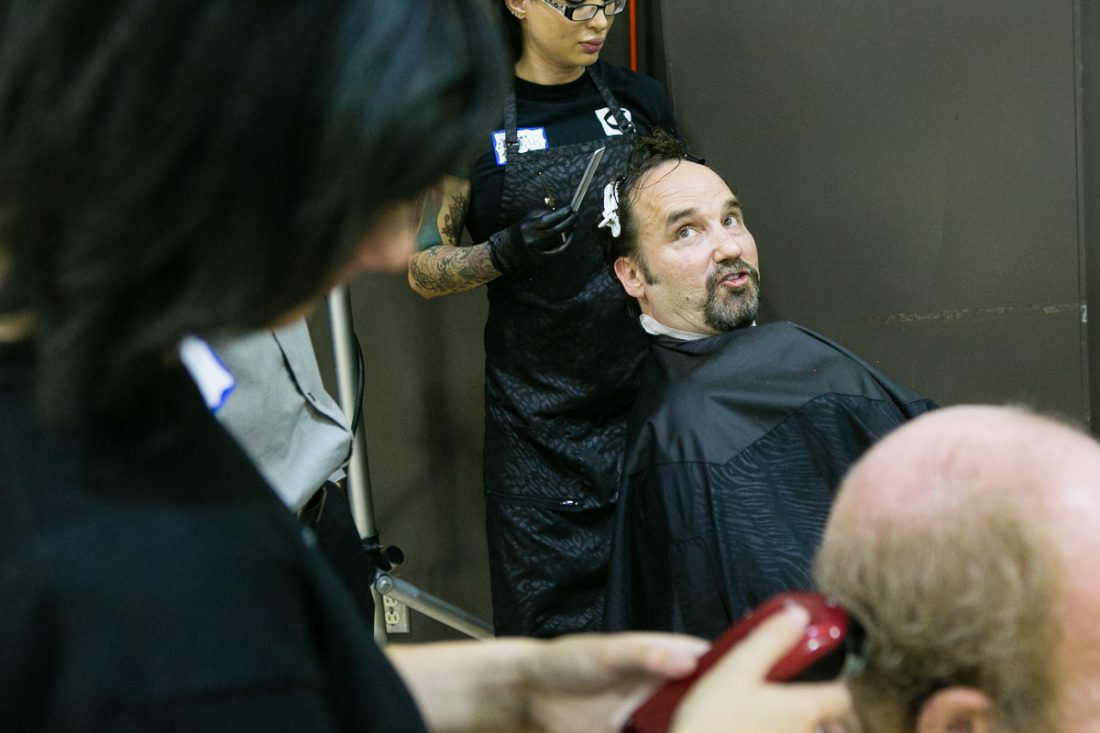 Salvation Army hosts 2015 Pasadena Homeless Connect Day
Free services reach roughly one-third of Pasadena's homeless population.
By Jared McKiernan
The Salvation Army Pasadena Tabernacle Corps Community Center partnered with 40 social service providers today for the eighth annual Homeless Connect Day, linking approximately 250 homeless individuals to roughly 2,000 free resources in just four hours.
Direct on-site services included housing placements and referrals, medical and dental screenings, legal services, meals, haircuts and even therapy dogs.
"This is for a population that needs to know the care and support and the resources of a loving and connected community," said Major Darren Norton, Pasadena Tabernacle corps officer. "No one agency can do that—it takes a whole community."
Pasadena Mayor Terry Tornek addressed the crowd, citing homeless as "one of the most intractable problems that we face."
"While people think about the Rose Bowl representing Pasadena, to me, it's this kind of event and all of you that really represent this great city," he said. "We know that it's our responsibility to try to help people who are willing to accept help."
According to the 2015 Homeless Count and Subpopulation Survey, 632 individuals—sheltered and unsheltered—identify as homeless in Pasadena. That's a 5 percent decrease from last year, and a 48 percent dropoff since 2011.
Despite the city's decline in homelessness, the event nearly matched last year's turnout. According to Jhoana Hirasuna, director of social services for the Pasadena Tabernacle, event staff advertised Homeless Connect Day in fliers and emails sent out to each of the service providers, as well as in local churches, libraries and food pantries.
Deputy public defenders Ann Gillam and Rosann Scoloveno offered information on how to clear outstanding warrants—often a barrier for securing housing, employment and a driver's license.
"Even if it wouldn't prevent them [from securing housing or employment], it makes them so fearful of any governmental agency that might know," Gillam said.
Citrus College cosmetology students provided free haircuts. "When we first heard about the opportunity, I think we were all a little hesitant," said student Jonathan Bland. "But, I think we realized even if they come in for a trim, just that trim can brighten their day and make them feel good about themselves."
Among the medical service providers was nonprofit Pet Partners, which brought in four therapy dogs to comfort those in attendance.
"Bringing dogs in just helps people to relax, lowers blood pressure, brings in the good endorphins, lowers stress levels, anxiety, and I think it's really beneficial because it's unconditional love," said Pet Partners volunteer Maggie Crawford. "I think it makes you feel really good."
After four years on and off the streets of North Pasadena, Gary Williams said he left Homeless Connect Day feeling more hopeful than when he entered.
"I'm at the point where I'm scared to sleep in parks at night," he said. "I've been eating at churches. A lot of the shelters are full, and I need a place to live. I need a job.
"This was really helpful, getting connected to the housing providers, medical, dental," he said. "I've been going through a lot lately, but this has been really good for us."
Susan Mandel, president of Pacific Clinics, said that while she's proud the community rallied so much support, the fact that they have to hold the event at all underscores the bigger issue.
"In this country with the resources that we have, we should never have to have a day like this again," she said.
In order for that to happen, she said, affordable housing efforts must expand. "Once they have a roof over their heads, then we can start connecting them to employment services, medical services, drug and alcohol rehabilitation," she said. "But it starts with housing."