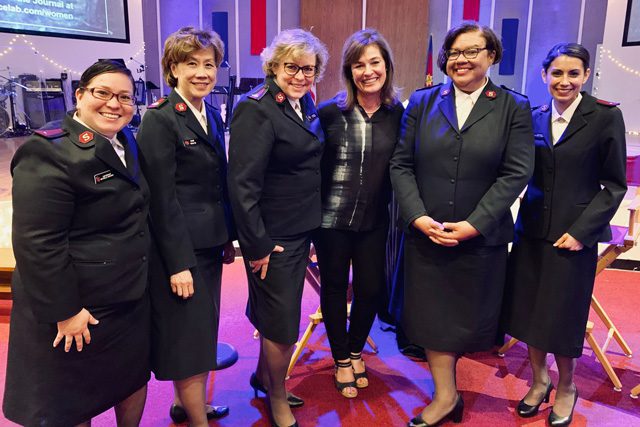 Salvation Army Hollywood Temple Corps hosts Influence Lab Women's Evening
Kathleen Cooke leads event aiming to inspire Christian women in media.
By Karen Gleason –
Salvation Army National Advisory Board member Kathleen Cooke hosted an Influence Lab Women's Evening at the Hollywood (California) Temple Corps Sept. 13. During the program, Cooke interviewed Hollywood Temple Corps Officers Lts. Fredy and Michelle Miranda about their ministry and presented brief profiles of Catherine Booth and Evangeline Booth. 
Representing today's women of The Salvation Army at the event, along with Michelle Miranda, were Lt. Colonel Lisa Smith, Territorial Secretary for Program; Major Keilah Toy, Territorial Social Justice Secretary; Major Lynn Stewart, California South Divisional Women's Ministries Secretary; and Lt. Cassandra Amezquita, Los Angeles Central Corps Officer.
Cooke highlighted two new films, "The Honor Project," a documentary showcasing "regular" dads, and "I am All Girls," a South African film about a global sex-trafficking ring inspired by real events. She interviewed representatives of the films: Emily Hibard, "The Honor Project" producer; and "I am All Girls," producer Simon Swart and publicist Jackelyn Viera-Iloff.
"What are the opportunities God's been suggesting to you?" Cooke asked early in the evening. The Influence Women gatherings aim to encourage and empower Christian women involved in media to act on what God is calling them to do. Cooke introduced some of the women present, including Melissa Smith, who opened "Epiphany Space" in Hollywood, a small gathering spot for artists and media people; and Jessica Lalley, who runs a Christian speakers' network from Atlanta. 
Kathleen and her husband, Phil Cooke, launched the nonprofit The Influence Lab in 2013 to redefine Christian media in the digital age. During Influence Women evenings,  guests connect, share ideas and acknowledge accomplishments. 
Influence evening attendance has steadily grown, resulting in the need for a venue larger than the private residences where the event first took place. Although unable to attend due to another engagement, Commissioner Jolene K. Hodder, Western Territorial President of Women's Ministries, arranged for the Hollywood Temple Corps to open its doors for the September event.
After highlighting the films, Cooke turned her attention to Catherine Booth and Evangeline Booth, both active in ministry before women were readily accepted in that role. 
"We as women have opportunities wherever God has placed us to influence others," Cooke said, stating this as one of Catherine's core beliefs. She referred to some of Catherine's written work, such as her pamphlet "Female Ministry: Or, Women's Right to Preach the Gospel," and to her realization that a ministry to the lonely was a need among the wealthy, along with the necessity of a ministry to the destitute. Catherine Booth also worked with W. T. Stead, a well-known newspaper editor, to raise the age of consent in England from 13 to 16.
"If we are to better the future we must disturb the present," Cooke said, quoting Catherine Booth.
Evangeline Booth, Catherine and William Booth's daughter, preached from the age of 15, Cooke said. She served as The Salvation Army's USA National Commander (1904–1934) before becoming its first female General (1934–1939). After the San Francisco earthquake in 1906, she organized rapid relief efforts working with other volunteer groups and government agencies—effectively beginning The Salvation Army's Emergency Disaster Services. Evangeline spent two weeks working in San Francisco, ending her time there with a rally in Golden Gate Park. 
Cooke said she feels a connection to Evangeline because of the earthquake and The Salvation Army's presence afterward. Cooke's grandmother, an immigrant from France, arrived in San Francisco two weeks before the quake; she secured work as a maid to a wealthy family. After the earthquake leveled her new residence, she lived for two years as a refugee in the park, where, Cooke said, she may have encountered Evangeline Booth. She quoted Evangeline, saying what has become a key expression for The Salvation Army: "There is no reward equal to that of doing the most good to the most people in the most need."
As the evening concluded, Cooke reminded the women present to turn to the Bible for encouragement. 
"There are more than 2,000 promises in the Bible just for you," she said.
The women then formed small groups, spending a few minutes in prayer for one another's concerns and needs.