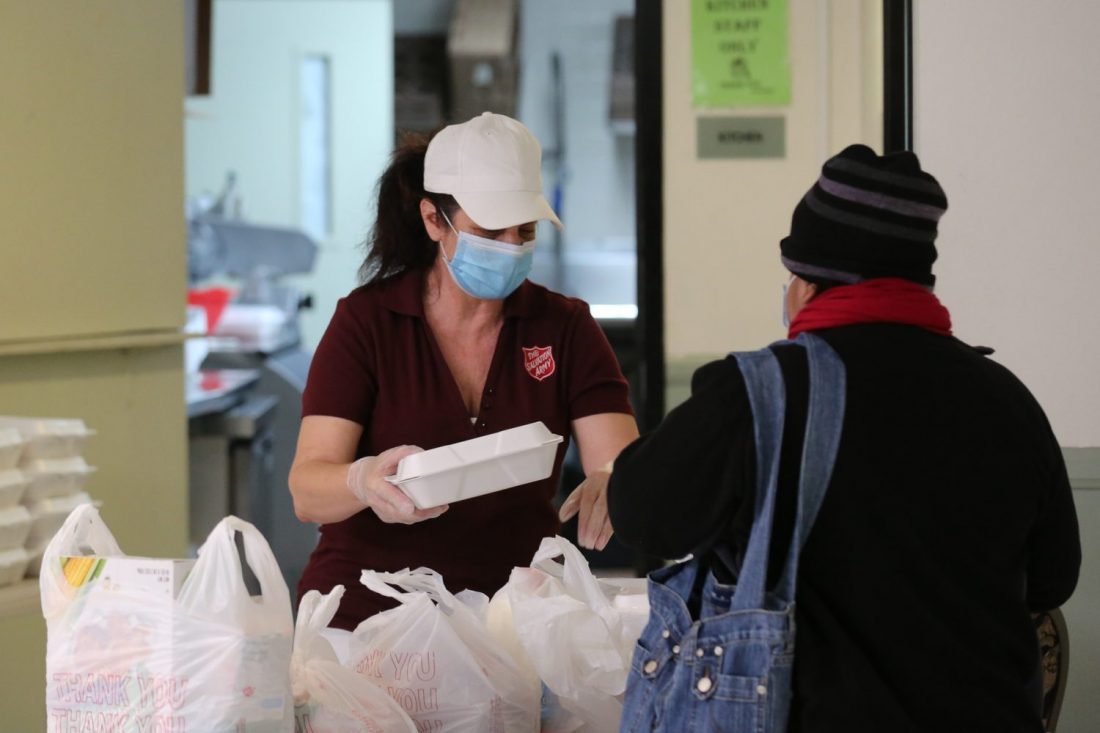 Salvation Army finds unique ways to meet Denver food demand
By Caitlin Johnston–
The Salvation Army is an expert when it comes to feeding those in need. But the fast-spreading, novel coronavirus has caused a dramatic uptick in those who are hungry and in need of help. 
Corps officers and volunteers immediately stepped up to the cause, providing about 250,000 meals, snacks and beverages to people in the Western Territory in the second half of March.
COVID-19 related shutdowns continue to affect the Denver area, with some individuals finding themselves asking for assistance for the first time. Corps throughout the metro area have joined together to provide meals, all while complying with recommendations and guidelines from the Centers for Disease Control and Prevention.
"I've seen the community as a whole really stepping up and people are taking on various roles to be able to support everyone and feed people during this time," said Kristen Baluyot, Salvation Army Denver Metro Social Services Director. "We've laid a lot of groundwork long before this incident took place that positioned us to be able to take on a strong leadership role."
The Salvation Army in Denver is preparing food and meals in a variety of ways, including food boxes, pre-packed meals and lunch bags.
"Here we have been receiving,  I want to call it a tsunami of phone calls from people looking to us and asking for assistance, especially for food," said Denver Citadel Corps Major Julio Vasquez. "We have had several, several places that have closed down. All of these people are without their jobs from one week to another."
Drive-through pick-up has emerged a popular option, allowing people to pull up to a location like the Citadel Corps and receive a box full of food in their trunk all while practicing safe social distancing guidelines. 
"These are first timers who have never been in need of our services before," Vasquez said, adding that the corps is giving out about 100 food boxes daily. "It's affecting not only the most vulnerable, but also those in the past who didn't need our assistance."
The efforts across the Denver metro area to provide food are focused on families, seniors, kids and those experiencing homelessness.
Drive-through initiatives provide much of that assistance, but some corps are going above and beyond, helping spread smiles and hope while providing much needed food. Here are just a few examples.
Helping truck drivers find a hot meal on the road
Evalena Russell knows what it's like to drive for hours on end and be refused a hot meal. 
Russell, a Cortez Service Extension employee, drove truck for 12 years before having kids and  joining The Salvation Army. That's why she had such a strong reaction when she heard that some truck drivers were being turned away from restaurants or having a hard time finding a place to eat as they helped deliver essential goods during the coronavirus pandemic.
"I was mad," Russell said. "This is happening all over the country when the drivers, who are just as important as our front line workers, are not getting the help they need. They're being mistreated. They're being overcharged."
That's how Russell got the idea for Operation Thank a Trucker. The initiative is a partnership between The Salvation Army and Ute Coffee Shop near the intersection of Highways 160 and 491. 
The Salvation Army donated $6,000, which would allow Ute Coffee Shop to provide 1,000 meals. Truck drivers can choose from select items on the breakfast or lunch menus, such as a giant breakfast burrito or a Bison Burger, Russell said. If there's something more substantial they'd like, Russell said they can order it and pay the difference.
Russell and other volunteers have also packed about 1,000 snack bags that they're handing out to drivers as they come through the area, as well.
She said she's had some truck drivers stop and say they didn't have time for a meal, but they wanted to say thank you and make a donation to keep the effort going.
"By showing a little appreciation, it makes a huge difference," Russell said. "Maybe they only got one meal today, but knowing they're appreciated and that what they're doing is important is huge."
Connecting with seniors in isolation
Just around the corner from the Broomfield Corps is a Silvercrest senior living community with about 100 residents. 
Major Beth Paugh knew the people there, who are part of the at-risk population, would likely be self-quarantining and unable to go out for food and supplies.
"We do a lot of services over there, before all of this happened," Paugh said, referring to the coronavirus pandemic. "We really felt we needed to reach out to those folks, who their cupboards are probably getting pretty bare."
The corps started providing lunches two days a week, knocking on doors and leaving the trays for seniors to safely retrieve. They later upped that number to three days a week.
But Paugh wanted to go beyond that, knowing how important it is not only to feed people but to connect with them during this trying time.
That's when she brought out her Cricut machine and got to work.
She handmade as many cards as she could, affixing sweet messages. "Thinking of you," "Smile," and "Miss you" adorned the cards in purple, pink and blue.
"It was just a little something to brighten their day," Paugh said.
The idea spread further when a mom in the community came by to pick up a food box. She told Paugh her kids had been making cards for those in isolation and asked if The Salvation Army had anyone to distribute them to. What started with a handful of cards grew to more than 100—enough for every senior at Silvercrest—as others in the neighborhood joined.
The insides were all the same: "Dear friend, We want you to know that you are loved and thought of during this unsettling time. We hope you are staying healthy and well. God bless you and keep you safe." 
Outside, each card was full of a child's creativity and heartfelt messages. "Stay safe" one scrawled in marker, adding a smiley face and hearts. On another, "You are loved" floated above five purple and pink hearts. Another child wrote carefully, "Today is special."
The cards were distributed with meals, helping share food and love at the same time.
"They're so excited to see us coming and they can't wait to see what we bring them on that particular day," Paugh said of the residents. " If we can do something as little as bringing them lunch to brighten their day, that's the least we can do for them."
Spreading smiles with a meal and a toy
Finding ways to spend time in isolation can be difficult, especially for children. That's why Centennial Corps Captain Angela Morrow wanted to include something special in food boxes bound for families.
The Centennial Corps has seen a 40-percent increase in families needing food assistance in the last 30 days, Morrow said. That includes several new families who have never come to The Salvation Army for help before. 
While the corps is running a drive-through food bank system, Morrow also wanted to find a way to connect with the kids in their corps families so they knew they weren't forgotten.
The Centennial Corps started sending out care packages that include activities specifically intended for kids. Volunteers gathered rubix cubes, cards, puzzles, Legos, games, coloring books, crayons and other toys. Then Morrow and others carefully put together the care packages, making each one different and unique for each child.
"Sending them something so small as a care package reminds them that they are not forgotten and we miss them," Morrow said. "I think it makes them feel like they are part of something bigger than themselves, and who doesn't love receiving something in the mail that is fun and unexpected?"
Morrow said the corps is scheduling and making home deliveries to families who are vulnerable and unable to make it to the store or come to the corps food pantry.
"We have seen a community come together, by giving both food, necessities and monetary gifts to our corps to help support our efforts," Morrow said. "It is important that kids have activities to bring some sort of normalcy to their lives in the midst of this crisis. 
"Toys bring joy and smiles to children," she said, "and something that is so simple to some may mean the world to them."
HOW TO HELP:
If you'd like to make a monetary donation, please click here to make a gift.
Text 'GIVE' to 52000 to make a $10 donation to The Salvation Army. This will automatically add a one-time donation to your next mobile phone bill.
For information about volunteering, please visit volunteer.usawest.org.
To learn more about how to support The Salvation Army's relief efforts, please click here.