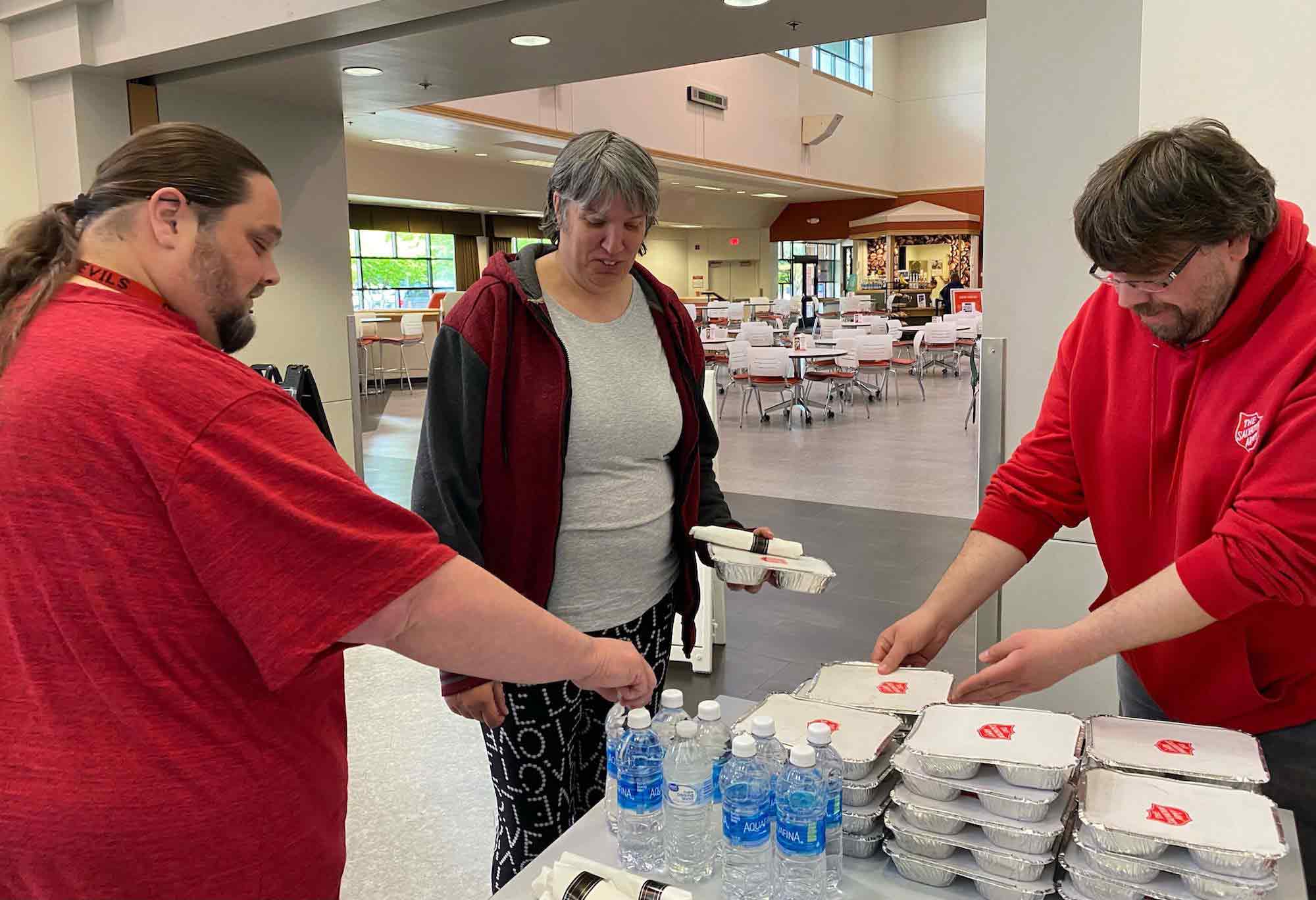 Longview Salvation Army is providing meals to college students in need
In 2021, Longview Temple Corps provided over 20,000 hot meals to those in its Washington community, according to the corps' annual stats. In 2022, the corps extended its meal outreach services to provide free meals for local community college students at Lower Columbia College (LCC).
"It's one of the things that the public depends on and places high value on," said Corps Officer Major Phil Smith of the meals.
Smith said the community college meal outreach began on "an experimental basis," but now has plans to expand. Each week, 25 to 30 locally made meals are delivered to the college for students experiencing food insecurity and homelessness.
"It's not a solution, but it is the beginning of steps forward," Smith said.
"Our goal is to be able to increase the number of students who are accessing these meals," said LCC Director of Workforce and Career Services Dani Trimble. "As more students take classes in person and spend more time on campus, we anticipate that need will grow."
According to The Hope Center's Washington State #RealCollege Survey published in February 2020, 41 percent of student respondents were food insecure in the 30 days prior to the survey—with its more than 13,000 respondents consisting of students from 28 technical and community colleges in Washington, including LCC.
"And that was before COVID…We know that that number is higher now because the pandemic has disproportionately impacted a lot of students," Trimble said.
In her role, Trimble said she oversees all programs associated with helping students meet basic needs like food and housing, as well as programs that help connect students to public benefits.
Trimble said the college aims to provide a wrap-around support model and holistic approach for students to ensure all basic needs are met, increasing the likelihood of program completion and graduation.
In 2020, Trimble said the college spent over a million dollars directly on student aid with funding stemming from federal relief and stimulus packages and state and college foundation funding. She added, by the end of 2023, the college will have spent at least six million dollars to cover students' basic needs.
"It just shows that there is an extraordinary need that our students are experiencing," she said.
In addition to helping facilitate the meal outreach partnership with The Salvation Army, Trimble said she also accepted the position as a Longview Temple Corps advisory board member.
Currently, the board consists of 10 members, seven of whom, like Trimble, joined in 2022. "My approach to board development is to find partners in the community that are like-minded in mission," Smith said.
Smith said the advisory board is composed of community leaders who are working toward addressing issues of hunger and homelessness.
"Homelessness has a lot of different root causes so, it takes a lot of different solutions…Not one solution is going to be the thing that will help solve this crisis," Trimble said. "If our community wants to engage in how we serve people who are experiencing homelessness, we need to be working together and really looking at how can everyone be contributing."
Trimble said she saw joining the advisory board as an opportunity to align resources and see how board members can "all come to the table to better the community."
While Salvation Army meals are currently offered to students in to-go boxes, Trimble said there are plans to "engage with students in person more," as COVID-19 restrictions lighten.
"The intention is to bring those meals into more of a community space, so that students would be able to eat with one another," Trimble said. "We want it to be focused on resources, but we also want to make it fun."
By creating an informal dining area near the campus' food pantry, Trimble said students can build community with one another and staff can learn more about the students' needs.
Another way, Trimble said the college is partnering with The Salvation Army is through referrals of resources. For example, Trimble said she was able to refer a student experiencing homelessness to The Salvation Army Hope House, a transitional housing program with a facility operated by the Longview Corps.
"We were able to actually get [that student] into the transitional housing at The Salvation Army with the goal of partnering with the case manager there to work on a long-term housing solution," Trimble said.
Trimble said she also hopes to "reduce the stigma" associated with asking for help or seeking services.
"Particularly college students will say, 'I need help, but there must be a student who needs more help than I do, right?' Like, 'I'm not going to ask for too much, or I'm not going to ask for what I need.'"
Trimble said with the help of the college's student government, there are plans to include activities at mealtimes so "people can get to know each other in more of an organic way" and help reduce that stigma.
"We try to build a relationship that leads to more of a relational ministry versus just a direct service program," said Smith. "We want it to feel like more of a community space than just a place to come stand in line and pick up a meal."
---
Do Good: