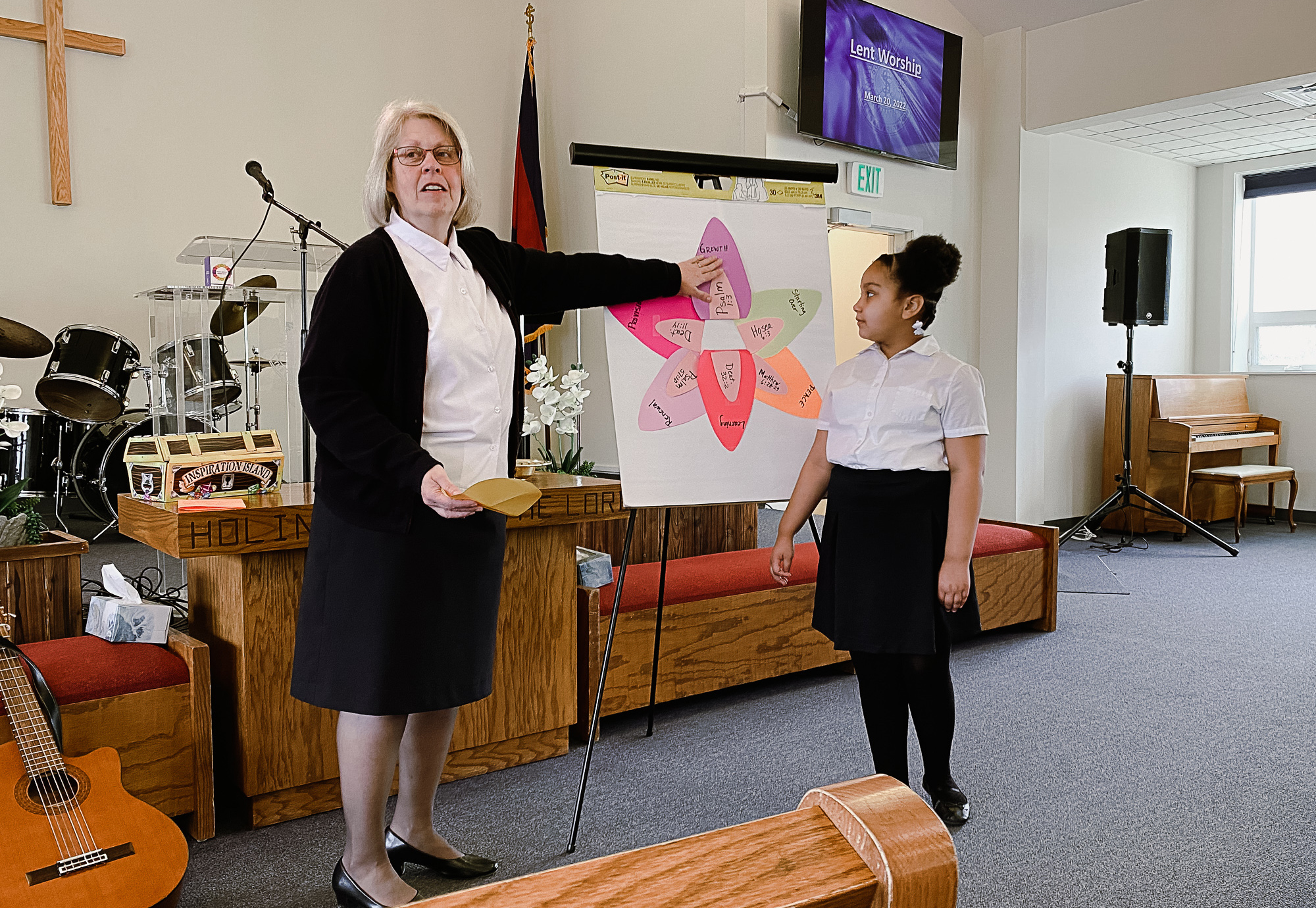 Salvation Army Medford's HOPE House helps one mom set a new path
For Jessica Edwards, the road to a new life started with faith—in God and within herself. In 2017, the mother of five was living in Vallejo, California, and going through a divorce that would leave her homeless.
"My three youngest kids were minors, and I had a divorce decree to vacate the home a week after my high schooler graduated," she said. "During that time, I remember standing in my beautiful, four-bedroom, two-bath home with the spacious yard and two-car garage, asking God to please let me know what I was missing.
"I was at a place in my life where I'd exhausted my conditioned responses and knew my situation was chaotic and unhealthy and that I would likely repeat these patterns. Although I didn't know God personally, I asked him for help."
Her eldest daughter was living in Medford, Oregon, so Edwards and her two youngest daughters headed there. When she arrived, Edwards found that bad credit precluded her from renting, and her oldest couldn't help because her own home was at capacity.
Fortunately, Medford's Gospel Mission provided temporary housing for Edwards and her two other daughters, now 17 and 8. One of the requirements there was regular church attendance, and Edwards eagerly took classes and went to Bible study. Before the family could get settled, however, Edwards said the Mission's infrastructure changed, and women with children were no longer permitted. She again found herself without options.
A couple from her congregation told Edwards about HOPE House, a Salvation Army-operated, drug-and-alcohol-free transitional living center. Edwards applied for residency, and in October 2020, she and her daughters moved to a three-bedroom apartment there, where they currently reside.
"My only prior knowledge of The Salvation Army were the thrift stores and kettles during Christmas," said Edwards. "But HOPE House has everything you could need to turn your life around."
Edwards said she was assigned a Life Skill Support case manager, who helped her look at the obstacles in her life.
"Together, we came up with a holistic plan to achieve my goals," she said. "I also decided to attend The Salvation Army church."
William Yeager, a member of HOPE House's Life Skills Support Staff, has seen growth in Edwards.
"Jessica is a special soul, motivated by the love and light of Jesus," he said. "There are times I wonder who is mentoring her. With each day she grows stronger in her devotion and love of the Gospel; she brings the Lord's light to whoever she comes in contact with."
Prior to moving to Oregon, Edwards worked for the Solano County Library, and as a legal assistant in Vallejo, but, she said, "I've had many struggles in my life. I left school and home at 12 and didn't obtain my GED until I was 24."
From The Salvation Army, she learned of a position at the Social Services Department and was offered a full-time job as an assistant.
"It's been a year since I was employed," she said. "I've secured quality childcare and my girls are thriving, getting to know Jesus."
Edwards and her two daughters are also soldiers, enrolled members of The Salvation Army, and they volunteer at the thrift store and attend church functions.
"My girls also participate in music and Encore," said Edwards. "The Salvation Army has given them community, faith, stability and more love than I could give in my own strength. It provides great programming for kids and teens and, as a vast international organization, it will be available to them wherever they go."
Edwards said that while The Salvation Army as a whole is responsible for getting her life on track, it was HOPE House that enabled her to "quiet the chaos" and provide healthy structure.
"Before, I always felt outnumbered with the pressure of being a single parent," she said. "HOPE House is my sanctuary—it's allowed me to slow it down, break dysfunctional patterns and refocus my life."
Despite her progress, Edwards said she continued to struggle with feelings of emptiness, and Medford Corps Officers Majors Randy and Jonnette Mulch were instrumental in providing her with opportunities to "learn, share and grow."
With their assistance, she also signed up for the Future Officers Fellowship Retreat at the College for Officer's Training in Rancho Palos Verdes, California, which helps soldiers discern the call to becoming an officer, or pastor, in The Salvation Army.
"It's exciting to see her commitment to the Lord and The Salvation Army and her desire to serve him with her whole heart," said Jonnette Mulch.
At CFOT this past February, Edwards found not just a sense of belonging, but answers.
"It reaffirmed in me the path God has me on," she said.
She said she turned in the interview form regarding her interest in attending CFOT, and is awaiting the next steps while she continues to build a healthy foundation for herself and her children.
"You get out of it what you put in. It saves lives, it really does," she said of the HOPE House. "Prior to coming there, I had no reference point to where my life was going. God, through The Salvation Army, has given me more than I can imagine."
---
Do Good: