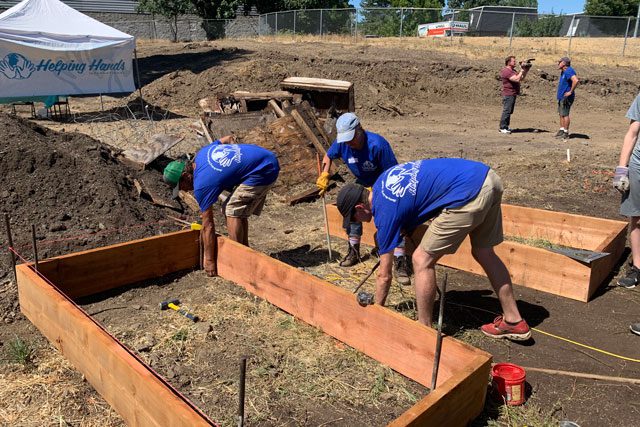 New park aims to bring community, outdoors to Medford's Hope House
Partnership revitalizes vacant lot.
By Hillary Jackson – 
The three-acre lot next to The Salvation Army's Hope House in Medford, Oregon, sat empty for years and was, by some accounts, an eyesore. A couple years ago, an advisory board member called Medford-based nonprofit Helping Hands International to ask for their volunteers to build storage sheds at the drug and alcohol-free transitional living facility that serves single men, women and families experiencing homelessness in Jackson County, Oregon.
"It was pretty surreal to see the Hope House facility," said Helping Hands International Executive Director Ron Ashpole, whose organization selects a local project each year to complete in addition to its international offerings."We didn't know it existed."
Hope House sits behind a freeway interchange, and unless you know about it or happen to be in the area, you wouldn't know it was there, Ashpole pointed out. When volunteers tore out beat-up raised flowerbeds, he was inspired. "I said, 'Jason, do you ever have a need for outdoor services or gatherings or facilities?'"
When Medford Citadel Corps Officer Major Jason Koenig agreed the outdoor features would be helpful two years ago—and even when Helping Hands selected the project last year—the groups had no idea the true need for outdoor spaces that would emerge during COVID-19, especially for children and teens staying with their families at the Hope House, whose recreation was relegated to a basketball hoop in the parking lot. 
Now, those living at the Hope House will have access to safe outdoor communal spaces through an amphitheater, basketball court, picnic area, splash pad, community garden, walking path and grass area—and hopefully a greater sense of community, too, while residents work to become self-sufficient.
"The concept of community is sometimes foreign to them because they've had to do whatever they can just to survive," Koenig said. "They could be there for two years. When they leave to move into a house or to an apartment, they can hopefully already have the experience of being a part of the community you live in." 
The revamped outdoor space—deemed Hope House Park—will also bridge the Medford Citadel Corps with the Hope House, opening up possibilities for socially distanced gatherings, like praise and worship events and divisional youth rallies. 
"We're just really excited about it," Ashpole said. "We love partnering with local ministries. We love partnering in our community. We love the vision of Hope House." 
While the project is valued around $200,000, Helping Hands International depends on volunteers to help, and has a majority of the work donated through construction contacts. The Salvation Army had to make a $20,000 financial commitment to assist in paying for materials, which it was able to do primarily through its advisory board members. 
In an odd way, COVID-19 has helped the project, both Ashpole and Koenig said, in that because of the pandemic, Helping Hands had to cancel most of its international work trips, so it freed up resources and manpower. For two weeks beginning Aug. 15, volunteers from the organization, the Army and even residents of the Hope House worked to bring the project to life, ending with laying 7,000 square feet of sod Aug. 29. 
Advisory Board Member Ken Pond volunteered several days, starting at the kickoff when he worked on a covered barbecue area and another day when he cut rebar before concrete was poured for a kids splash pad. 
"Because it's a transitional facility, the thing that is kind of missing is activities and a gathering place for the residents," Pond said. "It's really going to round out what's happening there."
A couple weeks before the project started, Koenig met with Hope House residents to talk about the project and encourage volunteering. "They are excited to see this empty lot transform into something amazing," he said. "And they are able to watch it as it's happening."