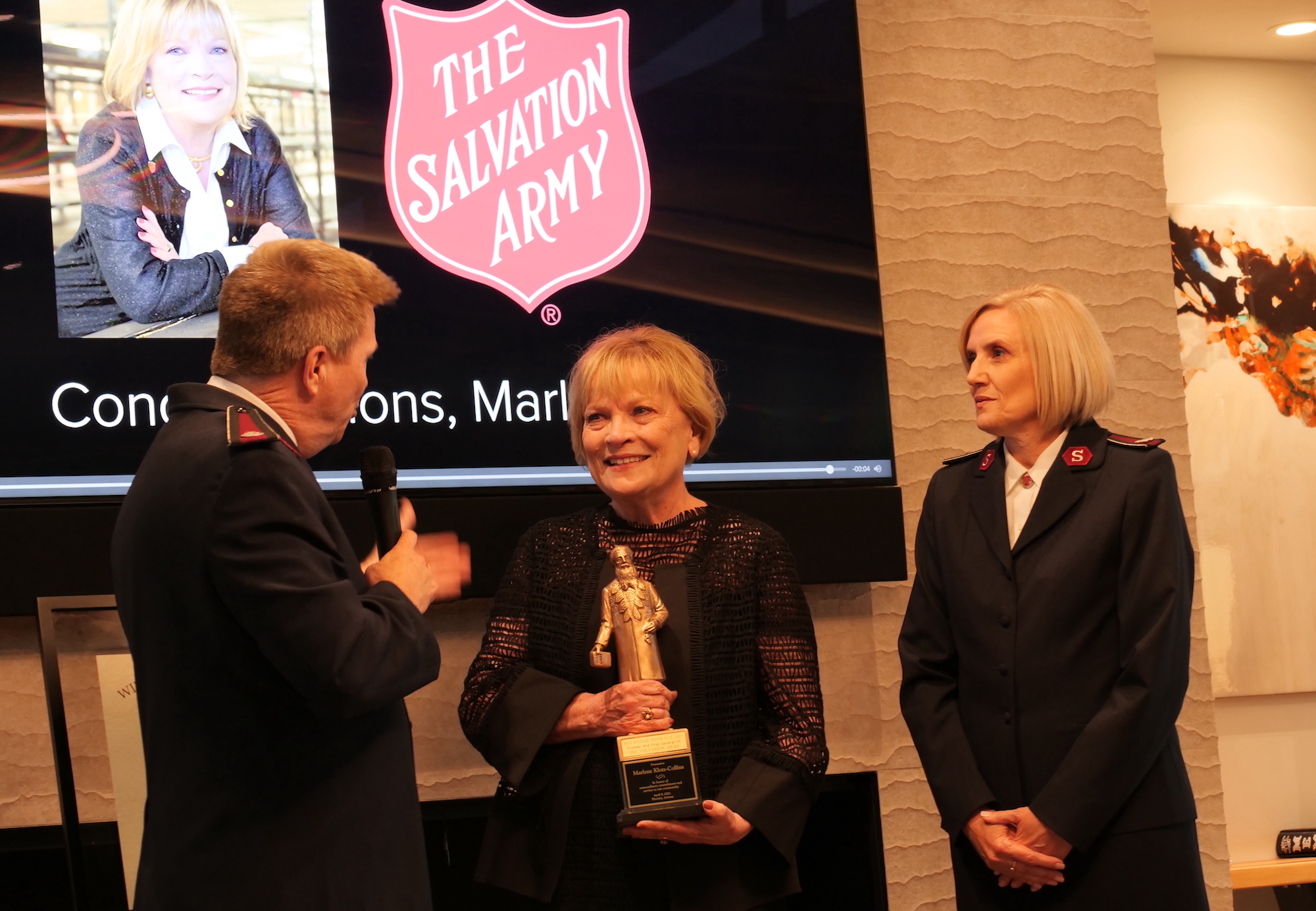 National Advisory Board Member awarded in Phoenix for 'loving others'
Tears of joy were in abundance on April 9, as nearly 100 friends, family, colleagues and Salvation Army officers and staff gathered at the home of Metro Phoenix Advisory Board member Dawn Riddle and her husband Jerome to honor Marlene Klotz-Collins, who has served The Salvation Army in several capacities for nearly four decades, as she received the prestigious William Booth Award, one of the highest awards that may be conferred upon an individual by The Salvation Army.
The gathering watched a heartfelt video message from National Commander Kenneth Hodder, who praised Klotz-Collins' selfless service to others and expressed hope that she would accept the award with pride and continue to inspire others to do good.
He closed his message by saying, "I can't help but think what the Apostle Paul wrote in 1 Corinthians: 'What no eye has seen, what no ear has heard, what no human mind has conceived, the things that the Lord has prepared for those who love him.' There's much yet to do, Marlene, and I look forward to working with you to see how much we can accomplish in his name."
Southwest Divisional Commander Lt. Colonel Ivan Wild then read congratulatory messages to Klotz-Collins written by former National Commander Commissioner David Hudson and Western Territorial Commander Commissioner Douglas Riley.
Hudson, who has known Klotz-Collins for over 30 years, expressed that she demonstrates compassion, generosity, kindness and love in everything she does for the Army. Riley described Klotz-Collins as one of the few people he knows who is not only always inspirational but always putting others before themselves.
Wild then presented Klotz-Collins with the William Booth Award, saying, "We are blessed and better because you serve … You resonate the beauty of Christ in all that you do. The spirit of joy, compassion, kindness and loving others is truly remarkable."
Klotz-Collins then regaled the gathering with stories and thanked virtually everyone in the room. She accepted the award on behalf of her and her husband Rex. "I wouldn't be here if it weren't for Rex," she said to a round of applause.
Metro Phoenix Advisory Board Chair Shawn Duncan then took the mic, and in congratulating Klotz-Collins said, "You just got one of the highest honors from The Salvation Army … and [you] spent your entire speech talking about everyone else. That's the sign of a leader, that's the sign of a legacy and the impact that you've made, and we are forever grateful."
One of the first ideas Klotz-Collins helped develop with The Salvation Army is now one of its signature programs in Arizona—the Christmas Angel program, which has completed its 36th year and now provides Christmas toys for more than 50,000 children annually.
Klotz-Collins has been a champion recruiter of bell ringers and was actively involved in the formation and activities of the first high school Red Kettle Club in the country and worked closely with the formation of other clubs locally and nationwide.
She was involved in the formation of Echelon, a social, networking, volunteering and fundraising group of young professionals, and she helped in the successful formation of Echelon in Phoenix. For more than ten years, Klotz-Collins organized a Food for Families campaign that raised more than one million cans of food.
Klotz-Collins chaired the Phoenix Advisory Board from 1994 to 1997, adeptly moving the needle forward and helping grow services, and has served on the National Advisory Board since 1999, organizing impactful events, involving uniquely-talented people in service, and organizing groups in the creation of nationally-recognized programs for The Salvation Army.
She has co-chaired National Advisory Organizations Conferences and has overseen the production of a best practices book of ideas from advisory organizations throughout the country.
It's not surprising that this isn't the first time Klotz-Collins has been honored by The Salvation Army. In 1993, she received the SALLY Award, the highest honor for a local board member. In 2013, she was given The Salvation Army's Order of Distinguished Auxiliary Service, the highest recognition conferred upon a non-Salvationist in recognition of outstanding, long-term service.
Klotz-Collins has been involved in other community organizations too numerous to mention, because her spirit compels her to help those in need in any way she can.
---
Do Good:
You've probably seen the red kettles and thrift stores, and while we're rightfully well known for both…The Salvation Army is so much more than red kettles and thrift stores. So who are we? What do we do? Where? Right this way for Salvation Army 101.
It's because of people like you that The Salvation Army can serve more than 31 million Americans in need each year. (That's almost one person every second, every day.) Your gift helps The Salvation Army fight for good all year in your community. It's an effort to build well-being for all of us, so together we rise. And that good starts with you. Give to spread hope with a donation of funds, goods or time today.