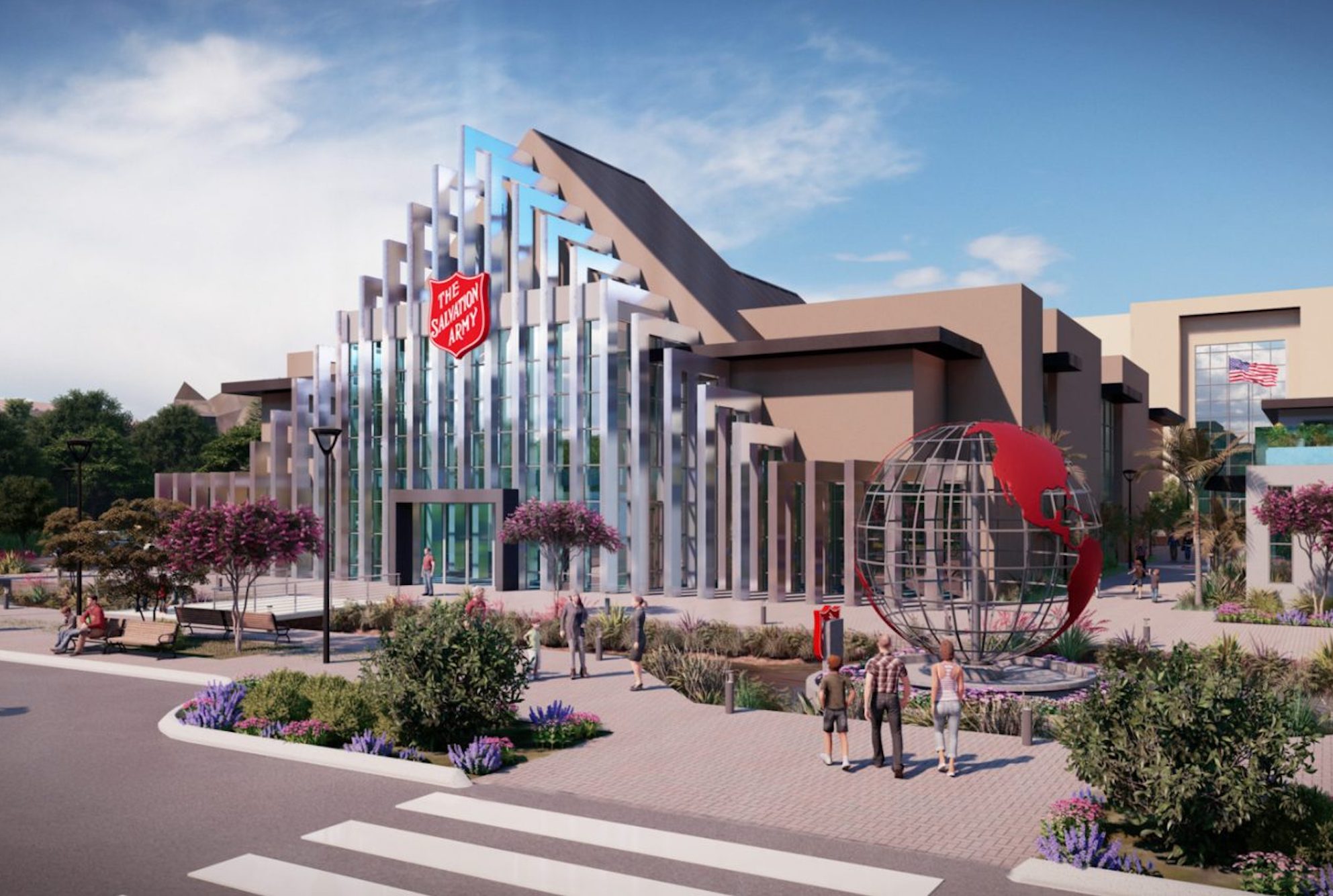 Salvation Army Center of Hope turns to research to end chronic homelessness
A bold vision calls for fresh approaches.
Divisional Secretary for Orange County (California) Major Nesan Kistan has a bold plan: End chronic homelessness in Orange County in three years.
This is a daunting task. More than 7,000 individuals are estimated to live on the streets of Orange County—a number that rose more than 43 percent in the past four years.
The clock for Kistan's vision started ticking on Jan. 31, when The Salvation Army broke ground on the first phase of its Center of Hope campus. That means he and his team have until February 2025 to achieve their goal.
"It's not pie-in-the-sky, and it's not fanciful," Kistan said. "It's ambitious. It's audacious. But I believe with the right applied science, we can do it."
That applied science is key. Apart from Kistan's timeline, the unique element to Anaheim's Center of Hope is the research-based approach its leaders are taking.
Director of Operations in Orange County, Dr. Ben Hurst, is also one of its leading academics in social work, self-determination theory and motivational interviewing. These elements are the foundation for the homeless throughput system, which Hurst and Kistan believe will revolutionize the approach to ending homelessness. 
The center is also partnering with University of California Irvine in an international pilot program called Poverty Spotlight, Hurst said. Together, the Center of Hope and university are conducting a special project that focuses on adult rehabilitation for men experiencing homelessness. The goal, according to the website, is "to make visible the invisible manifestations of poverty," to empower clients and to build external capacity. 
Much of the center's research looks at how programs can incentivize individuals to take steps of positive responsibility, Hurst said. The result was the homeless throughput system: a linear pathway for freedom from homelessness.
The easiest way to envision this plan to get people off the streets and reintegrated into communities is by picturing a baseball diamond, Hurst said.
Each base represents a step toward success; rounding all the bases and crossing home plate is a measure of achievement. Hurst and the team call it, "Safely Home."
First Base: Intervention. This 30-90-day period includes triage at the center's 325-bed low-barrier shelter. Individuals are assessed to ensure critical needs are dealt with immediately. Once stable, they are assigned a personal case manager.
Second Base: Transition. This 18-24-month period transitions people into permanent supportive housing, including the center's 300-bed facility. This phase also provides a variety of social service offerings and job placement support. 
This is where many programs in cities across the United States stop, Hurst said.
Third Base: Re-integration.This six-month period includes a work therapy and sobriety life transformation program that works toward complete community reintegration.
This is the ingredient in the homeless throughput system that leaders believe will unlock the possibility for thousands of hurt, sick and desperate individuals experiencing homelessness to receive a layer of additional support not currently available. 
"There is really nothing like this," Hurst said. "There's no homeless solution reaching for drug-free, back-to-work reintegration. That conversation literally is not happening out there on a large scale."
Instead, Hurst said, almost all of the conversation is focused around shelter and affordable housing. 
"We're on that team, too, but we try to tell people that you don't have the financial resources for that to be the only answer," Hurst said. "There has to be more than that, so we can get our people drug free and supported in autonomous living."
The Center of Hope—with its emergency shelter, permanent supportive housing, comprehensive wellness center and Center of Innovation Research Center—helps guide individuals through each critical phase of the process.
Each base in the program helps individuals create a true sense of belonging in the community. Everything is tied to enhancing self-sufficiency and personal responsibility.
"It's theory and practice working hand in hand," Kistan said.
Much of this is about marrying what The Salvation Army has excelled at for more than 150 years with the lessons learned from academic research, case studies and peer reviewed materials. 
"This is a well-developed field of study," Hurst said. "Let's take those lessons and pair it with what we do so well so that we can find a new way forward."
The Center of Hope is also relying on lessons learned from The Salvation Army's work with refugees. Kistan's background prior to his move to California involved working on the Australian Prime Minister's refugee task force. 
Both refugees and individuals experiencing homelessness are displaced people, Kistan said. And both are dealing with some level of trauma.
The Salvation Army's time-trusted, international experience at successfully re-integrating refugees provided inspiration to not only move people off the streets, but also create a pathway, coupled with incentive, to reintegrate people into the community. 
This expertise, coupled with academic support, is what encourages Hurst and Kistan to push forward with innovative programming and a radical belief that homelessness can be eliminated. 
"As a society, as a community, we're looking for a revolutionary answer," Hurst said.  "So much of what we do is reactionary. We're looking for cutting-edge innovation."
The center's academic foundation and The Salvation Army's history of success provide a level of confidence, too. While Kistan has empathy and a fervent desire to make a change, he also has proven strategies, insights and global experiences that reassure him the homeless throughput system will work. 
He also trusts in God to lead the way and guide them in ending homelessness, even when others may think the challenge is too great or the problem too complex.
"There will be people who laugh and tell us it's impossible," Kistan said. "I believe that's what the founding mission of The Salvation Army is—to believe that the impossible can be possible. Because with God, nothing is impossible. That is the truth that drives us."
---
Do Good:
It's because of people like you that The Salvation Army can serve more than 31 million Americans in need each year. (That's almost one person every second, every day.) Your gift helps The Salvation Army fight for good all year in your community. It's an effort to build well-being for all of us, so together we rise. And that good starts with you. Give to spread hope with a donation of funds, goods or time today.
Hear Theo Ellington share about how The Salvation Army is fighting homelessness in San Francisco.