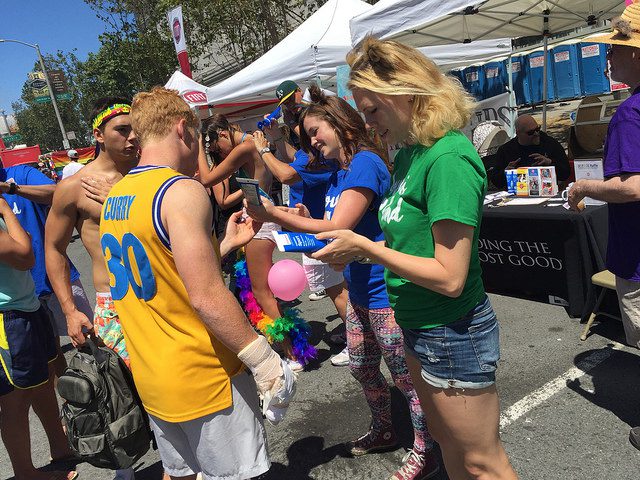 Salvation Army exhibits at SF Pride
Free sunscreen given with message: 'Love is kind.'
By Laine Hendricks –
In an effort to spread positive messages of love, hope and help, and to correct misinformation that still exists regarding The Salvation Army's relationship with the LGBTQ community, the San Francisco Metro Advisory Board exhibited at the San Francisco Pride event June 25-26 with fees underwritten by a corporate partner.
"We were there all day Saturday and Sunday with the simple objectives of spreading awareness of Salvation Army programs and services, having thoughtful conversation with the LGBTQ community about our services, hiring practices, and addressing the false rumors or past history of the organization," said Lt. Colonel Cindy Foley, divisional director of women's ministries.
The exhibit featured a display board with an overview the Army in San Francisco and a place to sign up for more information regarding services in the city, volunteer opportunities, and features of the programs that LGBTQ individuals most frequently utilize. Volunteers—including LGBTQ clients, employees and members of the advisory board and Echelon—passed out free "shots" of sunscreen and encouraged passersby to sign up for a free drawing with prizes including memberships to the San Francisco Ray and Joan Kroc Corps Community Center.  
"Because the sunscreen was distributed from a large hand-held bottle, it gave our volunteers an opportunity to engage in conversation in an up-close and personal manner…the creative engagement opener that we prayed for," Foley said. "We created custom shirts referencing 1 Corinthians 13:4-8, with the phrase 'love is kind' and the outline of the shield—a subtle reminder of who we are and why we were there."
Foley said volunteers most often heard: "I just have to ask…why are you here?"
"It was a fair question for the LGBTQ and San Francisco community to ask us, and it provided the perfect entry to talk about the conversation points we wanted to share," she said. "Having individuals from the LGBTQ community stand with us at the booth was a huge statement."