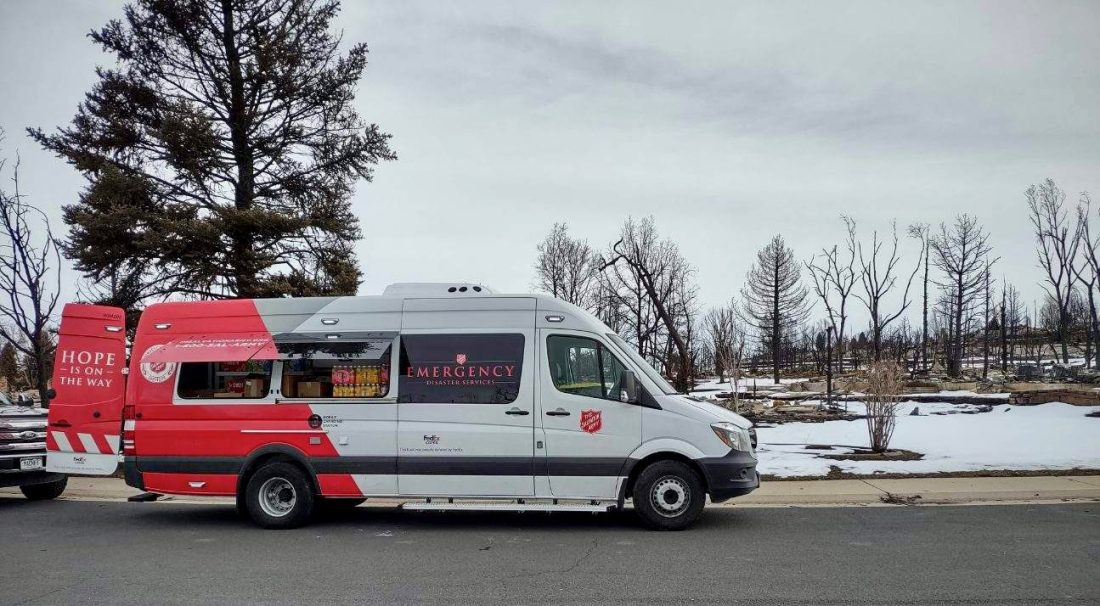 Salvation Army ensures 'Hope is on the way' following Colorado fires
As destructive fires began to spread through Colorado counties on Dec. 30, 2021, Salvation Army staff and volunteers sprung into action to provide meals and emotional support for first responders and survivors.
On the back of The Salvation Army's Emergency Disaster Services (EDS) canteens and response vehicles, there's a clear message: "Hope is on the way."
While no one wants to encounter disasters, Intermountain EDS' Executive Director Ian Anderson said there's hope to be found in disaster relief. "We see the best in The Salvation Army by fully mobilizing to support our hurting communities."
As of Jan. 12, The Salvation Army provided 11,599 drinks, 6,315 meals, and 11,834 snacks to emergency responders and survivors affected by fires in Boulder County, Colorado.
Providing those drinks, meals, and snacks are The Salvation Army volunteers, who have served over 480 hours since the fires began on Dec. 30, 2021.
"The outreach from the community has been substantial," Intermountain Divisional Volunteer Manager Regina Leeson said. Since the fires began, Leeson said she received over 600 inquiries from people wanting to volunteer. "[It's] truly inspiring to see how many people want to help their neighbors in this time of need."
Robyn Morgan, who Leeson called a "volunteer rockstar," has taken the lead on managing volunteer needs on-site by making sure teams are adequately staffed and supported. "She's been there every day since the response started and has been a friendly face to those who have lost so much the last few days," Leeson said.
"I have always been a volunteer by nature," Morgan said, mentioning how she first began volunteering with The Salvation Army in 2005 following Hurricane Katrina.
"I became very excited about the way that The Salvation Army ministers to people by providing food and comfort and in such a sincere way. I've volunteered for other organizations over the years, but not all of them have had the pure heart that I sensed with The Salvation Army."
Since that time, Morgan has volunteered with the Army during several disasters but said the Colorado fires have "been a little different."
"It's real close to home," Morgan said, mentioning her Denver-area residence could have been taken out by the fires.
While Morgan's home remained untouched, she said her family had been placed on "pre-evacuation" before they were cleared. As soon as Morgan received the all-clear, she said she went straight to volunteer. "It just really feels like this is a calling," she said.
To Morgan, volunteering means she can give survivors "hands-on assistance" during "the most difficult time" in their lives.
"I really like the informal role that we play as we are available to people for emotional and spiritual care," she added.
As of Jan. 3, The Salvation Army has been stationed at the Disaster Assistance Center (DAC) in Lafayette, Colorado, providing further support to families displaced by the fires.
"That is the place where all survivors come to and we try to have all the services there so they don't have to go to a lot of different places," Morgan said. "You can just imagine how exhausting that is," she added, referring to survivors shuffling from station to station.
At the DAC, survivors first register with the Federal Emergency Management Agency (FEMA) to see what benefits are available to them. From there, survivors can receive assistance for a variety of issues—from getting supplies for small children and pets to speaking with insurance representatives and counselors.
While providing assistance on disaster sites takes a toll on volunteers, Morgan said she reminds herself that any tiredness she may be feeling "does not compare, in any sense, to what a survivor is going through."
"I am very much guided by Christ's example and my energy comes back pretty quick," she added.
To people looking to become disaster volunteers with the Army, Morgan advised to "think ahead."
"If you're serious about volunteering, get trained before there's a disaster," she said.
Then, Morgan added: "You can be ready should a disaster strike in your area and you can be a great help to the existing Salvation Army staff."
After two weeks since the fires began, early conversations related to cleanup and long-term recovery efforts are beginning to take place.
"After the cameras and partners leave, our local Broomfield Corps will remain as a local partner in recovery for the years to come," Anderson said.
Over the years, Broomfield (Colorado) Corps Officer Major Michael Paugh has been assigned to several fires in the Western Territory.
Unlike fires he helped respond to in the past, the Colorado fires were in close proximity to the Broomfield Corps and affected all community members in one way or another.
Most recently, Paugh said he spent the morning offering emotional and spiritual care to those who needed it. Paugh said he stood outside a home burned by the fires—its owner built the house 30 years ago and now everything was gone. "He was unable to get anything out… It was just so devastating," he said.
While helping on-site at the evacuation shelters during early response efforts, Paugh said there were so many people that needed help and answers. "They wanted to know about loved ones. They wanted to know, 'Is everything going to be OK?'" Paugh said.
When speaking with survivors, Paugh said he first makes sure they are hydrated, fed and provided with protective gear—whether that be facemasks to protect against COVID-19 or winter coats to protect against the frigid temperatures following the snowfall that put out the fires.
Once a survivor's basic needs are met, Paugh said being "an ear to listen to" and allowing space for them to speak "helps a lot."
"Some people just want to talk," Paugh said. "You're there to listen to their story."
In addition to being a person to talk to, Paugh said one woman came to him with a request: to have worship services for survivors. " I looked at her and I looked at my friend who's a volunteer, and I thought, we can do that," Paugh said.
Soon after, Paugh was able to gain approval and begin to hold services on-site and provide hope to those in need.
---
Do Good: