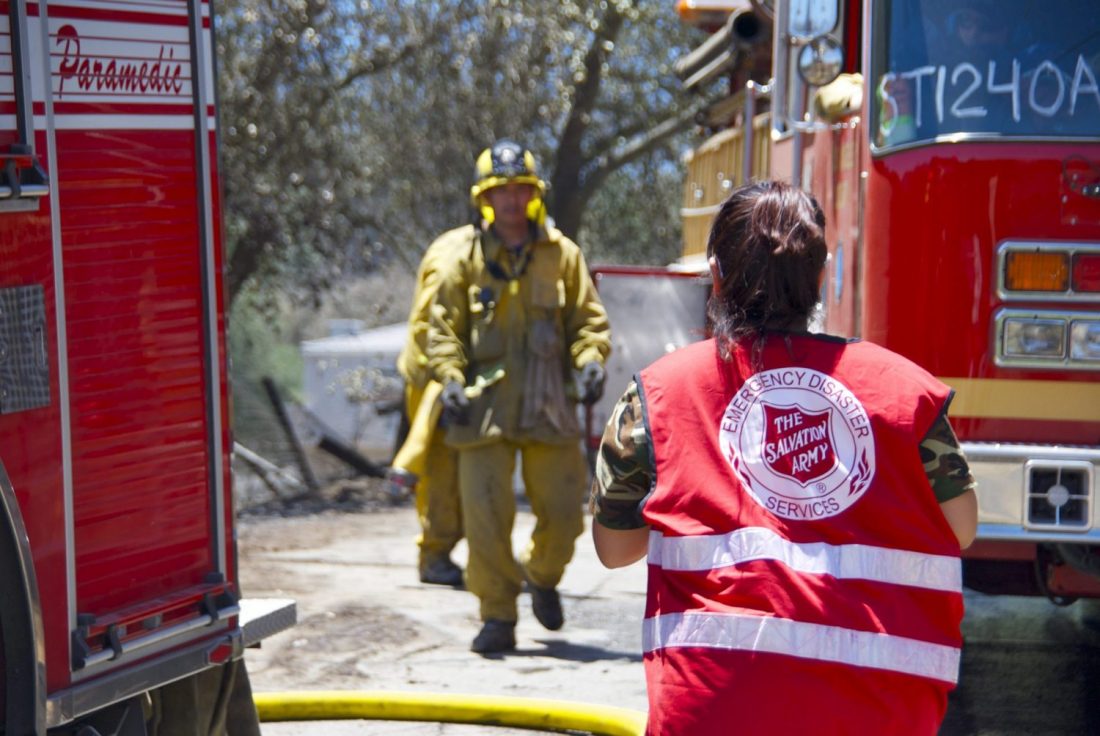 Fire season during COVID-19: Q&A with Salvation Army Emergency Disaster Services Director in Northern California
Every fire season in California—typically running from May through November—The Salvation Army serves communities before, during and after a disaster. This year brings a new challenge: how to respond to a wildfire during COVID-19. The Del Oro Division's Emergency Disaster Services Director, Patrick McGinn, discussed how the Army in Northern California and Northern Nevada is preparing for a challenge unlike any it has faced before. 
What are the unique challenges you are facing this fire season due to COVID-19?
PM: One major challenge will be making people feel comfortable volunteering. Our whole responses are volunteers, so that's why keeping our people safe, keeping everything clean and sanitized, providing masks, providing gloves, providing protective equipment is so important so we can attract volunteers to feel safe enough to work with other people.
How do we create distance between our volunteers and our staff and our corps officers or our social service administrators and those that we're serving? How can we make them know that we care for them while still being six-feet apart? We've been able to do that successfully during this COVID-19 response—from March to June we did drive-through distribution instead of face-to-face distribution, and in a lot of cases, we're providing masks and gloves to our own volunteers and staff so that they can feel safe while providing for other people, so it's as much about making our people feel safe as it is about making those who we're serving feel safe as well.
How is The Salvation Army going to feed people with social distancing guidelines while keeping everything as sanitary as possible? 
It's been a rule of ours all along is that if anyone's feeling sick, they're not coming to work, and that's a major thing right off the bat. Another thing is that we've been working with the American Red Cross, who has developed their own national mass care strategy for how food delivery and food serving will happen, and so we've been working through different exercises and different modules with them on how that's going to happen in this type of fire, in this location, in these several locations, and I think we have some really great plans in place that make us feel confident that we're ready to serve any community, anywhere, anytime during fire season.
What will be different this fire season?
We're at the very beginning of fire season. The worst fires happen between August and November, almost into December. We've been training people and having meetings on what worked on the past fire seasons and…during our next disasters, we're implementing shift schedules so that nobody really burns out. Nobody's working more than eight hours at a time during a disaster, so we can keep people for longer and…keep them feeling stronger for longer and feeling more confident in the services that they're providing.
What are ways to help this fire season?
We care and we want to support everyone that's in each location wherever we're serving, but we also need volunteers to fulfill that vision to really serve people and to love people. It takes people donating monetary donations, donating your time and coming out and volunteering with us and then just spreading awareness because the more you spread awareness, the more of both those other things we may be grateful enough to receive.
Watch the interview:
Reporting by Samantha Jarosz