We've all seen what happens when drought, wildfires, flash-flooding, hurricanes, tornadoes, earthquakes and blizzards arrive.
That's why, in The Salvation Army,
there's no such thing as no place to go.
And while every natural disaster is unique and creates its own special needs, the heart of The Salvation Army's disaster response is to meet the immediate needs of a survivor and the emergency responders there to help, including:
Every step of the way, The Salvation Army offers emotional and spiritual care upon request to victims and emergency responders.
Many times, those in Salvation Army uniform are asked for prayer in the midst of a tragedy. It's this
"ministry of presence" The Salvation Army considers one of its highest honors.
As the only provider of social services in every U.S. zip code, The Salvation
Army uniquely understands that disaster can strike anywhere.
Every year, some 90 million people are affected by natural disasters.
By providing beverages, meals, and emotional and spiritual care to first responders and survivors, The Salvation Army strives to bring hope and healing to people who find themselves in extremely difficult situations.
Your gift of $10 will help The Salvation Army
feed a disaster survivor for a day.
When the need for disaster relief hits,
The Salvation Army is there to serve.
When things are uncertain.
When someone needs a bowl of soup.
Will you join us in the Fight for Good?
Here's how it works:
1
Decide to join The Salvation Army in our fight against disaster.
2
Give $10 to help feed a disaster survivor for a day
(that's less than your next
drive-through lunch).
3
Lay your head on the pillow tonight knowing you're helping your community prepare in case of disaster.
Yes, you could keep "do good" on your to-do list.
You could set a resolution to help others this year.
Or, you can decide to choose love today.
Act now to get in the Fight for Good.
Give to fight disaster in your community today.
help a fire, flood or other disaster
survivor not worry about how
they will eat.
Your gift of $10 will help The Salvation Army feed a disaster survivor for a day.
Our Promise
to Donors Like You
The Salvation Army is dedicated to Doing the Most Good, assisting 31 million Americans annually with food, shelter, rehabilitation, disaster relief, child protection and more.
By meeting tangible needs, we give the world a lasting display of the love behind our beliefs. Since 1865, we have been working to provide sustainable solutions for the most vulnerable. We stay not just until the job is done, but long afterwards, to ensure that the healing continues. With 82 cents of every dollar dedicated to directly supporting the needs of the community in which it was received, The Salvation Army is committed to stewarding every donation with integrity.
Click here to see our most recent annual report.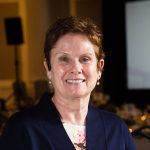 "I learned a great deal [volunteering after a tornado]—that people don't play victim when they're in a disaster situation. They've lost family members, they need assistance, but they would come in wanting to know how they could help their neighbor. They were devastated but wanting to help. I was so humbled by that."
– Catherine Atiyeh-Mitchell, Volunteer and Advisory Board Member, Portland, Oregon
We were asked by the city to help problem solve, so we are feeding hungry people and providing needed shelter, two things at the core of The Salvation Army's mission. Love is kind, and The Salvation Army serves human need without discrimination.
We pop open the [mobile canteen] doors and we usually have a couple people inside serving and we just kind of hang out and give everybody a few minutes of joy.
"I really appreciate the help… I'm okay. I'm like, 'I'm okay, everything's gonna be okay…'"
About Us
An international movement, The Salvation Army is an evangelical arm of the universal Christian Church. Our message is based on the Bible, and our ministry is motivated by the love of God. We preach the Gospel of Jesus Christ and meet human needs in his name without discrimination.
Looking for more ways to help?
Curious what cause best fits your personality? Take our quiz and discover
where you can make the biggest impact today in the fight for good.