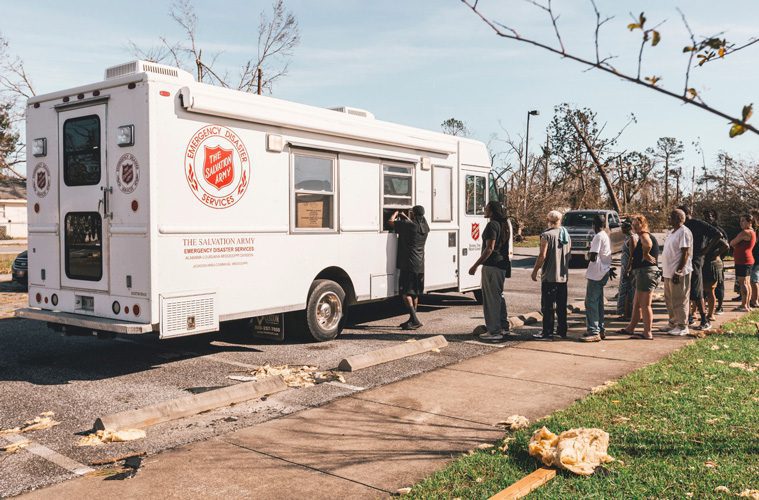 How does The Salvation Army use your money after a disaster?
We've entered a new era of catastrophes. 
Over the last two years, the U.S. has experienced 30 natural disasters that have each caused at least $1 billion worth of damage. In many cases, the total was far more significant: the 2017 trifecta of hurricanes Harvey, Maria and Irma combined for $265 billion in losses.
When disasters strike, we're left to pick up the pieces. And pick up each other. 
While The Salvation Army helps survivors in the aftermath of disasters, the general public is, no doubt, the unsung hero. Without the generous donations of ordinary people, much of that work isn't possible in the first place.  
So, where exactly does all of this money go?
"If we didn't get disaster funds, that would really limit what we can provide," said Nicholas Nguyen, Emergency Disaster Services (EDS) Director for The Salvation Army California South Division. "We wouldn't be able to feed thousands of people, wouldn't be able to distribute immediate financial assistance through gift cards and vouchers, and we wouldn't be able to help people recover months and years afterward."
From the moment a donation comes through, be it online, via handwritten check or during a telethon, The Salvation Army gets to work, turning the public's hard-earned money into real, tangible impact in the affected community. 
Every disaster is unique, as is The Salvation Army's role in each community it serves. So how the money actually gets spent varies quite a bit. But as the disaster relief process goes on, more specific needs become apparent on a case-by-case basis.
"There are always, always service gaps," said John Berglund, EDS Director for The Salvation Army Western Territory. "That could mean there aren't dumpsters in communities where people have to muck out their houses [after a flood], or maybe people need storage bins to store their remaining belongings. The beauty of The Salvation Army is in its flexibility and its willingness to adapt. We can always be looking at what's not being covered."
After Hurricane Sandy, The Salvation Army started helping pay off survivors' credit card debt. It wasn't something any other relief organization was doing—and that was the point. 
"It can take government assistance several months to roll out. So I've seen situations where survivors have to stay in hotels three to six months, then they ruin their credit by running up credit card debt, and we have another issue," Berglund said. "The reality is, we've created a larger problem if we can't get help to them fast enough."
Often, depending on the scale of the disaster, The Salvation Army will earmark funds for the recovery phase—as long as the funds are available.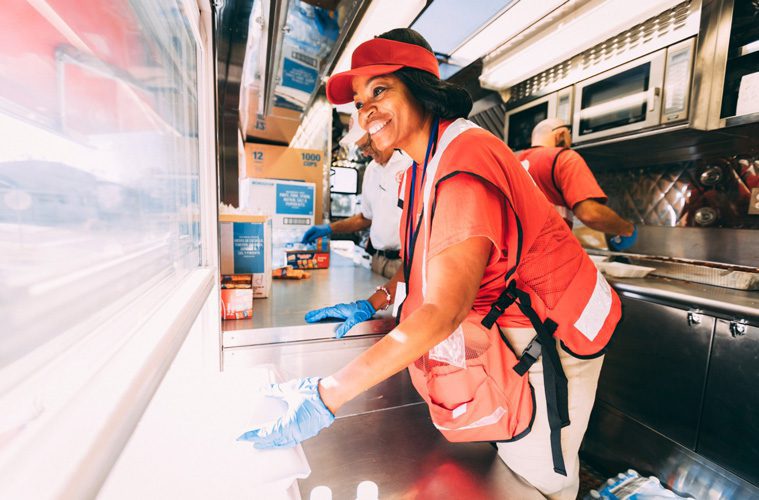 In Northern California, for instance, The Salvation Army is currently building a group of eight, two-bedroom transitional housing units specifically for Camp Fire survivors who have been displaced since the blaze broke out late in 2018.
With the help of several individual donors, these "turn-key" homes will house families who may be couch surfing or living in mobile homes or temporary trailer units after losing everything in the fires.
"We try to be a little more holistic when we go into disaster case management to say and ask, 'what's the plan for this family?'" Berglund said. "They have to have a new laptop, a new vehicle, a new phone to survive and move on with their lives."
Spending money quickly isn't always possible, nor is it the best approach, given that the response can last several years. But donating to The Salvation Army as soon after the disaster as possible can help them determine what type of services it can provide over the long haul.
"If you know you want to donate, the sooner you donate the better. Because the sooner we get the donation, that enables us to say, 'There's enough money to go into recovery,'" he said. 
Of course, it's hard to talk about Salvation Army disaster relief without mention of the "Emotional and Spiritual Care" (ESC) it offers to survivors. Biblically, the foundation for this "ministry of presence" is supported through the mandate to bear one another's burdens (Gal. 6:28): "You must be compassionate just as your Father is compassionate."
After Hurricane Harvey late in August 2017, a two-person crew from Kentucky rolled into Houston after dark on Aug. 29. Just as they were ready to head out on their mobile feeding unit the following morning, residents in the Redwood Heights apartments were seeing the sun—and dry ground—for the first time in days.
Before the flood waters receded, heavy rain from Harvey had submerged their cars in the parking area and caused a loss of electricity in the 96-unit apartment community. The residents felt stranded and alone. When Lt. Jane Monroe and Captain Sarah Quinn arrived, they were greeted with smiles and cheers.
"They said we were the first ones on the scene," Monroe said. "No one checked on them, and they felt forgotten."
The Redwood Heights residents appreciated the food and the water, but what they really needed was for someone to listen, to be present for them to talk. "It brings us great joy to be able to help them when they felt like no one cared," Monroe said.

Regardless of what type of disaster The Salvation Army is responding to, Berglund noted it's critical that they follow the survivor. That way, they keep a pulse on the survivor's needs over the long haul, and "do the most good" for the greatest number of people. As long as they do that, good stewardship of the public's donations will naturally follow.

"The biggest misunderstanding is that if a disaster is no longer in the news, there's no more need," he said. "The reality is, it's just the beginning. You have to follow survivors along this path to recovery.
"But donors have to trust us—that's the bottom line. We'll do the most good. But they have to understand: that may take up to three or four years," Berglund said. "It doesn't stop when the news vans drive out of town. It doesn't stop when the shelters close. We're going to be good stewards of the money. We stay in the game until the money gets spent."
---
Do Good: