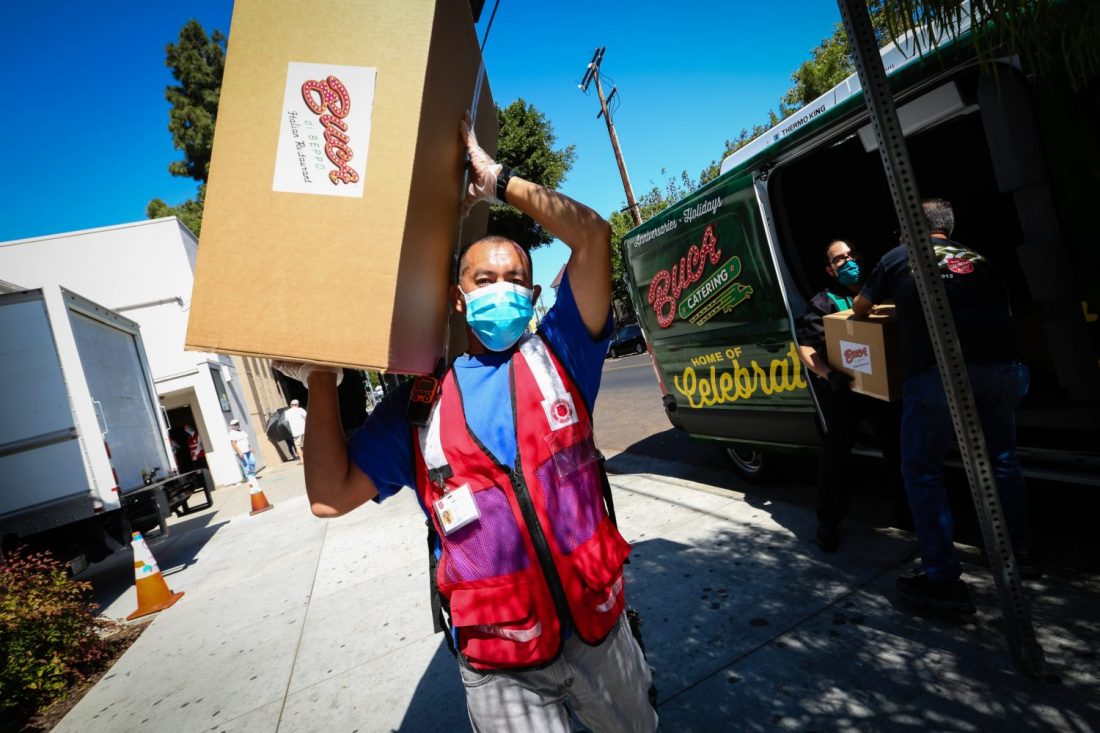 Salvation Army continues to provide meals to those in need during COVID-19
A message from Commissioner Kenneth G. Hodder:
Commissioner Kenneth Hodder: I'm here today at The Salvation Army's Red Shield Center in Los Angeles. I'm standing in what would normally be the chapel one month prior to the COVID-19 emergency. This room is dedicated for worship, and in those first few weeks between 130 and 150 people were gathering here on Sundays to worship the Lord, but when the lockdown orders came that worship came to an end. But worship is still continuing in a different way. In this room food is prepared every week to serve more than 1,200 families and right now, working in cooperation with one of the best-known Italian restaurants in the western United States, we're preparing more than 300 meals to provide support and encouragement to the people on Skid Row.
Lt. Angel Amezquita: Bucca di Beppo meals is usually a box filled with pasta, which is still hot out of the oven, a piece of bread and dessert, and we also include a drinking water bottle. This meal doesn't just feed their stomach, this just fills them up with dignity, that people still thinking about them. Fills them up with hope. They're just I was saying shocked that people are still going out there and feeding them and at this point, a lot of other organizations stopped.
Fannie Hernandez: Today is a very special day in our community. We had Bucca di Beppo drop in and donate meals and we are also distributing some to our low-income families. We want them to know that they have someone they can count on they can come and talk to us if they need any kind of help, we're here to help.
Commissioner Kenneth Hodder: The Salvation Army believes that hope is greater than fear and we invite you to join us in this fight. There's information at the bottom of your screen as to how you can participate. Thank you in advance for supporting the work of The Salvation Army. Thank you for being a part of this important team. God bless you.
HOW TO HELP:
If you'd like to make a monetary donation, please click here to make a gift.
Text 'GIVE' to 52000 to make a $10 donation to The Salvation Army. This will automatically add a one-time donation to your next mobile phone bill.
For information about volunteering, please visit volunteer.usawest.org.
To learn more about how to support The Salvation Army's relief efforts, please click here.