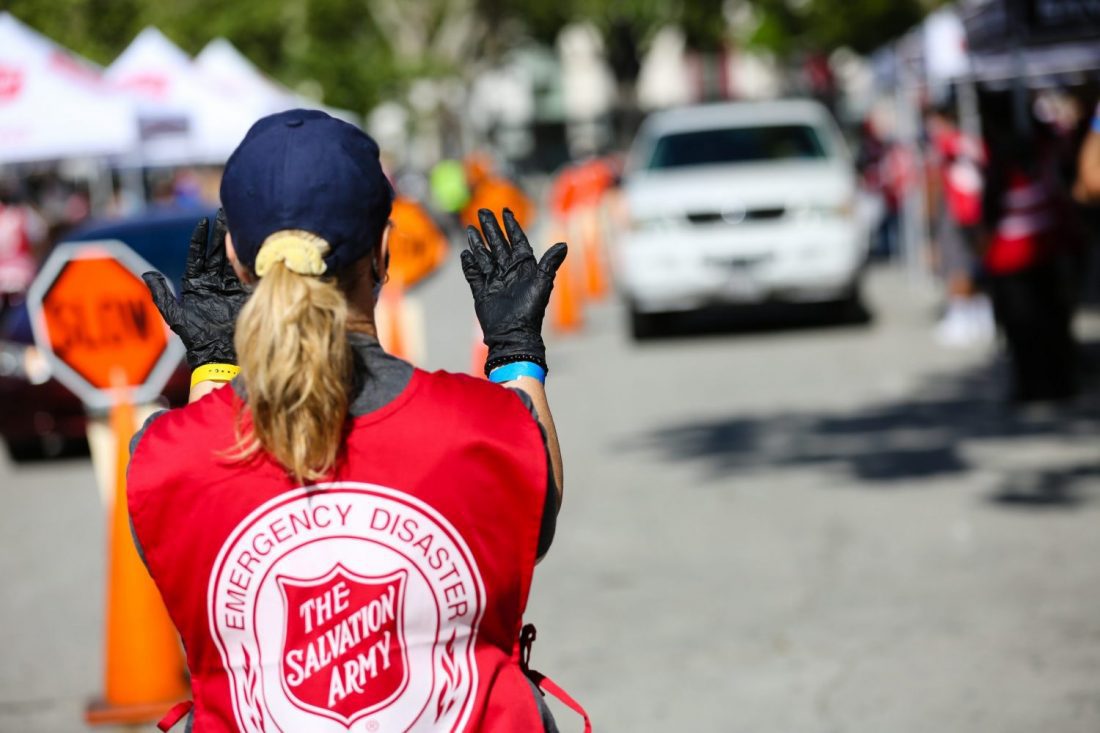 Salvation Army continues to meet need with drive through food distributions
A message from Commissioner Kenneth G. Hodder:
Commissioner Kenneth G. Hodder: I'm here today at Bank of California Stadium in Los Angeles where within the space of four hours the Salvation Army will provide food boxes to more than 2,000 families. Families that never anticipated they would need the help of The Salvation Army, but we're here for them now. Each food box contains 18 meals, and in addition to that they'll receive a grocery card in order to buy fresh produce. The Salvation Army is making all of this possible in cooperation with the Church of Jesus Christ of Latter-day Saints, the California Highway Patrol and the Los Angeles Football Club, and it's only one of many similar events taking place across the western United States.
Lt. Colonel John Chamness: You know, The Salvation Army is in a really great position to be the organization that really responds to this pandemic in a really robust way. They've been there to support and pray for those who right now are just in the midst of this crisis and don't know where to turn, but they turn to The Salvation Army and they turn to our Salvation Army officers. So today, we're partnering with the Los Angeles Football Club and we're also partnering with the Church of Jesus Christ of Latter-day Saints. They've been excellent partners to help us put on this event today.
Matt Ball: The church has a certain amount of contributions that they give to a lot of different organizations. The Salvation Army is one of the foremost in which the church offers up its food and donations, and because of our humanitarian outreach that we've got and all the food donations that come in from around, not just the United States, but around the world, we donate to The Salvation Army specifically for this event so that they can donate food and commodities to those families in need and those people that have specific needs that aren't met in the community.
Ross Curtis III: They feel that that they're the ones receiving, but honestly it's us. We're the ones receiving the biggest blessings because we get to do something for someone else who doesn't have. People always think, well you can't change the world, this is changing the world one box at a time in the back of a trunk or the back of a back seat. that's changing the world. Changing the world is one simple act at a time and that has ripple effects to other people that will inspire them to want to do the same things, so when The Salvation Army comes up and does something else, those people gonna remember that Salvation Army helped them they're gonna want to help other people. The ripple effects change the world.
Commissioner Kenneth G. Hodder: The need right now is great and The Salvation Army intends to be an active part of helping to meet the human needs created by the COVID-19 pandemic. There's information at the bottom of your screen as to how you can be a part of our team. Come help us demonstrate, as we are here today, that hope is greater than fear. God bless you.
HOW TO HELP:
If you'd like to make a monetary donation, please click here to make a gift.
Text 'GIVE' to 52000 to make a $10 donation to The Salvation Army. This will automatically add a one-time donation to your next mobile phone bill.
For information about volunteering, please visit volunteer.usawest.org.
To learn more about how to support The Salvation Army's relief efforts, please click here.