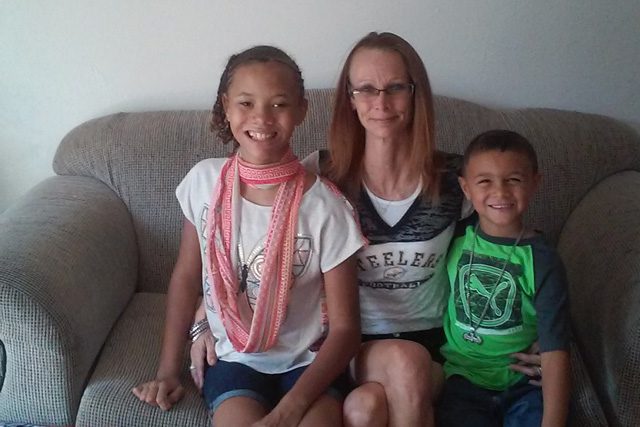 Salvation Army child care a 'godsend' for single mother
By Caramie Petrowsky –
Laura McLaughlin had reached her wits' end.
She was working nights and attending night classes at a massage school while her brother-in-law stayed with her two kids, Ja'mesia, 14, and Lourease, 8, while they slept. She would get home each morning in time to get the kids off to school. She was averaging around three hours of sleep each day, and it was starting to take its toll.
When she saw The Salvation Army bus driving by one day, she decided to see if the Aurora (Colorado) Corps offered any after-school programs.
The corps, then led by Lts. Tim and Tanya Pemberton, began the before and after-school program in 2016. In slowly caught on within the community and today it continues, offering after-school care and homework help. After the Pembertons received a new appointment, Lts. Sam and Felicia LeMar became the Corps Officers.
"They had just started their before and after-school programs. When I first met Demarius [the former program director], I was like 'you've been sent to me from God,'" McLaughlin said.
Lourease started attending the program and loved it so much he cried if he was picked up before 5 p.m., she said. Thanks to the program, McLaughlin is now able to work days again as a personal caregiver for homebound individuals. She graduated from massage therapy school and has her certification. And the family has become more and more immersed in other Salvation Army programs, taking part in the Friday evening kids' nights, when for two hours every Friday night children can participate in activities like laser tag and eat dinner, while their parents take a break.
"On Sundays, after church, they have a teen group for my daughter and cub scouts for my son," McLaughlin said. "The kids went to The Salvation Army's High Peak Camp—their first camp experience—in Estes Park last summer, and Ja'mesia took part in the Bible Bowl contest."
McLaughlin likens the Bible Bowl competition to "Jeopardy for the Bible."
"There were months and months of preparation and Lts. Tim and Tanya would have both of my kids, [along with other team members] come to their house so my daughter could participate. My son would play with their son and they'd feed them and then bring them home," McLaughlin said. "My children loved being with them. They are so loving and caring; they make you feel like you are family."
Tragedy struck when Ja'mesia and Lourease's father died unexpectedly from lung disease, just a week after getting out of prison. Though incarcerated in Arizona for the last seven years, he maintained his relationship with his kids, McLaughlin said, and he planned to spend time with them. The family was shocked and heartbroken.
After getting the news, Ja'mesia sought solace at The Salvation Army. The Pembertons immediately stopped what they were doing to counsel the young girl and pray with her. The Salvation Army even helped pay for airfare so the family could attend the funeral service in Arizona.
"They have been absolutely amazing to my family," McLaughlin said. "There are no words that can do justice to how beautiful they have been to my family."
The Pembertons new appointment took them to California where they now run the Santa Monica Adult Rehabilitation Center (ARC). They said it was bittersweet to leave the people God had put in their path, but they have faith the Lord will continue to use them in California. And they're excited to see what the future holds.
"Our hearts will always love the people [in Aurora] but the work we are going to in the ARC is a 10-year goal coming to fruition," Tanya Pemberton said.