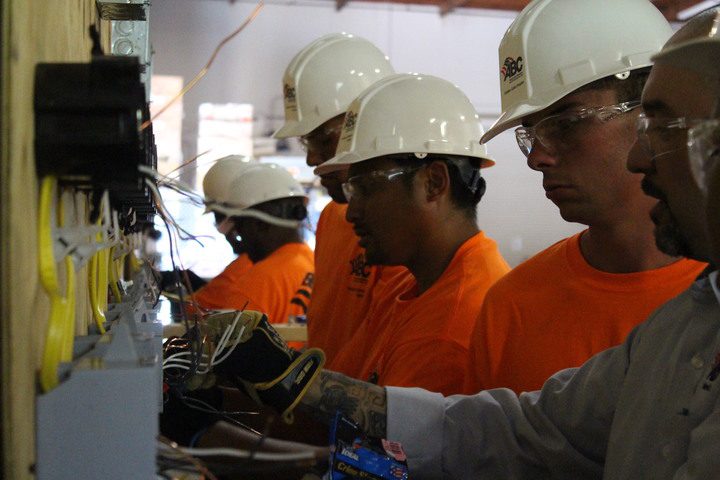 Salvation Army builds construction school
Partnerships with Associated Builders and Contractors Northern California Chapter help former clients prep for the workforce.
By Sydney Fong –
The Salvation Army of Sacramento County recently launched the inaugural Construction Training Program, a one-week course for students to learn skills in the construction trade.
"I'm having a lot of fun," said William, one of the nine students in the program. "I usually get frustrated with things, but the instructors have made me see my work in a different way. It's almost like artwork."
All of the students are current or recent clients of a local Salvation Army program. These could be graduates of the Adult Rehabilitation Center, participants of the E. Claire Raley Transitional Living Center, graduates of the Adult Education GED program or a client who has been served through The Salvation Army-Sacramento County's Family Services.
"We've all come from the same spot," said William, a Chico ARP graduate. "We just want another chance to prove ourselves, and this class is allowing that to happen."
The goal of the program is to have classes quarterly, with topics ranging from electrical wiring and carpentry to painting and plumbing.
"The Salvation Army truly believes that the Construction Training Program is just another way to take social services to a higher level—a hand up and not a handout," said Captain Martin Ross, Salvation Army Sacramento County Coordinator. "We realize that construction-related jobs are still in high demand and this gives our clients a real opportunity to learn new skills and find employment in the very near future."
A report from the Bureau of Labor Statistics (BLS) estimates 790,400 new jobs in the construction industry in the U.S. alone by 2024.
To help prep its students, The Salvation Army is partnering with the Associated Builders and Contractors Northern California Chapter (ABC NorCal), who will be providing the instruction and curriculum for the program.
"The hardest part of teaching this class is giving them that tough love, the homework, the structure they need in this class," said Sergio Cortez, program instructor. "But it's been fun to see them smile when they figure it out. The most endearing part about this is that they realize they have a shot—a real shot at making it."
When the one-week course concluded, the graduates received boots, tools with a tool belt and OSHA certification. Program participants will also be courted for possible employment during an upcoming job fair, which will be coordinated by ABC NorCal and hosted at The Salvation Army Family Service warehouse in North Highlands. The students can also qualify for an apprenticeship program at the ABC NorCal's Livermore site.
"There's a lot of potential to make to a lot of money out there," William said. "I'm just excited to get started."