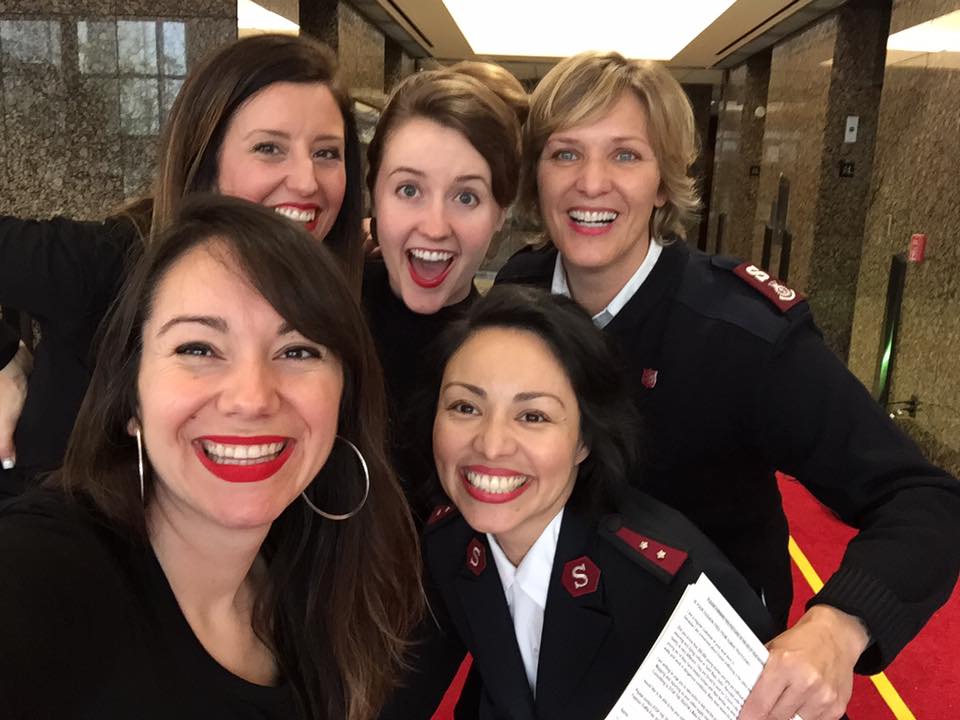 Salvation Army asks employees to 'model' awareness
Social Justice Department sets up a catwalk to promote buying clothing free from human trafficking.
By Laurie Bullock –

The Salvation Army's Social Justice Department put on a surprise fashion show at Western Territorial Headquarters (THQ) in Long Beach, California, on Feb. 22, to raise awareness of human trafficking in the fashion industry.
"We wanted to remind people of the basics of human trafficking and how it doesn't just happen like what we see in television or the movies, but it actually happens internally and domestically in the U.S.," said Captain Erika Hernandez, Assistant to the Territorial Social Justice Secretary. "We thought that the fashion show would be a fun way to give people information and introduce them to how they can take action."
Once employees and officers at THQ stepped out of the elevators and into the lobby, they were asked to walk down the red carpet to the music and strike a pose. At the end of the catwalk, volunteers handed each "model" an informational card to give to the manager of their favorite clothing store, asking them to commit to a slave-free cotton supply chain.
As it stands, there are over 200,000 women and girls who have been trafficked to work in the cotton industry in the Tamil Nadu region of India alone, according to
Stop The Traffik
, a global movement of activists working to prevent human trafficking in communities worldwide. Many retailers either do not know where they buy their cotton from or choose to keep the information private.
The fashion show marks just the first in a series of events The Salvation Army is planning this year to raise awareness of where cotton comes from and which companies support better labor standards, Hernandez said. The Salvation Army's recently
increased role
in the Long Beach Human Trafficking Task Force also figures to help it spread the word on community-level solutions to help undercut the trafficking industry.
"What we've discovered is that [the fashion industry] wants to be free too," said Major Danielle Strickland, Territorial Social Justice Secretary "There are a lot of industries that are changing the way that they are working so that they can contribute to a fair and just world."