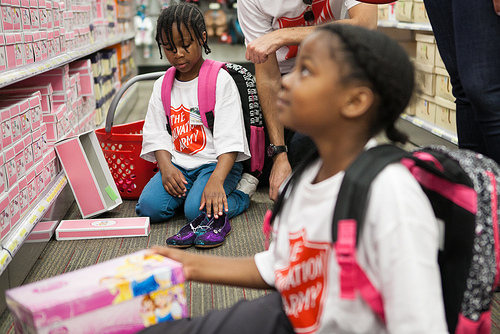 Salvation Army and Target prep kids for school
To give families relief from the pressures of back-to-school needs, The Salvation Army partnered with Target for the fifth year in a row to provide 12,000 students nationwide the supplies they need for the fall.
"We need to get kids ready for school," said Sharon Kerr, donor relations director for the Southern California Division of The Salvation Army. Approximately 21 percent of school-age children in the U.S. were in families living in poverty as of 2011, according to a study by the Institute of Education Sciences.
Across the country, 500 Target stores held shopping sprees for children chosen by The Salvation Army. Each child received an $81 Target GiftCard—a total of $1 million in donations from Target with $28,000 directed at transportation costs.
At Target in Santa Maria, Calif., a group of 30 eager elementary and middle school children arrived early on a Tuesday to shop and each was paired with a Salvation Army volunteer shopping buddy.
Dorothy Mogavero, Santa Maria programs director for the Army, was grateful for their help.
"The volunteers are taking time out of their day to say 'I love you and you matter' to these children," she said. "Quite a bit of my childhood, I grew up poor. Opportunities like this when I was chosen by an agency to receive help made me feel like I wasn't left out. I could blend in and that made me feel okay."
This time of year is particularly expensive for families. According to a survey by the National Retail Federation (NRF), the average family will spend over $600 on back-to-school supplies this season.
"Backpacks rip, pencils break, and children grow, there's no way around it," said NRF President and CEO Matthew Shay.
Single mom Lopez Rendon couldn't afford to buy her 14-year-old daughter Elizabeth clothes for school. Her two sons, ages 17 and 20, still live in Mexico, where she is from. She was grateful that The Salvation Army chose Elizabeth for the program.
Elizabeth and her shopping buddy, Jodi Radford, headed straight for the girls' clothing section.
"I know how hard it is," Radford said. "I was a single mom for a while. I got help at times when I needed it and this is my way of giving back."
Radford guided Elizabeth through racks of jeans and tank tops, then helped her pick out a shoulder bag. Radford asked Elizabeth whether she was nervous to be a freshman at Santa Maria High School.
"I was scared at first, but it's just another step of life," she said. Elizabeth wants to go to college to be a pediatrician.
Most children chosen for the Target School Spree come from families living in homeless shelters, or from social service programs and afterschool programs organized by The Salvation Army.
"We try to find the kids with the greatest need," said Lt. Colonel Douglas Riley, Southern California divisional commander.
"Living in generational poverty, that's a very traumatic experience," said Major Ron Busroe, national communication relations and development secretary. "This is a wonderful opportunity to impact a child in a very positive way."
In the kids shoe aisle, volunteer Cecilia Lopez helped 9-year-old Cassandra try on sneakers. Cassandra, one of five children, four of whom were shopping that day, had never been to Target before. She picked out shoes, tights, a shirt, pencils, underwear, paper, a binder, and a pink rolling backpack.
"When it has a lot of books I don't have to carry it. And I can use it when I go on trips!" she said.
Kerr said the children who participate in the Target School Spree are aware of their budget and stick to their lists.
"They know from a very young age the value of a dollar. Even the little ones are very careful," she said. Any change left on the gift cards is combined and used to buy more school supplies to be distributed by The Salvation Army.
Last year, Target donated $98 million to education programs like The Salvation Army's back-to-school effort. Santa Maria Target employee Ricky Zamora appreciated the effort.
"I love that the store does this," he said.
According to Busroe, The Salvation Army hopes to use its partnership with Target to give to arts and music programs in schools where they've been cut.
For Kerr, the goal of the shopping trip is to boost self-image and confidence in the children that participate.
"They start out a little behind as it is," she said.
Before leaving, Cassandra and her siblings found Kerr and thanked her, their hands full of Target bags.