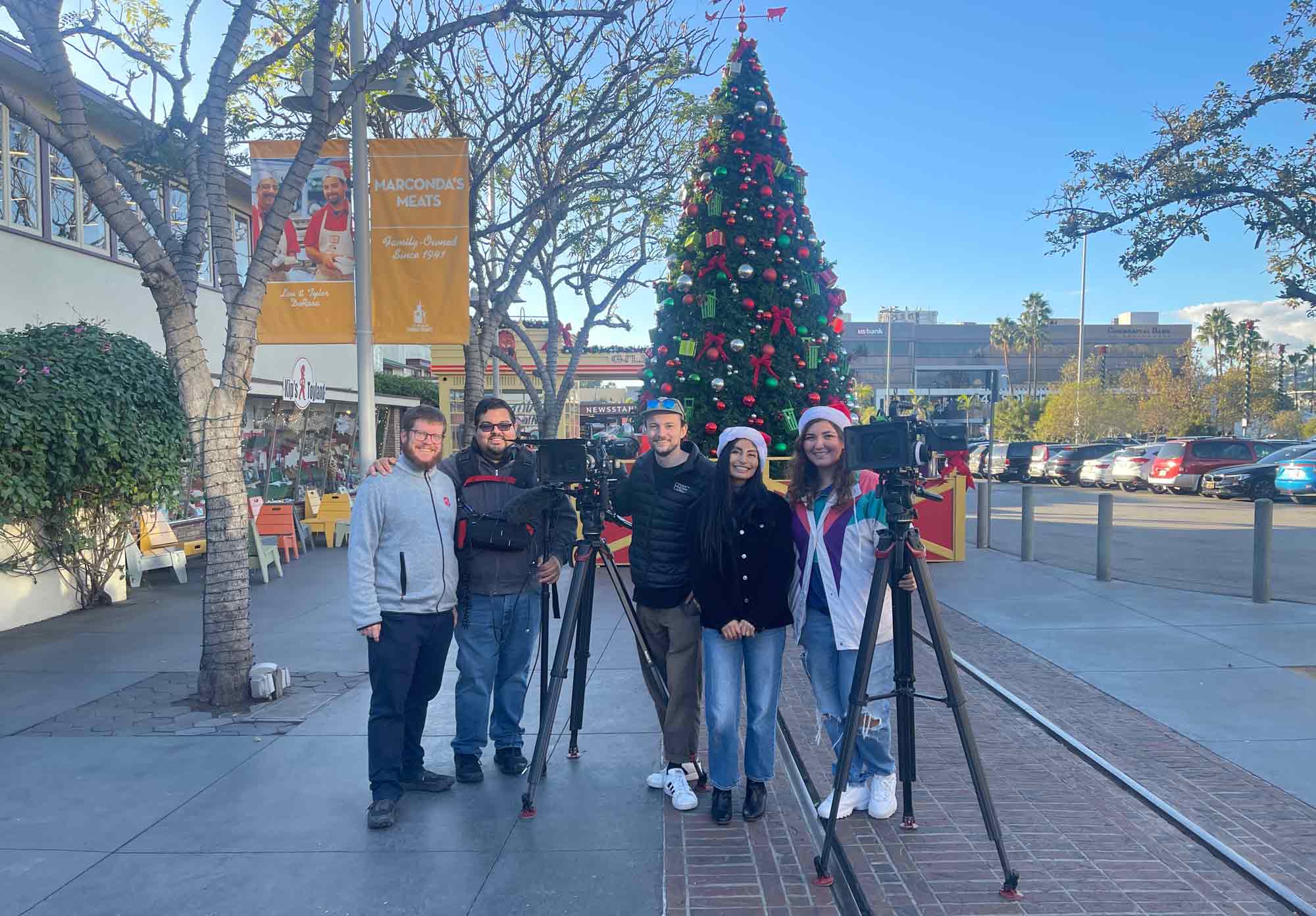 International collaboration of Salvation Army brings Swiss officer to the Western U.S.
Swiss Salvation Army captain goes on sabbatical in North America and beyond.
After 10 years serving The Salvation Army as an officer in the Switzerland, Austria and Hungary Territory, Captain Christoph Lässig embarked on a yearlong traveling sabbatical in July 2022—a journey that so far has taken him from the Swiss Alps to Canada to California. His goal? To return to officership restored, having connected with God and others in different settings, with fresh ideas fueled by new connections.
It's The Salvation Army's international nature that makes such an opportunity possible. Headquartered in London, the organization currently has officers (pastors) on the ground actively serving others in 133 countries. This network allows for international collaboration to share experience, skills and best practices—all to further the mission: to meet human needs in Jesus' name without discrimination.
Currently Lässig is spending a month in San Diego, assisting with Kroc Center activities and ministries. In December, he visited Western Territorial Headquarters in Rancho Palos Verdes, California, where he worked with Multimedia Ministries and its department director Josh Cowing.
"I was excited when Captain Christoph first approached me with his request, as I immediately recognized the value it would provide to him in his ministry," Cowing said. "I also looked forward to the opportunity to share with him some of the great work happening in our corner of the Army world."
Cowing said Lässig helped with two different Christmas-related productions, exposing him to the full production process, from concept to filming to editing to release.
"I found him to have a genuine desire to make himself into an even better worker for the kingdom of God," Cowing said. " I am grateful we were able to be part of his journey."
Caring Magazine spoke with Lässig to discover more about his journey.
Caring Magazine: How is your sabbatical beneficial to the overall mission of The Salvation Army?
Christoph Lässig: First, the experience, ideas and contacts I get will help me to better fulfill the mission of The Salvation Army. I am convinced that it would be a blessing for The Salvation Army if more officers and employees could do an internship from time to time in an area that is foreign to them. It could be short, like one month. This would promote mutual understanding and enhanced networking.
CM: How did this adventure come about?
CL: I always loved to travel. It's one of things that stuck with me from childhood—our family would travel around in a small VW bus. Last year I started thinking: It's nice to travel but at the same time it's even more interesting to stay a little longer at one place. Through the sabbatical, and staying one month at one place, I have the chance to meet people, to really connect with them and what they're doing, to discover new things.
It wasn't easy to make this happen. I already found my place to serve God; I know God called me to be a Salvation Army officer. But at the same time, I felt like God wanted me to do something different. I've been a youth officer, a corps officer and a Training College officer. After 10 years of officership…I asked God to show me the next step.
God didn't say anything. So I spoke with my people in The Salvation Army in Switzerland. We discussed a sabbatical, but I was told it was only an option after 15 years of service, and it was only for three months. So then I made a proposal: If I leave for a year, you don't have to pay me. So it's not a burden. We figured out the whole thing.
CM: What are some of your favorite moments so far?
CL: One was at [USA Western Territory] THQ, when Multimedia was producing the Christmas video… It's good to be part of a team working together.
The other isn't just one moment; it happens perhaps two or three times a week—really good conversations with different people. One night I spoke over two hours with the night guard at the Crestmont College campus, just hearing his story. I appreciate this so much. I want to meet people, to hear their stories. This is one of the reasons I am traveling. To broaden my experience with people, my understanding.
CM: What's your next stop?
CL: I just found out that I can go to Malaysia for six weeks, to two different children's homes for three weeks each. A connection I made when I was at THQ through Josh, with Colonels Kyle and Lisa Smith [now serving in the Singapore, Malaysia and Myanmar Territory], made this possible. They helped me contact the Malaysia Division.
CM: What do you hope to take back to Switzerland from this experience?
CL: I started this year with the idea to discover new things—things that would help me in my ministry as a Salvation Army officer. At the same time, I didn't know what I would discover, like seeing new projects and getting inspired. It's all for the benefit of The Salvation Army.
In Canada, I worked with emergency services. It's different in Switzerland; much of that work is done by the government. I did learn the importance of planning ahead, before an emergency happens. How to react in case something happens—be ready. In helping people who come for food, here you do more than give out food. You see what else they may need, like a shower or a place to stay. The assistance is more personal…
In California, I've found that people are more open to meeting new people. I don't know if this is a California thing or a Salvation Army thing. It's like: Oh, I could learn something. I could have a new contact. It's wonderful to spend even five minutes speaking together. To see another person more as an opportunity and less as a risk—it's a wonderful experience.
The spirit of openness is one of the big things I want to take back. And there is a lightness to trying new things, to starting something new. If it works, that's great; if it doesn't work, that's great, too, because you tried.
---
Do Good:
You've probably seen the red kettles and thrift stores, and while we're rightfully well known for both…The Salvation Army is so much more than red kettles and thrift stores. So who are we? What do we do? Where? Right this way for Salvation Army 101.
Want more content from Caring Magazine? Follow us on Instagram! Get caught up with the latest stories, podcasts and more to inspire goodness in your life.
Keep up with Lässig during his journey on YouTube.