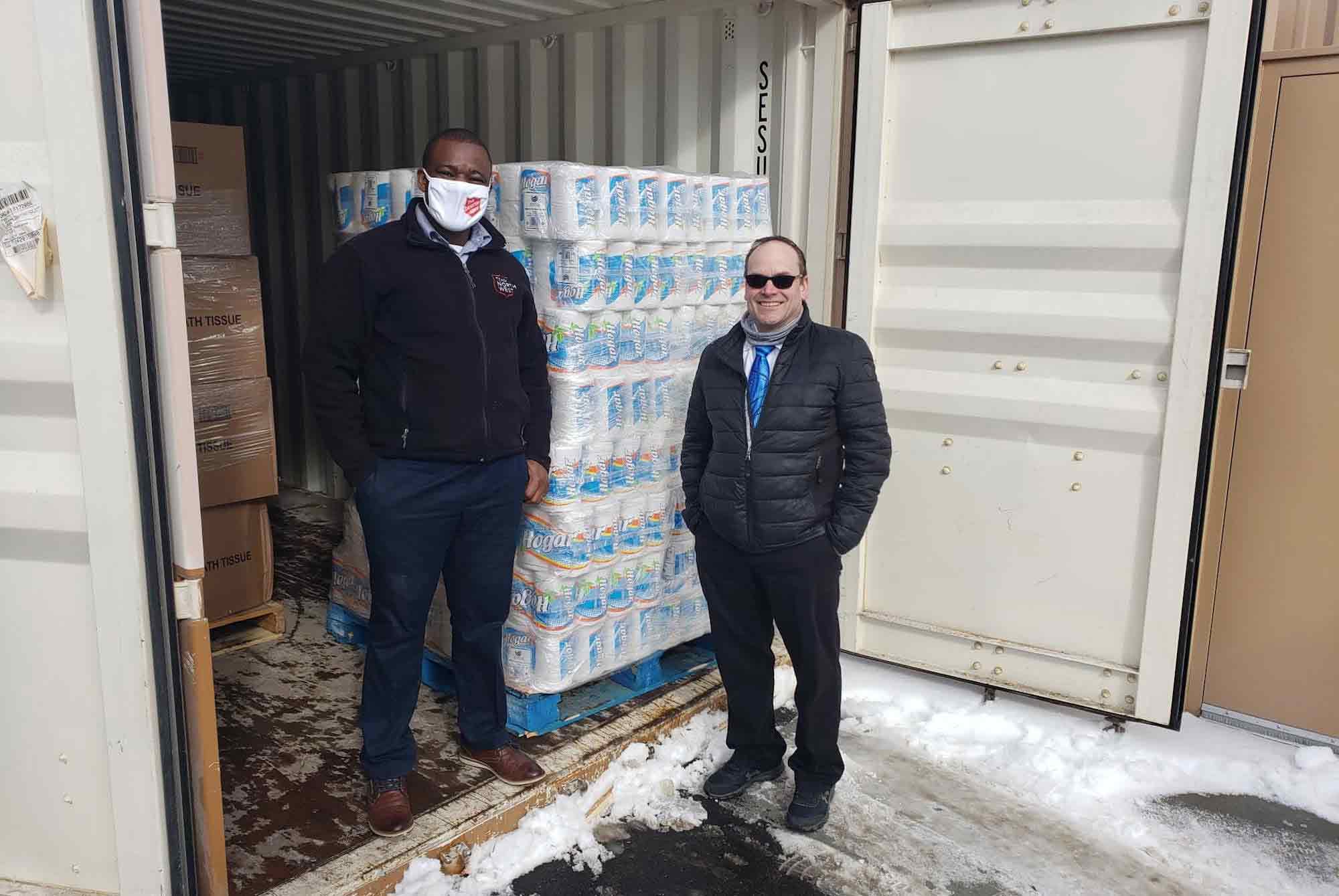 How The Salvation Army Hamilton Service Center is meeting the needs of its community
From meeting physical needs through food distributions and grocery gift cards to meeting spiritual needs through counseling and prayer.
"I always tell people I'm not in this office for money—I'm in this office because I want to serve," said Hamilton Service Center Coordinator Fidelis Temukum.
At the center, Temukum works directly with individuals to identify physical and spiritual needs while coordinating how The Salvation Army can help.
"What I do is so close to my heart and personal to me…I grew up in a home where we never had enough food to eat. I grew up in poverty… I grew up suffering," Temukum added, detailing the struggles he faced growing up in Central West Africa.
When Temukum immigrated to the United States, he said he focused on meeting "people going through similar situations" to what he went through. "My goal was to identify myself with them, encourage them, pray with them and meet their needs," he said.
While the center is located in Hamilton, Montana, social services extend through the entirety of Ravalli County where an estimated 11 percent of the population lives in poverty, according to the U.S. Census Bureau 2021.
Across The Salvation Army's Northwest Division, there are 156 service units and seven service centers, including the Hamilton Service Center. "They're all a little different," Northwest Divisional Service Extension and Disaster Service Director Shaun Jones said. "We tend to go toward the need instead of creating a need."
Unlike service units, which work with local volunteers to offer social services to smaller communities, Jones said service centers are "places where a larger need has been identified."
In addition to providing food, housing and utility assistance to community members in need, the Hamilton Service Center also provides a variety of support for youth in the area, including annual back-to-school shoes and clothing drives, Christmas Toys for Tots programming and summer camp sponsorships.
"The centers are like a graduate program of the units, so to speak," Jones added, mentioning the "key piece" to a successful service center is the coordinator.
"[Coordinators] have to have a strong relationship with the people in their community and Fidelis has that," Jones said.
"He's very passionate about finding out what the needs are and connecting with people in the community," Jones added, bringing up Temukum's "open door policy" at the center. "He sits there and interviews them and really gets down to the nitty-gritty of what they're really needing because sometimes they need more than just a $50 food voucher."
"My goal is to get to the root of their problems," Temukum added.
In 2016, when Temukum read through the job description for the center's service coordinator, he said he "knew immediately that this is where God wanted [him] to be."
Outside of his position at the center, Temukum serves as a pastor for a local church, which he said helps him to reach out to people who are "struggling with depression or emotional challenges," in addition to his experience working as an at-risk youth counselor.
Each week at the center, Temukum helps individuals through one-on-one counseling services. In 2021, Temukum met with 64 individuals to help identify areas of struggle and offer emotional and spiritual support.
Temukum said people view the center as a "safe zone" to come in and share their problems. "Sometimes they're sharing not because we have the solutions, but [because] they just want to voice it out and have someone listen to them and pray with them."
When people come into the office looking for help, Temukum said often people appear to be depressed and "even ashamed to ask for anything."
"There is a certain kind of stigma attached to people who go out to ask for help, regardless of what kind of help," Temukum added. "So, if I see somebody walking into this place with all the courage to ask for help, I know they are really in need."
"I'm always looking for those opportunities to present people with the love of Jesus because all of us need that," Temukum said.
"Fidelis is a solid Christian man…He's able to meet the spiritual needs of people when they come in," Jones said. "If they feel they need prayer, he'll sit there and pray with them."
"We don't want to lose the vision of our mission, which is to preach the Gospel, and he takes that very seriously and tries to always keep that at the forefront," Jones added.
In 2021, Temukum said local grocery store partner, Super 1 Foods, donated over $20,000 worth of food to the Hamilton Service Center, resulting in food boxes for 193 families during a community distribution.
"We are reaching out to, not only those who can come to our office but also to those who do not have mobility or a vehicle to drive to our office," Temukum said, mentioning how the center also provides food boxes to senior living facilities.
"Most [seniors] cannot even go shopping and don't have the means, so we box up food and we take it to them," Temukum added. "That has really been a blessing."
In addition to these larger food distributions, Temukum said the center provides an on-site food pantry with grocery gift cards available to people in need. "People can come in and take what they need," Temukum said.
"When I see somebody hungry and come in it reminds me of days that my parents could not have food and there was no one to show up," Temukum said. "It gives me joy and fulfillment in life because it reminds me that was who I was. That was my story."
"When I see people in that same situation, I know that is not the end of their story, that there's more to their story and I will do everything to help them to make sure that they attain their goals in life," Temukum said. "My experience taught me that I can be an agent of change."
---
Do Good: