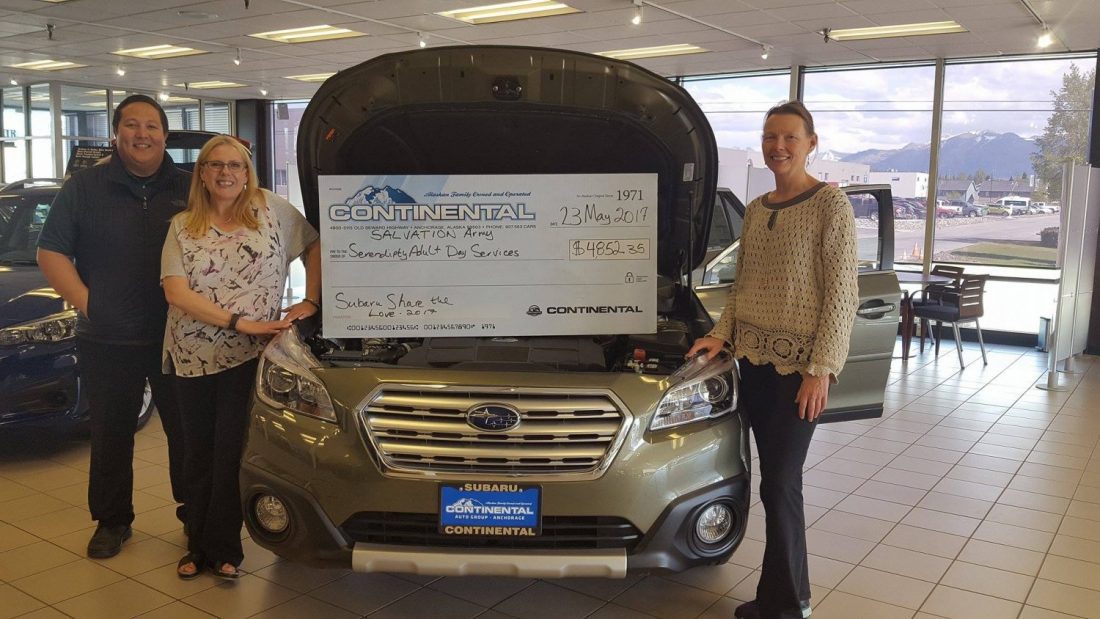 Salvation Army adult day care gets boost
Continental Subaru awards Serendipity Adult Day Services a "Share the Love" grant.
The Salvation Army Serendipity Adult Day Services program, Anchorage, Alaska, was awarded a "Share the Love" grant from Continental Subaru. A check presentation ceremony took place May 23 at Continental Subaru's showroom, where Serendipity received a check for $4,852.35.
"On behalf of our senior program participants, The Salvation Army Serendipity program thanks Subaru of America for their generosity," Serendipity Program Director Cathy Brenner said. "The funds will help us continue to serve adults with special needs and help them live with hope and success."
Serendipity Adult Day Services has been operating since 1985 and works with an average of 25 special needs adults every day, providing services to some of Anchorage's most vulnerable adults.
"Many of our clients no longer have family able to care for them and are unable to help themselves; their financial resources may have been exhausted," Brenner said. "The services we provide are essential for them to receive both needed nutrition and companionship. The generosity of Continental Subaru and their customers will go a long way and we can't thank them enough."
Serendipity is a home and community-based program in that it serves those still living in the community. By providing socialization, physical and mental stimulation activities, nursing assessments and congregate meals, the aim is to allow each participant to remain in the community and out of an institutional setting.
From Nov. 17, 2016–Jan. 3, 2017, customers who purchased or leased a new Subaru vehicle could select from a list of charities to receive a donation of $250 from Subaru of America (SOA). Since the start of the "Share the Love" program in 2008, SOA has donated approximately $93 million to a number of worthy causes through the "Share the Love" event.