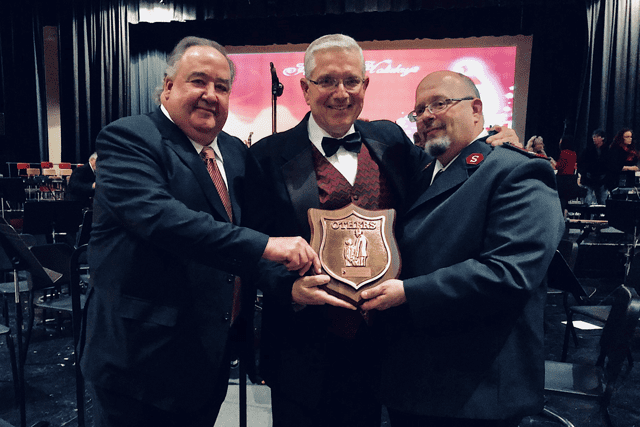 Salt Lake KUTV weatherman receives 'Others' award
The Salvation Army honors Sterling Poulson for his service to others.
The Salvation Army Salt Lake Basin honored KUTV 2 News Meteorologist Sterling Poulson with one of its highest civic recognitions, the "Others" award, on December 9.
Poulson orchestrates and conducts the Annual KUTV Holiday Pops Concert, now in its 20th year, which benefits The Salvation Army Angel Tree program. A major fundraiser for The Salvation Army, the concert brings the community together in sold-out performances to enjoy music from the Choral Arts Society of Utah and the West Valley Symphony of Utah.
"This is a great honor, but none of this happens with just me," Poulson said upon receiving the award. "It's been a wonderful opportunity to present this concert over the years because it involves so many people. I am happy to accept this award on behalf of everyone on the stage and especially all the people wondering how they are going to get through their trials in life. Hopefully there is a ray of hope that comes out of this building tonight."  
Major Troy Trimmer, Salvation Army Salt Lake Basin Coordinator, said Poulson epitomizes what it means to give to others.
"Sterling represents to The Salvation Army that motto of 'others': one who has not sought his own but has sought the betterment of others," Trimmer said. "For 20 years Sterling has put this concert together with others in mind and we are deeply grateful for his devoted service."
Rooted in the history of The Salvation Army, the Others award dates back to the early 1900s when General William Booth, the Army's founder, decided to send a word of encouragement and direction to his officers around the world. Seeking to be thrifty yet make his message clear, Booth sent this one-word telegram: "Others." In keeping with that history, The Salvation Army honors an individual or organization exemplifying an extraordinary spirit of service to "others," not only through support of The Salvation Army but also to the broader community.
Poulson is Chief Meteorologist for KUTV 2 News in Salt Lake City and can be seen on the 5, 6 and 10 p.m. newscasts Monday–Friday. He joined KUTV in 1989 as an anchor, weather producer and meteorologist. He graduated with a degree in Meteorology and gained his weather experience during ten years with the United States Air Force. He is currently a member of the Utah Air National Guard, assigned to the State Headquarters Public Affairs staff, and is the "Voice of the Utah National Guard."