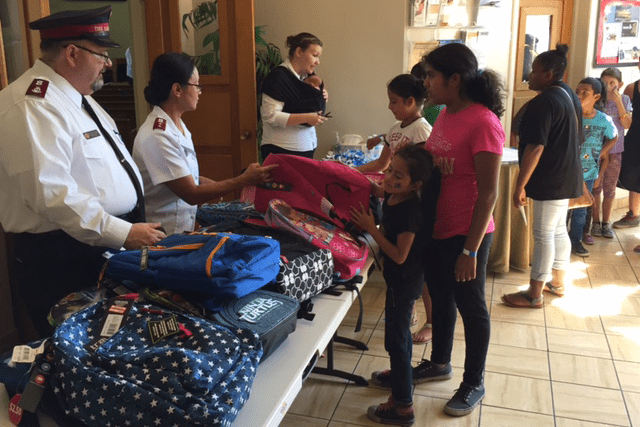 Salt Lake City Corps hosts 'Back-to-School Bash'
The Salvation Army Salt Lake City Corps hosted its annual "Back-To-School Bash" on August 19.
The event—a community block party for families on the west side of Salt Lake City—provided 300 elementary school children with a backpack full of donated school supplies. The Utah Ophthalmology Society also provided free eye exams and identified several children who needed glasses. In addition, the kids enjoyed a carnival-like atmosphere with food and games.
Research shows that families can spend up to $200 on school supplies. The Salvation Army's hope was that they could free low-income families from spending that money so they can put it toward other essential needs. The backpacks included notebooks, crayons, glue sticks, rulers, colored markers, pens and pencil boxes.
"We hosted our big back-to-school celebration to give kids who need a head start, a positive step in the right direction," Salt Lake City Corps Officer Major Troy Trimmer said. "When kids have the proper tools they need, success in school can be much easier to achieve."
"It helps the children because they're able to have their school supplies and backpacks where we couldn't afford it and we're able to get it," Rita Lett, a grandmother of three, told ABC 4 News. "I'm real thankful for that."