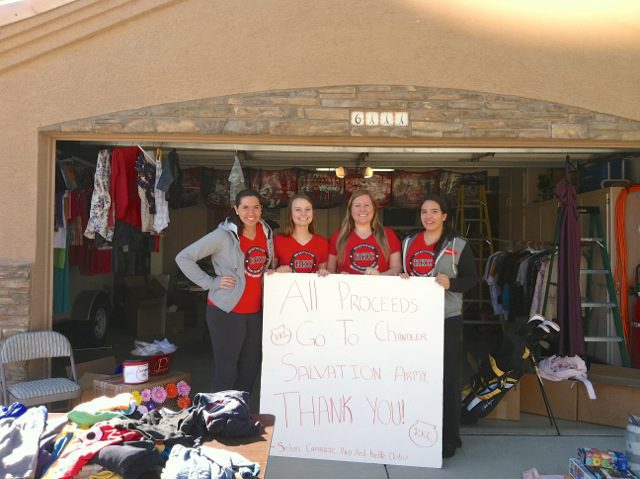 Southwest to host RKC leadership seminar
The division is home to three Red Kettle Clubs
By Marlene Klotz-Collins –
Student members, faculty sponsors and parents involved in the three Red Kettle Clubs (RKC) in the Phoenix area will gather on March 29 at Southwest Divisional Headquarters for a day-long seminar to learn more about The Salvation Army and share ideas on how to strengthen their involvement with the organization.
The day's agenda includes "Salvation Army 101," a brief look at the "rich and inspiring heritage behind the kettles and thrift stores." Major Rob Reardon, National Young Adult Initiative Coordinator, will do an interactive session with attendees on "How and Why a Red Kettle Club Rocks!"
Jeff Taylor, a graduate of the Army's Harbor Light program and nationally-recognized speaker, will give participants his testimony on how the Army saved his life. Tours of the Kaiser Family Homeless Shelter and Ray & Joan Kroc Community Center will be given to attendees as well.
All participants were invited to send questions and topics in advance for discussion during Reardon's presentation.
"These are questions that I think could really help our club move forward. I am soooo excited for this event," said Kandis Beyer, president of the Apache Junction High School club, along with her list of discussion questions.
Seton Catholic Prep president, Andrea Petersen— fresh off an RKC garage sale that netted more than $400 for the Army's Chandler Corps— is inviting students and parents from a few others schools to further their interests in starting a club.
 The first high school Red Kettle Club in America was started in Tempe, Ariz., in 2011 and now is one of the largest, strongest clubs at Corona del Sol High School. Braedon O'Meara, a three-year member of the club and this year's president, affirms the excitement for the leadership seminar.
"We're bringing at least 17 students and our club sponsor," O'Meara said. "It's going to be great!"
 All three clubs raised significant donations ringing bells in December. Their other involvement this year has included working in the warehouses, packing food boxes, working at the Christmas Angel trees, conducting water drives, and campus fundraisers supported by Chick-fil-A.
 "These students are so enthusiastic and have done so much for the three corps they serve," said Southwest Divisional Commander Lt. Colonel Joe Posillico. "We couldn't be more proud to have three of the four Red Kettle Clubs in America in our community. We are eager to share with and learn from them at this seminar. They are our future."