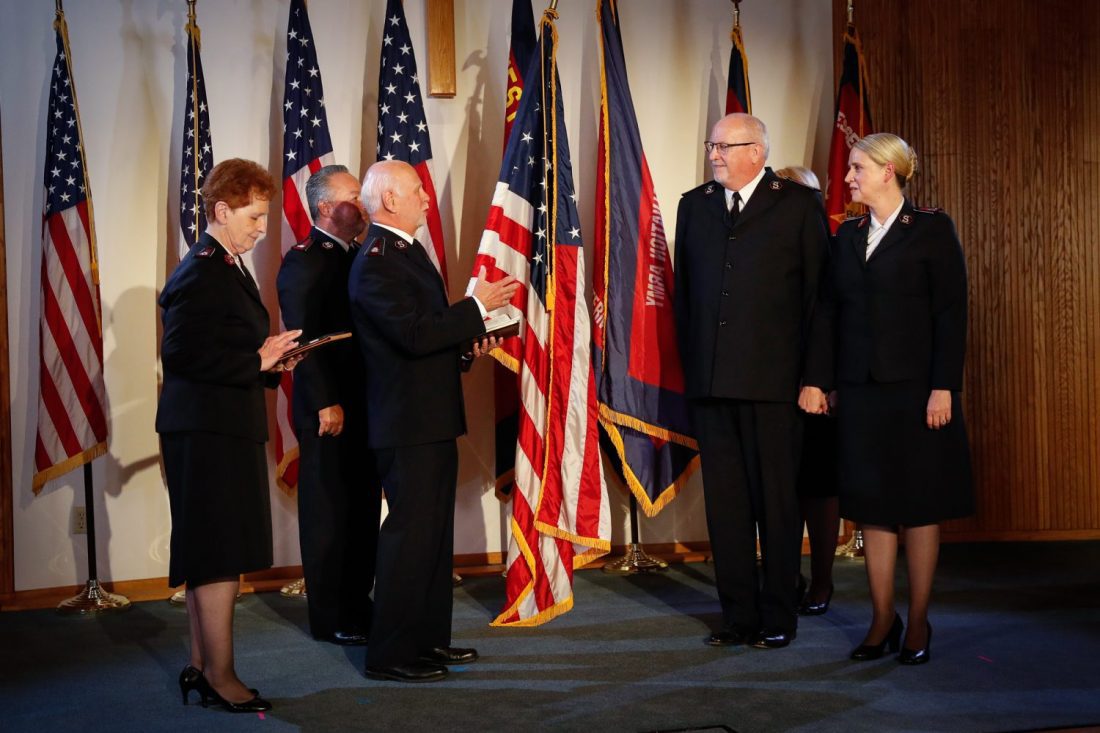 Rileys installed as Western territorial leaders
By Karen Gleason–
Commissioners Douglas and Colleen Riley were publicly installed as Western Territorial Commander and President of Women's Ministries, respectively, during the online Welcome of Cadets event Sept. 12 at the College for Officer Training at Crestmont in Rancho Palos Verdes, California. Commissioners David and Sharron Hudson conducted the installation of the Rileys, who have led the territory since July. The hope had been to have a celebratory in-person gathering, but the ongoing pandemic prohibits large group meetings.
"The Rileys are people of passion for Christ, compassion for others; and they are determined to do what they can to make our Army grow," Chief Secretary Kelly Iglehart said in his introductory remarks. "We're honored to serve alongside them in this territory."
As the Hudsons, on behalf of General Brian Peddle, began the installation, Sharron Hudson read a letter from the General.
"It is with joy and confidence that I commend to you your new territorial leaders…Throughout their years of service as Salvation Army officers, they have demonstrated steadfast loyalty to Christ and distinctive gifts of spiritual leadership," he wrote. "I call upon all Salvationists of the USA Western Territory to receive your new leaders with joy, supporting them in prayer and responding to their leadership with both bold faith and unwavering devotion to Christ, so that the name of Jesus may be glorified among you and the kingdom extended."
David Hudson dedicated and installed the Rileys, charging them with their responsibilities as territorial leaders. "We share with a deep conviction that God has called you in this direction, and that he is the God who saved you and made you his own; he is the God that called you into his service," Hudson said. "He is the God who has led you and sustained you through all of your years of service, and he is the God who is here today and will continue to be your sufficiency. And he is the God who will empower you for the responsibilities which will now be placed upon you."
Hudson spoke about their role as the West's leaders, saying they will be responsible for "the leadership of The Salvation Army mission in this territory, for the loving care of both saints and sinners alike and for the supervision of all aspects of Salvation Army work." He asked if they will rely upon the Lord for the tasks with which they are entrusted, and they both said, "I will."
Hudson led the Rileys through the installation, and they recommitted themselves to the promise they made when they were first commissioned: that they would live to win souls for Christ. 
"You will be our shepherd; you will be our servant leader," Hudson told them, referring to John 13 on servant leadership. "Are you willing to accept the privilege and responsibility of this appointment?" he asked.
After the Rileys' positive response, Hudson concluded the installation. 
"I urge you above all to be strong in the Lord, in the power of his might," Hudson said. "May God bless Commissioners Doug and Colleen Riley, and may God bless The Salvation Army."
Sharron Hudson closed the ceremony with a prayer of dedication and gratitude for the Rileys.