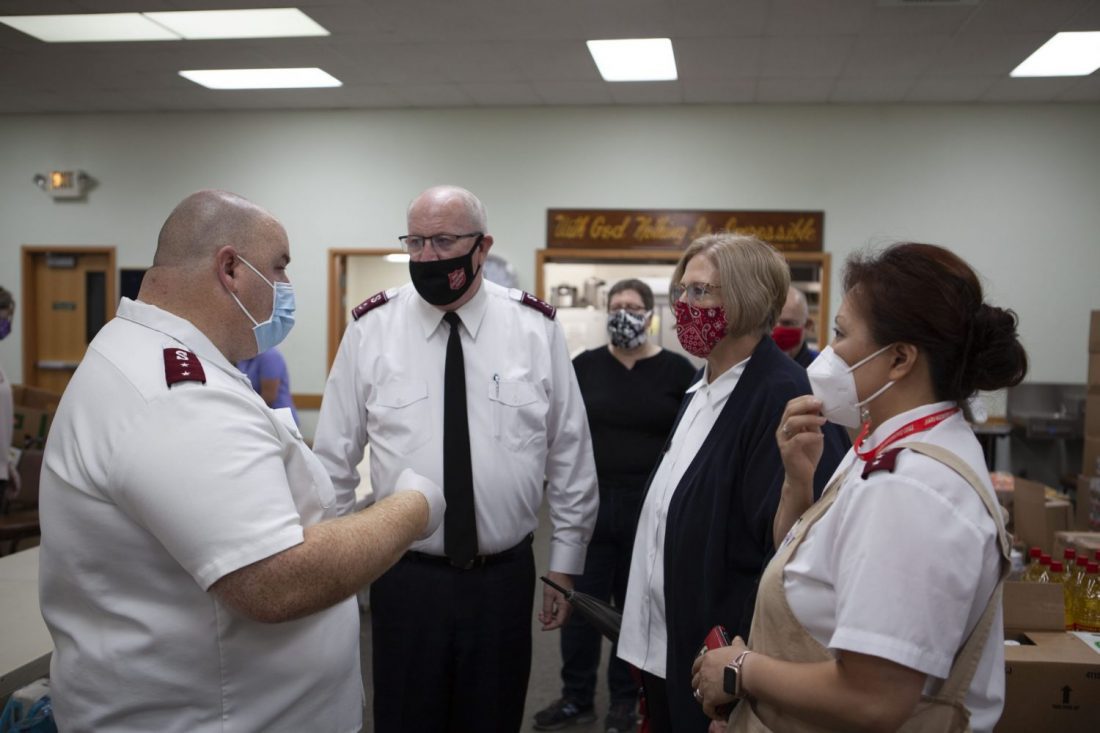 Riley witnesses frontlines of Oregon wildfires
A couple who had just moved from Arizona to Oregon a couple weeks ago pulled up a photo on their phone taken from their new home. Across the street were the flames. The blackened area came too close for comfort—but miraculously, their home was spared.
Evacuated twice, they knew what it was like to frantically find the belongings that were most important. They felt they had to give back, so they did—by encouraging others through The Salvation Army. And they're not alone in doing so—amid the hardships of the wildfires that have burned more than 1,500 square miles in Oregon, there is a spirit of generosity and hope. 
That's what Territorial Commander Commissioner Douglas Riley encountered when he traveled to Oregon with Communications Secretary Lt. Colonel Kyle Smith to encourage officers serving on the frontlines Sept. 18 along with Cascade Divisional Commander Major Nancy Dihle. While the fires have brought extreme hardship to many Oregonians, The Salvation Army is there to help.
Across Oregon, The Salvation Army is serving in 10 counties, with Emergency/Disaster Services (EDS) teams providing food, hydration, emotional comfort and more to evacuees and firefighters. Since Sept. 6, the Cascade Division has provided more than 16,000 meals alone—and leaders wanted to support the officers making it happen.
"We have taken a trip through the I-5 corridor of our division from the top to the bottom," Dihle said.
The group first traveled to Eugene, where they planned to help Eugene Corps Officers Majors Katina and Kevin Hanson deliver meals up into a mountain range where the Army has been feeding firefighters. Unfortunately, rain the previous evening prompted flooding concerns, so the effort was called off for the day. 
The group then headed south to Roseburg, where Roseburg Corps Officers Captains Brent and Kristi Church are providing meals three times a day, amounting to about 500 meals served daily. A group of 25 volunteers come to pack the meals and then deliver them to those who have been evacuated to hotels due to COVID-19 concerns. The group prayed with the Churches before heading further south. 
In Medford, the Army is feeding a large group of evacuees three times a day at the Expo Center in Central Point, Oregon, and The Salvation Army HOPE House transitional shelter is being used as a shelter for over 40 evacuees—some of whom are likely to become long-term residents at the shelter due to the loss of homes. In the Jackson County area, roughly 2,400 homes have been lost due to the wildfires. 
"I could see that the officers and The Salvation Army personnel really appreciated that visit from their leaders, specifically the Divisional Commander and the Territorial Commander," said Lt. Colonel Kyle Smith. "It means a lot that they took time out to come and visit. I think it's given them a whole lot more energy…you can just see it." 
Throughout the visits, Riley observed three major impacts. 
"I'm so appreciative of the officers who work so hard every day in the midst of the emergencies—a pandemic and now we're faced with the fires—and they are giving of themselves day in and day out over long days and nights to help others in their community. I'm blessed by the officers and their service, and by being able to say 'thank you' to them, because we don't say 'thank you' enough," he said. "But two, to see the appreciation of those people who've been helped and impacted by the officers and whatever services they're providing—there's such a great appreciation for the Army because we're there, serving, being the hands and feet of Jesus, in whatever ways possible."
Third, Riley said he was impacted by the reality of people he met who owned a home and within a day, it was completely gone.
"They've lost everything and yet they have hope," he said. "In every story that we heard, no matter what their needs were…they were going to move on. I'm glad that the Army was there to provide some hope in a tangible way, a spiritual way. And that all of our officers are serving the way they are." 
The scope of The Salvation Army's response to the wildfires in Oregon is vast; some areas are beginning to lift evacuation orders, while others are still in heavier response modes. As evacuation orders begin to lift, The Salvation Army continues to serve those impacted. In Clackamas County—near Portland—evacuees have started to return home, and The Salvation Army is transitioning from serving daily meals to providing long-term support there.
"The goal is to get people into a place that can be permanent—even those who have lost their homes. It's kind of a transition period between this immediate emergency and the time it is going to take to get people into a place and so we're trying to fill in the gaps," Dihle said. "We're in transition. Because the fires are so broad across the state, everyone is in a little bit of a different status."
The Salvation Army is trying to fill the short term gaps—clothes, diapers and other necessities to help those who have lost everything to make it through the next two to four weeks until they can access FEMA funding to help find  a permanent housing situation. 
"As we drive away, just to see the remnants of burnt forests and neighborhoods and the smell of smoke is so eerie. Everything that you see, you smell—the smoke. It's a constant reminder that the fire is not done, and it is not out, and danger has not completely gone away," Riley said. "It was great to visit The Salvation Army troops on the ground. I appreciate our officers for what they do and how they care, and we give the glory to Jesus."
Territorial Commander Commissioner Douglas Riley and Cascade Divisional Commander Major Nancy Dihle visit Roseburg to support Roseburg Corps Officers Captains Brent and Kristy Church.
"There is a way to preach the gospel in this world, to just show people you love them through service—it opens so many doors," said Communications Secretary Lt. Col. Kyle Smith. "[In Medford they] had Salvation Army food boxes lining across all the seats in the chapel, and it's sort of like 'there is worship today. We're going to serve people.'" Territorial Commander Commissioner Douglas Riley added, "God was already present. We just had to make him visible."
Medford Salvation Army officer fire relief leadership team (L-R): Medford Corps Officer Major Angelina Koenig, Coos Bay Envoy In-Charge Tawnya and Stumpf, Grants Pass Corps Officer Lt. Joseph McBride, Medford Corps Officer Major Jason Koenig.
Major Nancy Dihle and Coos Bay Corps Envoy In-Charge Tawnya Stumpf hold a dog in Roseburg.
Medford Corps Officer Major Jason Koenig sharing information about the fires. Photo by Commissioner Riley.