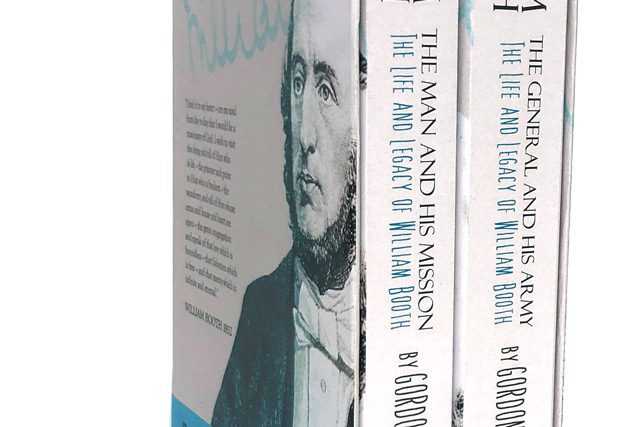 Review: 'The Life and Legacy of William Booth'
By Jenty Fairbank, Lt. Colonel –  
So you think you know all there is to know about the life and legacy of William Booth, do you? After all, you are part of that legacy and have probably been imbibing Booth "stuff" for as long as you can remember. 
But as life-long Salvationist Gordon Taylor has discovered, "it is impossible to find, let alone read, everything that has ever been written about William Booth. Even while this book has been in preparation, more resources have become available on the internet."  
Joining the staff of the newly created International Heritage Centre in 1988, Taylor's 23-year career path as senior researcher, archivist and associate director brought his meticulous research skills into play in the cause of every imaginable (and often unimaginable) area of Salvation Army history. He attributes the seed idea for this, his latest, book to the publication in 1999 of British member of the House of Lords Roy Hattersley's book "Blood & Fire: William and Catherine Booth and Their Salvation Army" (Little, Brown and Company). 
Now, after almost 10 years of research embarked upon before his 2011 retirement, two volumes—"The Man and His Mission" and "The General and His Army"—will be the author's lasting legacy for generations to come, and not only for Salvationists.
In the foreword, General Brian Peddle writes: "Both Part 1 and Part 2 fuse the anxiety of a life of intentional living, love, marriage and family, with the ultimate reality of Booth punctuating history because he responded to a divine call to bring into existence God's raised-up Salvation Army."
How William Booth punctuated history we begin to see through fresh eyes as Taylor attempts to convey what it was like to actually be the Founder by letting him speak for himself through his public addresses, personal writings and responses to his critics. 
Approaching the end of her life, in July 1987, the Founders' eldest grandchild, Commissioner Catherine Bramwell-Booth, bequeathed to the nation those William and Catherine Booth papers held by their family, as distinct from those reposing in various of the Army's archives. 
More than a decade later, Australian David Malcolm Bennett extracted and edited from these British Library papers "The Letters of William and Catherine Booth" (Camp Hill Publications, 2003), thus providing an invaluable source for the work under review, as have his "The Diary and The Reminiscences of Catherine Booth" (Camp Hill Publications, 2005).
As in Part 1, so in Part 2: "As far as possible, the sources have been left to speak for themselves, without imposing preconceived ideas on the narrative, or prejudging the conclusions." As Taylor indicates, "William Booth was a complex character. He worked at a high level of intensity. Few people of his generation traveled so extensively," and the acknowledgements and footnotes indicating the sources on which the second volume relies give evidence of this extensive travel, not only from British newspaper reports, but from overseas accounts as well.
Most helpful, throughout this mammoth work these extensive sources are detailed in the page footnotes, so that the reader can see at a glance where the information comes from, and explore the sources further if desired.
As might be expected, Part 2, covering the years 1878-2015, contains more pages than Part 1's coverage of less than 50 years—but only just over 100 pages more. Don't be disappointed, therefore, if the index fails to yield an entry for your particular corps, or indeed for you by name (after all, this is a William Booth biography, not a history of The Salvation Army). Take heart, however: the final two chapters, together with the epilogue, cover events within living memory for many of us, including the stirring 1965 centenary celebrations and the unforgettable 2015 Boundless International Congress marking the Army's 150th anniversary.
But for me, the greatest attractions of these two volumes are the passing gems of references hinting at Booth family relationships that have never, to my knowledge, been explored in any depth before. Perhaps I won't be the only reader of this important work who can feel the idea for yet another book coming to birth.
Find "The Man and His Mission, 1829-1878" (Part 1) and "The General and His Army, 1878-2015" (Part 2) at tradewest.com.