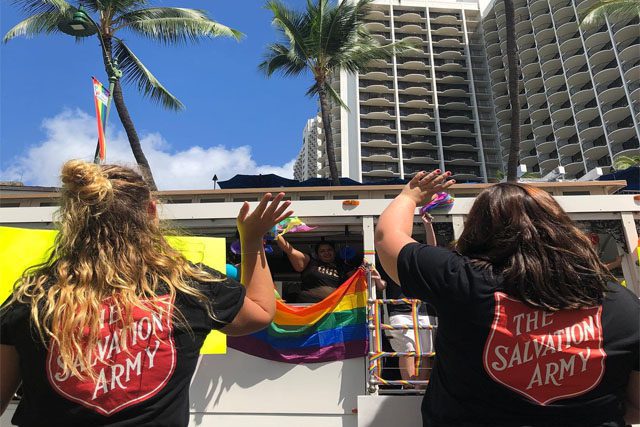 Revolution Hawaii team ministers at 2019 Honolulu Pride Parade
By Karen Gleason —
The Revolution Hawaii (RevHI) team for 2019–20 is in place, ready to grow in faith and to serve God by sharing his love and grace with others. Led by Rob Noland, RevHI is The Salvation Army Western Territory's young adult discipleship program based at Camp Homelani on Oahu.
In their outreach for the Lord, the team ventures into challenging situations. In October, they witnessed at the 2019 Honolulu Pride Parade and Festival in Waikiki, where they offered free water, prayer and hugs.
"A couple of people asked if I was Christian and then thanked me for being there and showing love," said participant Abby Macfarlane. "One woman said that I made her day by showing her that not all Christians hate her. People thanked us for raising their mood after seeing the Christians at the start of the parade with very different signs."
Participant Ashlynn Mayo said someone refused to hug her, but then a large group stopped and hugged all the RevHI team members.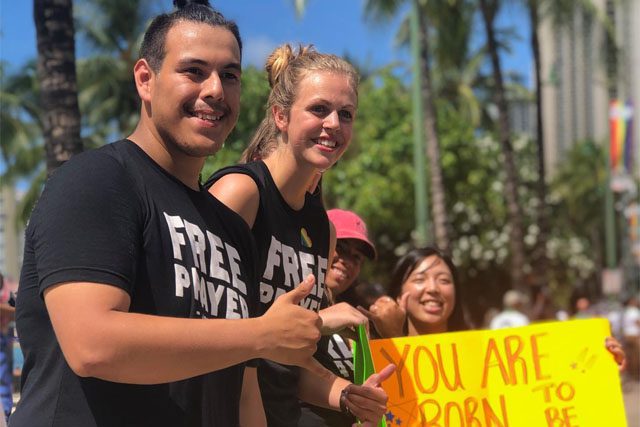 "A dude on a float yelled at [team member] Jason that he's what a real Christian looks like," she said.
Monique Garcia said she had never done anything like this before and that she appreciated the opportunity to show "even a beam of God's light" to the people there.
Suyeon Kim, a Korean team member, held a poster that read in both English and Korean, "You are a person born to be loved." Many people commented on the poster, she said.
"And I met a Korean," Kim said. "[She] read Korean. It was a poster for her. I believe the reason God sent me to Revolution Hawaii was probably for Koreans living in other countries."
Thirteen young adults comprise the yearlong "365" track; so far another two have signed up for the "Spring Essentials" track from February–May 2020.
Of the 15 total participants, seven are soldiers—including two taking soldiership class at RevHI—and eight are not soldiers. They represent several countries in addition to the United States: Canada, the United Kingdom, Denmark, South Korea, Australia and New Zealand.