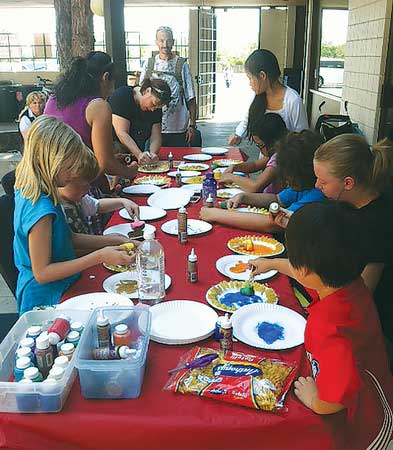 Reno hails its 'Messy
Creative strategy reaches
kids where they are.
During the summer, the Reno (Nev.) Corps' weekday free breadline drew families, and as they waited in line the corps conducted a program specifically for the children, "Messy Church."
Cadet Eunha Kim, who led the program in July, said the kids loved a chance to get "messy" doing crafts, eating a snack and listening to God's Word at tables set up just steps away from the breadline. She said some of the adults even listened to the Bible stories.
"One of the grandparents…said her granddaughter…has a hard time interacting with kids in general," said Kim. "Today I saw the girl hanging out with a friend she made on Tuesday and she cried when he had to go home."
Messy Church started with about 10 kids, but word of mouth doubled its numbers. Families began coming early and waiting for the tables to be set up.
Madilyn McDaniel, 6, said, "The best part was throwing water balloons at the cadets, mixing colors into shaving cream, eating Jello through a straw, smashing Play-Doh and painting with pudding. Oh, yeah, and the Bible stories!"
Cadet Christopher Kim voiced a more long-reaching, life-changing goal.
"I hope this is something that can help the kids…bridge the gap from gangs to God," he said.
The corps is also reaping results from Messy Church, including one family with five kids who then attended vacation Bible school and Sunday services.
Majors Michael and Janene Zielinski are the Reno corps officers.