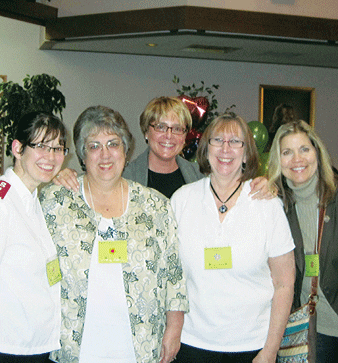 REJOICE! Women's Day Retreat
The Salvation Army in northern California joined with neighboring churches to hold a first-ever united meeting, the REJOICE! Women's Day Retreat, held at the Eureka Corps.
The Redding Corps also participated, along with Coastline, Faith Center, Beacon of Faith, Celebration Fellowship, Sacred Heart Catholic Church and Harvest Church.
Even without funds or a venue, Eureka Corps Officer Capt. Sybil Smith knew a retreat was possible, and prayed for the right people to come alongside and help. When she contacted Denise Woods (Faith Center) and Kathy Graff (Coastline) she discovered that their churches were offsprings of the Eureka Corps. Eventually, volunteers from the other churches joined in on the planning.
To raise funds for the event, the planning committee held a rummage sale, which brought in about $400, and charged a $10 registration fee.
"God made it all work. He gave us just what we needed," Smith said. "He brought in 85 women to attend. He moved in people to provide our color printing, our brochures and fliers, and other supplies."
The one-day event included a talk by Sarah Bentley, Del Oro divisional program director, along with a worship team from Celebration Fellowship and Devotion in Motion from The Salvation Army SWAG team (Saved With Amazing Grace). Charlene Hanson presented "blessing bags," consisting of water, a granola bar, socks, toothpaste, toothbrush, juice, snack crackers and a message on Jesus Christ, to be handed out to the homeless and those needing encouragement.
After lunch at the Silvercrest residence next door, Smith spoke with assistance from the worship team from Celebration Fellowship, a violin and bagpipe special and an "Amazing Grace" medley by Salvationist Jennifer Hood (Eureka Corps) and her accompanist.
Throughout the day, the women had access to a prayer wall where they could inscribe prayers or praises so everyone could pray and/or rejoice with them. A resource table offered information on how to become connected with the various churches represented.