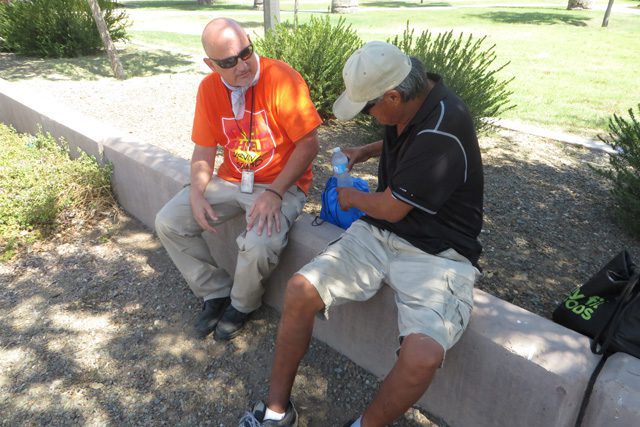 Red Shield Survival Squad battles heat
As Arizonans face deadly temperatures, The Salvation Army activates to cool and hydrate.
By Caitlin Johnston –
Some states fear hurricanes. Other areas are affected by tornadoes. Arizona's natural disaster comes in a different form: extreme heat that can settle in and linger for days.
Each year, people in Phoenix die from excessive heat. In 2017, Arizona saw more heat-associated deaths than in any previous year. According to data from the Maricopa County Department of Public Health, 155 people died from the extreme weather last year.
Some people have no place to go to escape the heat. Others, unable to afford or repair air-conditioning units, die in their homes. Some risk extended exposure to the unrelenting temperatures, not realizing their bodies aren't able to tolerate the heat.
That's where The Salvation Army Red Shield Survival Squad comes in. When temperatures swell and the National Weather Service declares an excessive heat warning, four-person relief teams mobilize to provide water, hats, sunscreen and temporary shelter to those most in need in the Phoenix area.
Jowan Thornton, who oversees the mobile relief units, said the teams have been walking the city and providing services in temperatures as high as 116 degrees this summer.
"We want to make sure we're not just roaming around the valley," Thornton said. "Our team is focused on providing goods and services to the most vulnerable in heat emergencies, and making these connections in a targeted and strategic way."
Thornton said they learned early on that having a team moving between encampments, parks and bus stops was exponentially more effective than manning a stationary booth where people who need help have to approach and ask for help.
Much of the team's success is tied to its roots within Project Hope, which provides services to families who are homeless.
Because the Army already actively seeks to connect with homeless families within Maricopa County to help get them placed on shelter lists while also providing basic items, like toiletries, much of the knowledge and relationships already exist to provide the most help during heat emergencies.
"We asked, 'How can The Salvation Army position itself compared to other organizations to really do the most good and serve the folks who are hardest to serve?'" Thornton said. "We have these outreach efforts already in place…And meeting someone with goodwill in your heart goes a long way."
In addition to the mobile units, The Salvation Army also activates its metro Phoenix corps community centers as 13 heat relief stations where anyone can go for water, air conditioning and a break from the heat.
Because people have a greater ability to tolerate heat as the summer wears on, there's no set number on the thermostat to activate an excessive heat warning and a response from the Red Shield Survival Squad. A day reaching 105 degrees in May or one hitting 110 degrees in July could feel similar.
"As the summer moves on, we've been more accustomed to the hotter weather," said Metro Phoenix Program Director Major Nancy Dihle at the start of August. "Right now it's 109, but it doesn't feel like 109. It's one degree from when they've previously activated the stations, but you don't feel it as much because we've been dealing with this now for three months."
Just as The Salvation Army is concerned for the health of anyone trapped in the oppressive heat that hits in the summer, Thornton worries about the health of his mobile team. Sure, they spend some time in air conditioned vans, but a substantial amount of their work place takes place in the same heat affecting those they hope to help.
"My biggest concern is a team member could be hit by heat-related illness," Thornton said.
Hydration remains vital for those trapped in the heat, volunteers included. To combat this, The Salvation Army partners with community groups that donate water that the Army then distributes, Dihle said.
Last year, The Salvation Army collected about 750,000 bottles of water and distributed 600,000 of them during heat emergencies in the area.
As of Aug. 4, halfway through this summer, eight heat-associated deaths are reported, according to the Maricopa County Department of Public Health. Five of those were in July, which department data has shown to typically be the deadliest month. About 87 percent of all heat-associated deaths occur between June and August.
While any death is tragic, Dihle said the number this year is significantly lower than years past.
"That's a huge change," she said. "So is what we're doing making a difference? We believe it is. And it's not us doing it alone. We all kind of find our own niche."