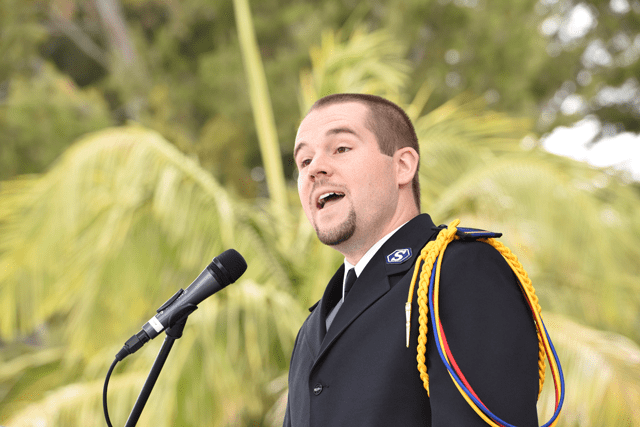 Ready to play
By Nicholas Helms, Cadet –
For as long as I can remember, I have loved music. It's always been a part of who I am, whether it was singing in the car growing up, attending concerts of my favorite bands, or the hours of practice that I put in on the trumpet throughout high school and college. I love music. And there aren't many types of music that I don't like: jazz, hip hop, R&B, pop, rock, brass band, and, maybe even throw in a little country every once in a while. But, I have to say, there is nothing like a good, classical symphony.
Now, while there is no symphony like another, the term symphony implies that the piece of music follows a certain basic form. Each symphony is broken down into four movements: the allegro, the adagio, the scherzo, and the finale. And while each symphony breaks down into those four main sections, you'll find symphonies of all different lengths. Some can be eight to 10 minutes, others 20–30 minutes. Beethoven's 9th Symphony is around 70 minutes long! I like to think that our time here at the College for Officer Training has been like a 22-month symphony.
It started out with the allegro movement. The allegro movement in any symphony can be described as brisk and lively, and boy, were our first few months at Crestmont brisk and lively. From the day that we stepped on campus, we were swept into a whirlwind of change as we began preparing for our calling as officers. We began classes and started preparing for the Welcome of Cadets, all while trying to find our footing as we looked for the rhythm of everyday life here on campus. And this brisk and lively tempo seemed to continue up until the time that we returned to campus following our first Christmas assignments.
And that's when I think we entered into the second movement of our symphony, the adagio. This movement is characterized by slow and lyrical lines. It's the movement where you get to sit back and drink it in. That's not to say that our schedules got any less intense. The learning continued at a quick pace, but it was during this time that I think we finally began settling in, taking in all that this place had to offer us. I really enjoyed this time as we continued learning, growing in friendships, and really discovering what God had called each one of us to. My resolve was tested on more than one occasion in this period, but God showed me that he would empower me for this calling. This was the longest movement of our symphony. For me, it lasted a whole year, up until we got back from our second Christmas assignment.
It was around this time that we entered into the third movement, the scherzo. It's during this movement that the piece starts to speed up again. It's a dancelike movement, and I'd say that upon returning to campus, it really did feel like we started to dance a little quicker. We only had a short five months left on campus before we would be sent out to the field, and so our focus in the classroom seemed all the more important. It wasn't long before we had arrived at Spring Campaigns, a chance to put what we had learned to the test.
And following Spring Campaigns, we had finally entered into the last movement of our symphony, the finale, a movement that we are now at the tail end of. This movement is sometimes called the presto, because it moves very quickly. And trust me when I say that the last two months have gone by very quickly. Like the term "finale" implies, this has been the movement of final things. We've had our last brigade out Sundays, turned in our last assignments, and done our last house duties. Our time at Crestmont is coming to a close. We've worked hard. The education that we have had here has taught us so much that we will take with us into our future lives as officers.
I want to say thank you to all of our conductors, all of our instructors, both officers and employees, here at the college who have poured into us over the last 22 months. You have taught us, inspired us, and showed us how to be officers, and more importantly, what it looks like to love like Christ. I want to thank the stage crew, all of the support staff here at the college who have helped us when we needed it. I want to thank our audience, our friends and family who have loved and cheered us on along the way. I want to say thank you to the rest of the orchestra, my session and sister session mates who have deeply enriched my life, and who made my time here at Crestmont truly enjoyable. Lastly, but most importantly, I'd like to thank God, the master composer, who has orchestrated each of our journeys on the road to officership. As we read in Romans 8:28: We know that in all things God works for the good of those who love him, who have been called according to his purpose. He has been working in and through us during our time here at the College for Officer Training.
And now, our symphony is ending, but the music isn't going to stop. We will continue on into our lives as officers, and we will each begin new pieces of music. Thanks to our time here, we are prepared for what is to come, and we are ready to go where God sends us. So let's go out strong, and be ready to play.