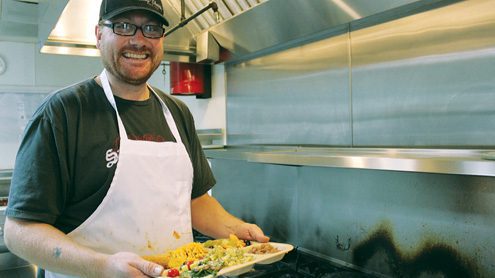 'Ready to eat?'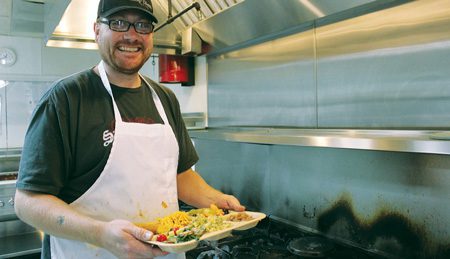 Napa chef makes his patrons feel at home when they come in for a meal.
By Sydney Fong
"How are you doing? Ready to eat?" is how chef Tony Simons greets people every weekday afternoon at the Napa (Calif.) Corps. He is a cook for the corps' Lunch Table program, serving needy families and individuals with a free warm meal.
"It's awesome coming in and serving food to the people because I know where they are at and I know a lot of their struggles," Simmons said.
He speaks from first-hand knowledge as not too long ago, he was one of the many standing in line for lunch.
"I lost my job, couldn't secure another job and ended up homeless," he said. "I was just a victim of circumstances. But God has a purpose for everything, and he brought me here. "
Simmons decided to make the best of the situation and his decision led him from a person getting fed to a volunteer helping to feed others.
"He would do anything we asked and then look for other things to do," said Corps Officer Captain Trish Poochigian. "We found out that he had some cooking skills and we had a need for a cook at that time, so we hired him. Tony's work ethic is great. He's not here just to do his time, but he's here to help."
The job has also helped Simmons rediscover his love for ministry work. "We're feeding the poor not just food, but spiritually, as well," he said. "When I see people waiting in line, I can joke with them and tell them that I love them. I think the opportunity is awesome and a blessing."
Tony is now a soldier at the Napa Corps and is looking into officership.
"God has always called me to be in the Army, though I thought he meant the military version, not The Salvation Army," he said. "I'm think I'm called into seminary and to be trained. God has closed some doors, but he has lined up other opportunities. I know better than not to listen to him."