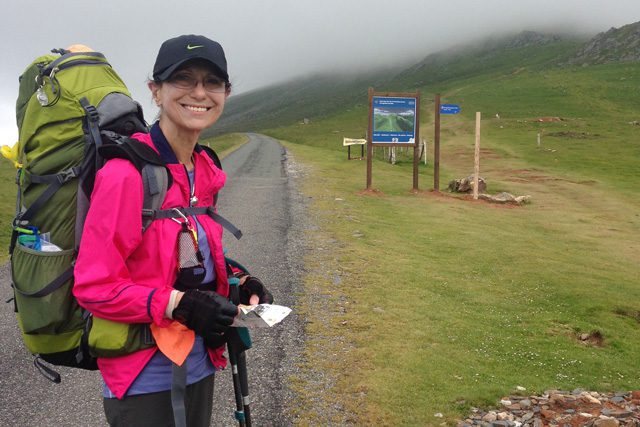 Raising a shelter, one step at a time
Southern Californian walks the Camino del Santiago trail to raise money for anti-trafficking efforts
By Hillary Jackson –
The first time Dr. Gail Campofiore walked the Camino del Santiago trail, it was a personal spiritual journey. This time, she's walking to raise awareness and funds for a new Salvation Army emergency shelter that's opening for human trafficking survivors in Orange County.
"I have a real interest in helping these young girls that are sex slaves and setting up a safe place," said Campofiore, a retired internist. "From my perspective, I cannot imagine—somebody rescues me, and then what do you do? No place to go. No finances. No way to be helped, so I just like the idea of trying to raise funds to help support that house."
Campofiore hopes to raise $50,000 to support the first year of the O.C. emergency shelter operations. On May 18, she began her 500-mile journey from St. Jean Pied de Port, France, to Santiago de Compostela, Spain, with a friend.
Last time, the journey took her 32 days, but this time she may add an extra 60 miles to finish at Finisterre, the medieval "end of the world." She estimates the journey will take about 36 days.
"It's a very sobering sort of walk and it's a very joyful walk, actually," Campofiore said. "It is a pilgrimage."
While Campofiore considers herself more of a friend to The Salvation Army, her husband, Don Cullen, serves on the O.C. Advisory Board. Over the years she has supported a number of causes. She ran the recent Orange County Marathon to raise money for The Salvation Army's O.C. shelter, too.
Orange County Anti-Trafficking Services Program Coordinator Stephanie Taylor is a first responder in The Salvation Army's fight against human trafficking in O.C. She said her phone rings three to four times a week to pick up women who've been trafficked.
The problem? She currently doesn't have a place to take them. Instead, she often has to set them up in motels or other women's shelters that aren't properly equipped for survivors of human trafficking.
"There is a very specific victimology with victims of human trafficking, and it just is a different kind of trauma than others experience, and so there's a different type of training and different type of approach that you need with [survivors] to really see results—where they can rehabilitate and do well and get out of the life," said Taylor. "We're doing our due diligence to meet with them and provide services, but then they're going to a shelter where they're being treated almost like criminals because they're homeless, when they're not homeless, they were coming out of a traumatic situation."
The new shelter will fit a need Taylor says has existed in O.C. for years, especially since local law enforcement has begun to reframe how they think about women in trafficking situations. Instead of prostitution, in cases with elements of fraud and coercion, it's human trafficking.
The O.C. safe house facility will be able to accommodate six to eight women at a time in a homelike environment. Currently the funds have been approved for the home's purchase, and the effort to find and secure a suitable property will be shortly underway.
"This is not a new work for The Salvation Army. We've been doing this since the very conception of our movement," said Orange County Coordinator Nesan Kistan, mentioning the brothels in London's East End where Salvationists helped women involved in prostitution in the church's early days. "This is what makes this work, what we're doing now, ever so significant. It is the very heart of who we are as a mission."
Kistan said the addition of the shelter can only help current anti-trafficking efforts.
"The word of God says that when one is saved, then all of heaven rejoices, and so our strategy is just helping one life at a time," Kistan said. "[The shelter] will help us expand our work, expand our ability to help transform lives."
The Camino del Santiago trail is known for its transformative nature, too. While Campofiore walks across France and Spain, she'll be working to transform lives back in Southern California.
"With every step Gail takes on this trek…she knows she's taking a step to bringing people one step closer to finding their hope," Kistan said. "In her own medical background, she has realized the importance of helping people come to the place where they find their hope again…where they recognize that life is not meaningless, there is a purpose to it. The greatest healing a physician can bring is not healing of the body, but healing of the spirit and the mind, and that's what we do with our trafficking program. We help women find healing both spiritually and mentally. The body will always heal, but the spirit and the mind often require an incredible amount of effort, time and energy to find its healing, to find its peace."
Give to support the fundraising campaign at salar.my/CampofioreWalk.