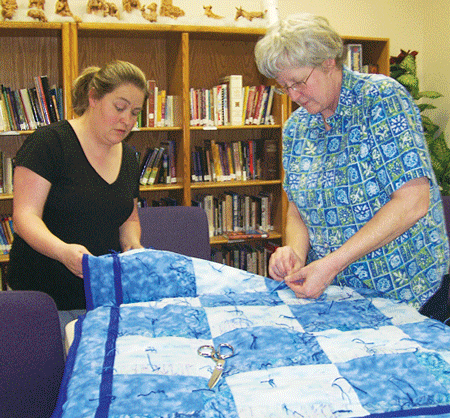 Quilters create a patwork of prayer
By Michelle Josephson, Lt.
Homer Corps quilting outreach covers people in prayer.
In Homer, Alaska, The Salvation Army women's ministry group is using its quilts as an outreach to area women.
The monthly quilting class is open to any woman who wants to learn how to quilt—all are welcome, from beginners to long-time quilters and daycare is provided. Since it began, the group has attracted new members and found a way to use the quilts in a unique prayer ministry.
The group makes a tie quilt made for individuals in need of prayer and support during a crisis, usually an illness. Once the quilt is complete, it is placed on the mercy seat during the corps' Sunday service. While the pianist plays, the congregation comes forward to pray for the member and attach a tie. Each tie is a personalized prayer on the individual's behalf; the recipient is covered in prayer every time he or she uses the quilt.
Five quilts have been completed and shared, with two more currently in progress. One quilt was recently presented to a member of the congregation diagnosed with ALS (Lou Gehrig's Disease).
"The love of the church body and the unity of the Spirit showed me how God can take broken pieces of patchwork and create something new," the recipient said. "When I put it on I'm reminded of the covering of his blood and his holiness. The acts of love will continue to show Christ Jesus through us if we lay down our lives to serve him."
His wife said that the quilt means so much to him that he never lays down without it.