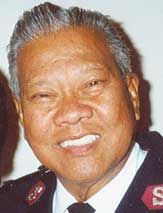 promoted to glory_Major Robert H. Rubin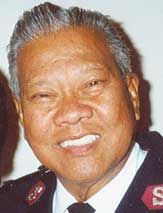 Major Robert H. Rubin, 76, was promoted to Glory June 2 from Roseville, Calif.
Rubin was born in Manila, the Philippines, on May 11, 1937, to Felomino Rubin and Boromia Herrera, the third of six children.
He graduated from Normal High School, where he played tennis, and attended Far Eastern University on a tennis scholarship.
He continued playing tennis professionally on the Philippine tennis circuit.
Rubin received a bachelor's degree from Baguio Colleges Foundation and taught high school physical education. He attended law school and a graduate program in business administration.
As a boy, Rubin attended a Salvation Army Sunday school outreach program and accepted Jesus as Savior. He became active in the ministries of the Manila Central Corps, where he met his future wife, Esther.
Rubin entered The Salvation Army School for Officer Training in 1957 with the Courageous Session and was commissioned in 1958, receiving one appointment as a single officer to Patnongon Corps in the Philippines. He married Esther Saguil in 1963, and they continued serving with The Salvation Army.
Along with appointments as corps officer in the Philippines, Rubin served as territorial public relations secretary and provided Tagalog translation for visiting officers and Army personnel. In 1985, he and his family transferred to the U.S. Western Territory, where he and his wife held corps appointments in Kaneohe, Hawaii; and Merced and San Francisco, Calif. They served as chaplain and older adult ministries secretaries in the Golden State Division. The Rubins retired in 2002 to Roseville, Calif.
Rubin is survived by his wife, Esther; sons, Herbert and Oliver Rubin; daughter, Sharon Joy Rubin Bach (Joey); grandchildren, Ashley Rubin, Charisse Bach, Rachel Bach and Nathaniel Bach; brother, Felomino Rubin; and sisters, Catalina Viaje and Salvacion Dahimmuddin.
The Roseville Corps held a celebration of life service June 9 with Major Fred Blundell presiding. Interment was June 10 at Cypress Lawn Cemetery in Colma, Calif.