promoted to glory_Major Luis Diaz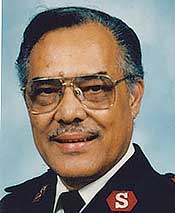 Major Luis Diaz was promoted to Glory Aug. 1.
Luis Diaz was born Oct. 28, 1938, in Puerto Rico, where he lived before moving to New York. He graduated from Bronx Vocational High School, and joined the U.S. Army as a medic. He married Abigail before leaving for Germany in 1960.
After his discharge, the couple formed a singing quintet called "The King's Five," and for several years were street preachers.
The Diazes later moved their family—now including daughter, Ruth, and son, Elliot—to California, where they became church planters. For 10 years they moved from Los Angeles to Philadelphia to Miami; then to Fort Lauderdale, Fla.; and back to Anaheim, Calif. Daughters Rebekah and Rachel were born during this time.
In the early '80s the Diazes formed Day Spring, a singing ministry, with close friend Daisy Diaz. They encountered The Salvation Army, and appeared many times as special guests at the Santa Ana (Calif.) Corps.
Diaz became a Salvation Army auxiliary captain in 1986, full captain in 1991 and a major in 2001. His appointments included director of Hispanic Services for the Southern California Division, and corps officer in Hollywood, Pomona, El Centro and San Fernando, Calif., and at Phoenix South Mountain.
In 1990, Diaz was diagnosed with Parkinson's Disease, and in 2002 he took early retirement. He began writing for the Army through its Spanish radio ministry "Latido" and "Maravillosas Palabras de Vida," programs broadcast to millions in the Americas. Despite his health, he faithfully attended the Lawrenceville (Ga.) Corps every Sunday.
The Lawrenceville Corps held a memorial service Aug. 4 with A/Captain Ken Chapman presiding. Santa Ana Temple Corps held a second memorial service Sept. 1 with Commissioner Joe Noland officiating.