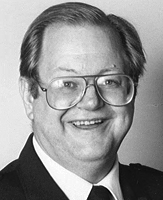 promoted to glory_Major Erik Sholin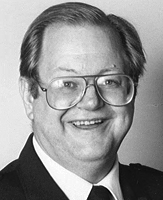 Major Erik Sholin, 63, was promoted to Glory Jan. 18 from Queen's Hospital in Honolulu, Hawaii.
Erik William Sholin was born in Sacramento, Calif., on May 6, 1949, to George and Eva Sholin. He was named for a family friend, Erik Leidzen, a well-known Salvation Army musician.
Sholin himself became a musician, playing tuba in the Sacramento Brass Quartet and The Salvation Army Western Staff Band. He was a British brass band enthusiast, a music educator, choral conductor and opera buff. After a short time teaching music at a high school in Honolulu, he served as Alaska divisional youth director and Southern California divisional music director.
With his wife, Angeline, the Sholins entered the School for Officer Training as part of the Servants of God Session and were commissioned in 1984. They served at corps in San Diego, Escondido and Inglewood, Calif.; Kona and Kauluwela Mission in Hawaii; Anchorage, Alaska; Longview, Wash.; and Broomfield and Denver Citadel, Colo. His last appointment was as chaplain at the Honolulu Adult Rehabilitation Center.
Sholin served in The Salvation Army for 25 years, before taking early retirement for health reasons. He also served in the Army National Guard and was a member of the Honolulu Rotary Club.
Sholin is survived by his wife, son Carl Sholin, daughter Hilary (Cory) Tobias, brother Major David Sholin, and sisters: Virginia Smallwood, Marilyn Watson, Charlene Pinkerman and Sylvia Mathias.
A celebration of life service took place at the Ray and Joan Kroc Corps Community Center in Kapolei, Hawaii, with Lt. Colonel Victor Doughty officiating.
In remembrance, donations may be sent to: Kauluwela Mission Corps, 296 N. Vineyard Blvd., Honolulu, HI 96817-3988.